The main opinion-makers in Italy are pacifists. They don't want to admit that if you don't provide military support, you are supporting the military of the invader, – says Ugo Poletti, an Italian journalist and founder and editor-in-chief of The Odessa Journal. He still lives in Odessa, and from there observes Russia's brutal war against Ukraine. Vazha Tavberidze spoke to Poletti from Prague.
Today's news is that Russian Frigate Admiral Makarov is heading to the Black Sea to reinforce the Black Sea Fleet. What tidings does it bring for Odessa?
For the moment, Odessa is safe because it is well protected due to its geography. At the beginning of the war, it was in danger when the Russian army approached Mikolaiv. Had Mikolaiv not resisted, it would have been very difficult for Odessa.
We also know the Russian army retreated to the Kherson area and now the Ukrainian army is in a strong enough position not to allow them to advance. From the sea, we feared the threat of potential invasion.
But if they were thinking of launching an amphibious assault to land troops on the beach, it is too late for that now, as the perimeter is well protected. I don't think they had such plans, though, because they thought they'd defeat the Ukrainians in a few days. Odessa was not supposed to be conquered but rather taken in a peaceful way. What's disturbing is that we still get attacked with ship missiles sometimes, and this is a real danger for the city. We have decent protection with our anti-aircraft system, but it's not enough to block them all. Most of the missiles hit infrastructure and military objects outside the city, but in the city, they hit residential buildings and there have been some victims.
I would like to discuss Italy's stance on this war. What can be said in this regard?
Italy used to have a very good relationship with Russia. Italy respects Russian culture a lot. I myself studied Russian because I used to read Dostoevsky and Tolstoy. I loved Russian culture and I still do. The economic relationship between Italy and Russia is very strong, too, because there are Italian investments, not only in the energy and financial markets, but also Russians used to be very good customers of our furniture, fashion design, all kinds of production. Changing this direction of foreign affairs was both tough and unexpected. It was difficult for my country to switch. Our prime minister, Mr. Draghi, someone with a very strong personality who deserves a lot of respect from the European leaders and United States, made this decision [to switch direction]. He was very brave to do so, and the majority of the government supported him.
It was clear that Russia was an aggressor: from the international law perspective, nobody could stand on the side of Mr. Putin. They needed an especially strong, sharp response, and they will pay a lot for this, because not only will a lot of businessmen lose the market, but also Italy and Germany are two European countries highly dependent on Russian gas, so Russia can blackmail us and play with it in a very wise way.
At the same time, we know that Russians need to sell this gas, so it's a mutual dependence. Italy decided after only a few days which side was the right side, and now their policy is very clear.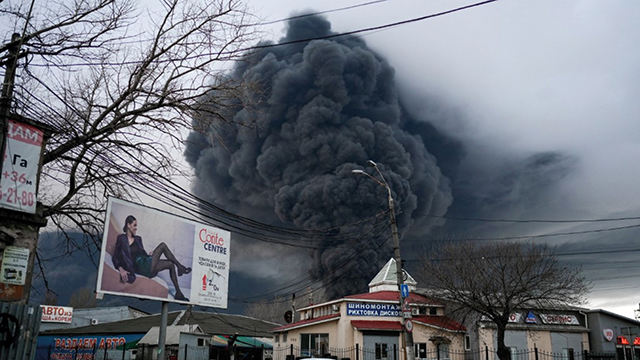 I remember the Italian PM saying that talking to Putin "is a waste of time." How much is this the stance of the Italian gov't as opposed to the stance of Italian society? What do average Italians think?
Public opinion immediately sympathizes with the refugees. Italians proved to be very generous at hosting refugees, but when they have to speak about topics like defense and military affairs, there is a very strong embarrassment, because the main opinion-makers in Italy are pacifists. They don't want to admit that if you don't provide military support, you are supporting the military of the invader. It's kind of shocking for Italians and hard to accept that war could be a necessity and defenders have the right to defend themselves. It's something very unusual as a topic for Italian debates.
That the defender has the right to defend is shocking for Italians?
This idea that a country sometimes has to take up arms to defend itself is something that is absent in Italian culture today. Historically, we defended ourselves during World War 2, when the Germans took control of northern Italy, so we were partisans. Can you imagine, even the Association of Italian Partisans was against sending weapons [to Ukraine]? Are you partisans or not? Yes, you were partisans last century, but now you don't sympathize with the partisans of this century? I don't share this view. I said on television, "Look, I am here [in Ukraine], watching as the fathers of families, colleagues, people, friends of mine, go to war to defend their country. They deserve respect, it's a matter of dignity. We have to understand that we did the same when we unified Italy."
Italians proved to be very generous at hosting refugees, but when they have to speak about topics like defense and military affairs, they get embarrassed, because the main opinion-makers in Italy are pacifists
That's a very interesting point. Is there also a feeling that whatever happens in Russia or Ukraine is none of their business?
Fortunately, no. This war is very close to Italy. When you see refugees coming to your country, you understand that you are touched by this war. Secondly, when you hear the government talk about the gas price increase for next winter, you understand that this war is affecting you and that taking a position cannot be avoided. Finally, the food emergency due to the grains blocked in Ukrainian ports affects Italy, because we need wheat for pasta. Italy cannot produce enough wheat for its pasta. At the same time, they have started debating that there is a starving population in North Africa, which will kick off heavier migration to Italy. So, now Italy understands this war is their concern too and they need to say something.
I've seen several Italian politicians pushing the narrative that Italy doesn't need to take a position on the war, that it's not something they need to be involved in, this West-East division.
The debate is very tough at the moment, because some people are asking, "why should we support Ukraine?" Nobody says we should support Russia, thank God. A minority chooses the moral approach: "These are poor people, defending themselves, so let's help them." Then there are others saying we ought to support them because we are a NATO member, "NATO decided to support Ukraine and we are a loyal and fair member of this alliance." But even this group is not in the majority. The majority is asking whether we can support Ukrainians without weapons. This is some 50% of Italians. They were taught that wars in Europe were not possible anymore. Speaking about weapons with them is very difficult, as they come out with silly things, like, "let's send them weapons that are not so powerful." Excuse me. If you want this country to survive and people to be free, they need strong weapons to face a very well-equipped enemy. If you send just guns and not artillery, it's not serious support. So, sometimes the debates are very silly, and I am sorry for my country. Some other European countries, like Poland or Finland, know what defending themselves means, because they have experience dealing with Russia. Italy is a spoiled country, because our citizens don't feel that they are in danger. The protection ensured by NATO and Americans created spoiled people, I am sad to say. They don't realize that without the Americans, all of them would need to be trained, like they do in Switzerland or Israel, where everyone must complete military service. The education in Italy hasn't provided this sense that a country needs protection and diplomacy doesn't always work. Unfortunately, half of Italians believe that diplomacy and dialogue can always prevail, but now there is proof that this is not true.
Then there are some people, some opinion-makers, that I don't respect at all, Russian propaganda supporters, who say that if we want the war to end quickly, the Ukrainians should surrender immediately. In the first week of the war, they said it was certain that Russia would win. Some cynically suggested not giving any weapons to Ukrainians if their defeat was inevitable, and the sooner the better. Now, everyone understands that Russia is likely to be defeated. They already lost in tactical terms, because being stopped is already a defeat for them.
Germany and Italy told their companies they could open ruble accounts to keep buying Russian gas without breaching sanctions against Moscow, following discussions with the EU. What message does that send about the celebrated EU unity?
The EU has not yet received enough power and support from member countries in terms of foreign policy. Notwithstanding this, surprisingly, almost all Europe, except Hungary and Austria, which are definitely pro-Russian countries, have supported Ukraine. Germany's hesitance comes from its difficult position, because while it is a big sponsor of European values, they also have their economic plans, and they depend on the gas supply from Russia. I would like to see Europe like a federation, like the United States, with a one-line foreign policy. That would be a dream. But in reality, when they were deciding on the powers of the EU, they agreed on only economic powers to create an efficient internal market. As far as defense is concerned, there is no European army, and foreign affairs remain an area of national sovereignty. So, we cannot expect unity in Europe in such a moment of crisis until all countries give more power to Brussels to make decisions. But even in this case, Europe is divided into countries such as Poland, Scandinavian and Baltic countries, which are fiercely against Russia. Then there are two or three pro-Russian countries, and lazy countries, like Italy, who don't feel the danger. So, it's difficult to reach a consensus. But let's celebrate the EU, because thanks to it, we haven't faced wars on the continent since the Second World War.
On April 18, PM Draghi very proudly claimed that "Italy can get by without Russian gas." What has changed?
I think it's a very brave statement. In fact, it is possible, because Italy was self-sufficient in terms of energy a few years ago. The economists say we can get complete independence in two years, not before. I know they immediately started reactivating relations with other sources, and we will probably need to make investments. For example, it's possible to double the supply from Algeria, but more investments are needed to drill there. It was a strategic mistake not to foresee and prepare for the situation in advance. The last 20 years, our leaders didn't have a long term vision and that was a strategic mistake.
There was a memorable quote from Mr. Draghi about making a choice between being a little cold in the winter and helping democracy and freedom. Which one is the Italian people more likely to opt for?
From one side, I see that my country is very generous to host refugees, but I believe that governments, of Italy and other countries, in the end have to understand their people want warm houses, that this is a population that calculates how much of their salaries they spend on bills. You need to put the values on the table but not forget about the principles. At the same time, unfortunately, there are also families which don't earn enough money and will have to suffer higher bills.
Governments should learn the lesson. The moment you give one country the possibility to be an exclusive supplier, you are creating a big problem for yourself in future. Some European countries wisely did not accept such a proposal and are now in a better position. It was a mistake [for Italy] not to plan for the long run.
Many have already dismissed Italy's Four-Point Peace Plan as a Minsk Agreement 3.0 or Budapest Memorandum 2.0. What's your take?
The former agreements have become mere pieces of paper, because the situation has changed dramatically. Before, eight years ago, Ukraine was a very fragile country. But this war has changed everything, it has unified Ukraine. So everything has to be re-negotiated. Where, before, Kyiv in a sense was obliged to follow the advice of the West, now Ukrainians are buoyed and so convinced of their eventual victory that it will be very tough for them to accept any sort of [territorial] concessions to the enemy. They have paid a blood price for it and they are not going to be keen to give up any of the values they stand for, including their territories. Everything needs to be re-started from zero.
Exclusive Interview by Vazha Tavberidze