Having just returned from a long road trip around Georgia, I cannot but express my admiration for the sheer volume of investment in the country's road infrastructure.
Everybody know about the rather advanced state of the East-West highway, including the recently opened section on the way down from the Rikoti mountain pass (driving on these 5km of tunnels and bridges was a dream come true).
But driving around Samegrelo was a very pleasant experience as well. All roads leadings in and out of Martvili are in perfect condition. Furthermore, Guria was a major positive surprise. Chanchati, a small village lost in the mountains above the Supsa river valley, has become a lot more accessible thanks to a brand new 20km-long asphalt road climbing up from Kvemo Shukhuti to Aketi.
The road to Bakhmaro, a rather chaotic resort in the mountains dividing Guria and Adjara, was in perfect condition as I was going up from Chokhatauri. So much so that I was able to enjoy the amazing Swiss-style scenery around me. Further up, beyond the Nabeghlavi factory, the road is being repaved, creating temporary difficulties, but promising a smooth ride in the future.
From Bakhmaro, I continued on very rough mountain roads (used almost exclusively by local shepherds and marshrutka drivers) over a 2,400 mountain pass into Adjara. It was pretty rough riding indeed, but I noted public investment in connecting tiny local communities to the electricity grid – and it's worth mentioning that villages at these altitudes are only populated a few months a year, used by locals for summer pasture.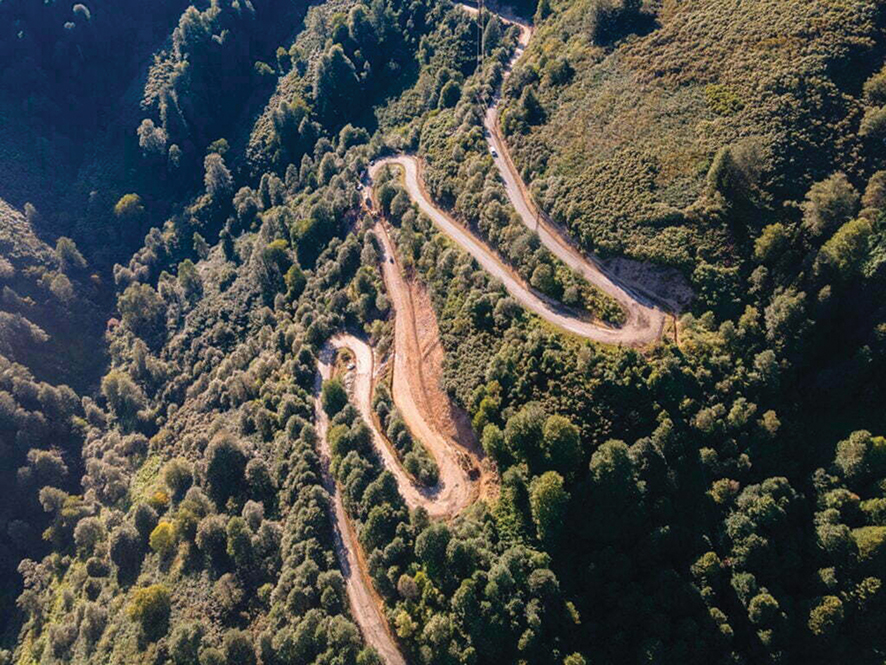 Once I came down from Upper Adjara (passing the Borjomi-sounding Ghorjomi), another great surprise awaited on the "main" road leading from Batumi to the Goderdzi Pass (a very promising ski resort!). In my naive mind, I expected a highway, but this road is currently one big (re-)construction site, starting a few kilometers above Khulo. Barely 20km in length, the last stretch of this super bumpy trip took me more than 1.5 hours. Once construction is completed, however, the travel time from Batumi to Goderdzi is likely to be reduced to 2 – 2.5 hours.
Goderdzi ski resort in summertime is a sad proposition. Sitting right next to the main ski lift, Ambassadori-Goderdzi is absolutely empty. It probably took a very generous subsidy package to convince Ambassadori to make such a major investment 4-5 years before the road to Goderdzi is rebuilt. I am nevertheless impressed with the vision that went into making this investment happen.
Finally, the greatest surprise awaited me on the way down from Goderdzi to Akhaltsikhe. The entire road (about 40 or 50km) is being rebuilt by a Chinese contractor. Sharp angles are cut with the help of small bridges, the road is straightened and widened. Work is ongoing along the entire length of this road, promising relatively quick delivery. Major parts of the new road are already paved with asphalt or are about to be paved, allowing me to accelerate. The scenery around is out of this world and the road is not particularly curvy or dangerous, providing for a very pleasant driving experience (even now!).
I am sure these remarkable improvements will pay off handsomely! Well done, Georgia!
Blog by Eric Livny