Alte University is a fully accredited higher education institution with 20 years of experience and history in the Georgian educational field. The university unites more than 2100 students from 12 countries at four schools: Business School, International School of Medicine, School of Law, and School of Humanities and Social Sciences. Alte University currently offers up to 15 academic programs, both undergraduate and graduate.
The word "alte" itself is a Latin word and means altitude, the highest point, and represents the way of constant development for reaching new goals. Representatives of the educational institution believe that the few years spent at the university are just the beginning of the great path that is called education and say the university should not only give specific knowledge to the student, but also intensify the desire for constant development, so that the student learns throughout life, sets new goals, achieves them and becomes successful.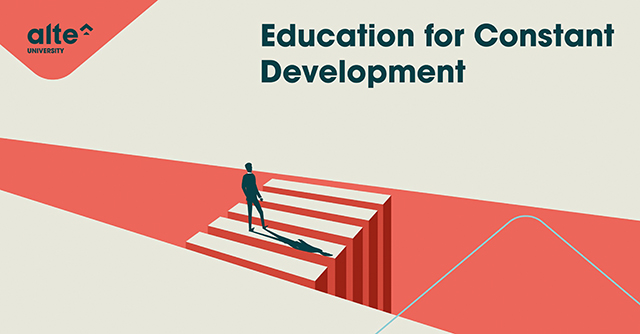 Alte University, which has been operating in the Georgian educational field for 20 years under the name of Tbilisi Open University, went through a rebranding process one month ago and introduced itself with a completely renewed name, concept, vision and goals. This university can be distinguished from other educational institutions by its innovative approaches, which include the functioning of a "Startup Garage", strengthening the practical component in the curriculum of the International School of Medicine, which offers Georgian and International students an internship at Iv. Bokeria University Hospital, and the enrichment of the academic staff with practitioners and leading professionals who are ready to share their unique experiences with the students of Alte University.
The mission of the University is to equip students with the knowledge and skills essential for creating sustainable value for themselves and for the society they live in.
Ramaz Kukuladze is the President of Alte University and has been a leading representative of the Georgian financial sector for more than 25 years. In early 2021, the existing university was taken over by Velox Education and it was through their joint efforts that a new higher education institution began operating to introduce innovative approaches in the Georgian educational space and nurture competitive professionals.
"Georgia has the greatest potential to become an education hub in the region and to prepare a competitive staff that will be unique in its knowledge, skills and capabilities," Kukuladze says. "It is very important for us that with the knowledge and experience gained at Alte University, each student from the 12 countries, be a different, successful and professional person who gravitates towards development.
"We believe that they will go through their own, individual path of development, which will give them more courage, self-confidence, knowledge and experience. In this process, Alte University will not be just an educational institution, it will be a loyal partner for each student, helping them to find and develop unique skills and abilities that make them exceptional.
The Italian agency 'DINN!' worked on the rebranding of Alte University. As the founder of the agency, Andrea Borsetto notes: "At Alte University, we have created a new, different, innovative, multi-faceted and friendly educational brand in the Georgian and international educational field which supports individualism and creativity, but is also demanding and full of challenges."

Education for Constant Development – This is the slogan of Alte University, which always cares for each student not only in terms of career but also actively supports them in their personal advancement after graduation.
It should be noted that Computer Science and IT technologies will soon be added to the current educational programs. Practitioner lecturers involved in these programs will share their own experience with students in addition to theoretical knowledge and the values necessary for a particular activity. This process will help them to become competitive within the international labor market and become professional and improve their skills.
The active partner of Alte University is the Confucius Institute, which gives an opportunity to each student to advance and gain a unique experience. It is also an important fact that Alte University also cooperates with the Bharath Institute of Science and Technology of India in terms of creating exchange programs as well as joint educational directions.
Alte University is a place where students, while taking integrated practical and theoretical courses, discover their real desires and interests and never stop the process of self-development to introduce new values in their chosen field. The unforgettable experience gained as a result of the time spent in this space will help them to develop their work as professionals and position themselves in their desired career. Alte University is a positive and innovative space that offers people individual ways to achieve ambitious goals and become better individuals and professionals.
For more information, visit the official website of Alte University: www.alte.edu.ge
By Ketevan Tukhashvili