Advili Mesh was founded 3 years ago, a company offering customers high-quality metal mesh for a variety of purposes. Since Advili Mesh was founded, its mission has been to develop the construction business in Georgia by providing the highest quality products. For detailed information, we spoke to the founder of Advili Mesh, Tinatin Rekhviashvili.
"Three years ago, I decided to start a business in Georgia," she tells us. "During my visit to Europe, I noticed that mesh was almost everywhere, which inspired me to start this business. I asked my friend, who is a mechanical engineer, for help, and gathered together all the necessary information about market opportunities. I was very happy with my idea to ​​bring beauty and modernity to my country.
What products does Advili Mesh offer customers?
Metal mesh, a building material with 10 years warranty, which is 2 mm thick steel plate, obtained by cutting and stretching, then forging at 2500 degrees. It is 1 x 2 meter and is widely used in construction, for both interiors and exteriors. Our production is called extended metal mesh, which has different usage in different sections.
Where and how can this mesh be used?
We have eight designs. This mesh can be used in hospitals, supermarkets, construction companies, hotels, offices, businesses, and bars. It can be used in ceilings, building facades, stairs, blinds, decorative walls, partitions, fences, balconies, and for shelves.
The product is not seasonal and there is a demand for it year-round. Other than that, we offer customers a new product – Armstrong ceiling. In rather high demand, it was not produced in Georgia to a proper quality until now. Today, the variety of products and uniqueness allow us to meet any type of demand. Due to the successful relationship with customers, in 2020, even during the pandemic, the growing number of sales exceeded all expectations.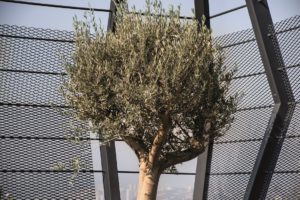 Let's talk about delivery service.
We offer different delivery services to customers, depending on the volume and amount of the purchase.
Introduce us to the advantages of the metal mesh.
A wide range of products, delivery service on an exact day, 3D-effect, the material is waste-free, stronger than metal, and affordable. It is possible to satisfy the desire of any segment and customer with a variety of designs, multifunctional use, lightweight, cut-to-size mesh. It is also fireproof and easy to install (assembly, welding, bonding).
By Mariam Mtivlishvili