On the evening of July 6, two sides of a controversial issue came to a head when supporters of the LGBTQ advancement of rights and the opposition to this met outside the Georgian parliament building in Tbilisi. I spent time on both sides of the police line, which was a loose 20-25 meter no-man's land between the two groups. While police maintained general control of the two groups, there were several instances that allowed for circumstances to become volatile.
Upon approaching the active demonstrations, it was clear both sides had drawn a significant following. Many of the pro-Church organizations had taken positions around the outside of the parliament square, shouting various slogans and expressing their distrust of the Pride movement. On occasion, some would attempt to outflank the police barricade, resulting in a subsequent arrest.
Other members of the pro-Church movement were tame, and simply debated with the police over their allegiance.
Passing through the police line required not only a presentation of journalistic and personal credentials, but a short questioning. After some negotiation, the police allowed me to pass, despite verbal opposition from some of those nearby. The Pride contingent made no notice of my approach, and I entered their gathering uncontested.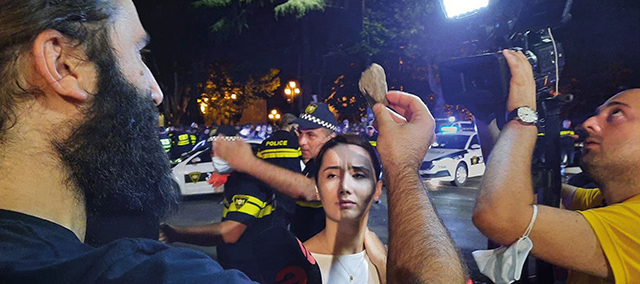 At first, the only visible signs of aggression were the shouts and jeers of each side, complemented with raised middle fingers and other related gestures. While both sides sported Georgian flags, some worn as capes, the Pride section also brandished European Union flags. Walking through the throng of people, a mixture of calm and anger could be felt. Some seemed to exhibit a relaxed nature while others were more militant in their position. While it did not seem alcohol was overtly present, the strong aroma of marijuana was, and was even witnessed being smoked on at least one occasion.
As the protest began to escalate, small fireworks and eggs were thrown into the Pride group. Periodically, people would be seen ducking and dodging eggs coming into the crowd. Being near the police line, I was caught on two occasions by thrown eggs.
As I shifted to the southern side of the protest, more fireworks were thrown, not just at the Pride protestors, but seemingly also at the police. Police special operations units began unloading equipment and moving into the parliament building. While most pro-Church protesters respected the increasingly strong police line, a faction of them had split off and moved into the nearby renovation area of the Youth Palace.
It began as an outflanking maneuver, but quickly resorted to launching small wooden beams and both earthen and cement projectiles. I was unlucky enough to be struck by one on my leg, but was quickly pushed back by police. While the police corralled the nearby journalists and Pride protesters, a simultaneous counter assault by the officers in the area quelled the outbreak.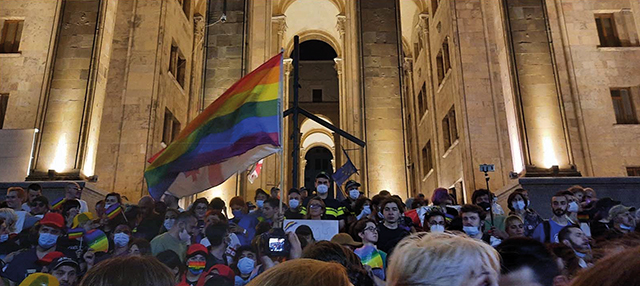 It was this display that made the police decide to begin moving Pride protesters and journalists off the parliamentary square. As the pro-Church organizers began to overwhelm the police lines, Pride demonstrators were moved into the side streets. Pro-Church members moved into the square, and took positions near the front steps. Leading members began taking turns making rallying speeches while a strong smell of ecclesiastical incense began to fill the air.
For the remainder of the night, a heavy police presence saturated the historic Rustaveli Avenue. While most protesters, both pro-Church and Pride, began to dissipate, the control of law enforcement for both entry and exit of the area continued. Even as far away as Vera Park, officers were seen on watch, despite occasionally resting to enjoy coffee and a bakery item. Slowly, each side dispersed and the intense situation became docile.
Broadly speaking, it was tame by most standards. I never felt I was in any true danger, despite being hit by several of the projectiles. However, it can be noted that my threshold for what is "dangerous" could be regarded as slightly higher than normal, or even necessary. While the police will need to review their actions and make corrections in an after-action report, a catastrophic outbreak of violence was avoided and each side was largely protected.
Structural damage and bodily harm was kept to a minimum, and those who attempted to engage in unlawful activities were arrested. Both sides will need to consult with themselves on how they will engage in dialogue at the next meeting, as there are signs of serious issues in this regard. Pro-Church members will need to police their own and remove those seeking violence and severe aggression. Pride members will need to reduce their instigation tactics and ensure their members present an improved image on the national stage.
Finally, police will need to advance their crowd control tactics as well as become more fluid and agile in responding to growing threats. While this is certainly not the last incident regarding the two opposing positions, it is another interesting chapter in what will be a reckoning for Georgia's future on the world stage. With neither party backing down, it is likely that both sides will need to make concessions if there is to be any peace on the steps of Parliament.
Blog by Michael Godwin