I intended to write this week about one Aleksandr Dugin, the philosopher who has best access to Vladimir Putin's ear, to likely most fearful effect. Bu this must wait, although now that I have written his name, anyone who has not yet heard of him is free to discover him online. This may be quite an unsettling experience, but also a necessary one. The article would be called something like Dug In? Dig Out.
Instead, I have other subjects. Will I write about the Greek word "meta", which means "about", as in "metaphysics" and many other English words borrowed from that powerful source? This article may, after all, be mostly about itself. Or will it be more about the creative processes I was delighting over last episode, and their confluence in me at present, occasion of much joy? Including mention of my answer to the recent question someone had, about experiencing being "in the zone" as a creative person and what that was like.
(I was throwing a 22-pound lump of porcelain from one hand to the other, back and forth, across my canvas-covered tabletop for clay work, in Stony Plain, Canada. As the material absorbed moisture from the porcelain, this began to develop cracks in its surface in an entirely natural way, put there by the process and only indirectly by me. The same for its overall shape. Eventually, the piece all but said, "Stop! I'm finished; if you carry on you will spoil me." So I did. I hollowed it out from underneath as best I could, let it dry nice and slowly as one must to avoid cracks, and had it fired. Unfortunately, cracks still came, likely because the piece was so thick, and I was warned that the second firing, to the much higher temperature required of porcelain, could well break it apart. So in that sense it has never been properly finished as a sculpture, but it remains one of my all-time favorite works, pictured here, called "Madonna and Child". A second one, my "Japanese Piece", spoke to me in a similar way, and again I obeyed and was satisfied. This one I did get to high-fire to completion, another favorite on my short list of sculptures).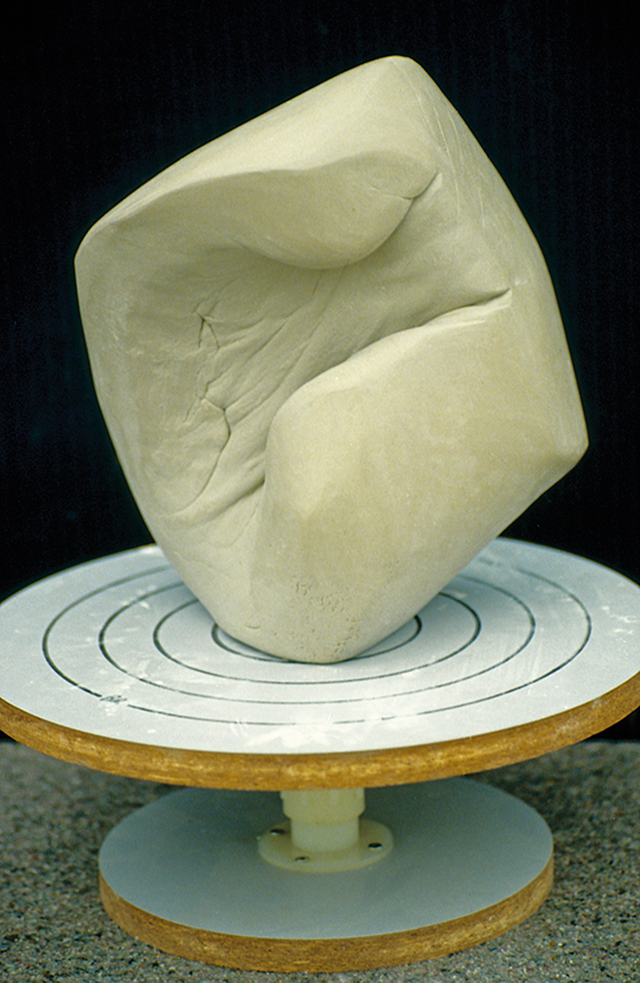 Or more about the creative process and what it takes to be a maker of: writing, anything in the visual or motive or musical arts, whatever? Only two things. DO that thing: write, weave, dance, sing, sculpt, whatever. And EXPERIENCE that thing as made by others: read, listen, watch. Repeat. Eventually, your own style will emerge, even if you start out by copying the work of others in your field whom you admire. You will have become an artist in that field, although likely your growth and development in it will never stop.
I have been writing since I was about six, reading a bit longer. Good English is to me like good food, whatever the genre. I go back to the same works again and again if they are that special to me, each time absorbing more. I don't retain much for long, but always remember what was best. Science fiction and fantasy, general fiction, science, history, biography, travel and more. I rarely leave a book unfinished, unless it turns out to be that badly written or I feel that reading it would harm me.
The non-fiction I am currently reading includes a couple of histories of Ukraine, as I feel a need to know more about this so devastated part of the world. While this is more duty than delight, I can still appreciate the information, and it is still well written. Ironic, perhaps, that the "krai" part of Ukraine has meanings in its Slavic roots of borderlands or edges: because, as the heart of what would become Rus', then Russia, Kiev is its mother.
Which only makes this war all the more terrible underneath.
BLOG by Tony Hanmer
Tony Hanmer has lived in Georgia since 1999, in Svaneti since 2007, and been a weekly writer and photographer for GT since early 2011. He runs the "Svaneti Renaissance" Facebook group, now with nearly 2000 members, at www.facebook.com/groups/SvanetiRenaissance/
He and his wife also run their own guest house in Etseri: www.facebook.com/hanmer.house.svaneti