Week five of Russia's war in Ukraine has seen some Ukrainian progress and success around Kyiv and a Russian reorientation to focus on "liberating" the eastern Donbas region, indicating that due to unimaginable resistance, Moscow is giving up on initial regime change plans and focusing on territorial gains instead.
The week also offered a spark of hope following another round of peace talks held in Istanbul, however, the Ukrainian and US officials remain skeptical towards the issue of trusting Russia when it comes to not violating agreements.
Ukraine put forward a detailed proposal of neutrality as negotiators met in Istanbul on March 29. It included pledges to not join military alliances or host foreign troops, and that it would remain a non-nuclear power.
That would mean Ukraine would give up its aspirations to join NATO, as Russian President Vladimir Putin has demanded.
Ukraine suggested guarantors will be permanent members of the UN Security Council – the United States, the United Kingdom, France, China and Russia – as well as Israel, Turkey, Germany, Canada and Poland.
The peace deal would be put to a referendum in Ukraine.
In parallel with diplomatic efforts, this week of devastating war has also brought Russian redeployments.
Russia said on Tuesday it would cut back operations around Chernihiv and the capital Kyiv in an effort to "boost mutual trust" in peace talks.
However, on Wednesday, Russia continued to shell parts of Kyiv and Chernihiv.
Ukraine also said there had been no mass removal of troops.
Russia's pledge to cut back military activity was met with skepticism. "Ukrainians are not naïve people," President Volodymyr Zelensky said in an overnight video address.
Oleksandr Motuzyanyk, a spokesperson for Ukraine's armed forces, said that though there had been a partial movement of troops from the directions of Kyiv and Chernihiv, they had yet to fully abandon attempts to seize, or at least surround, these cities.
Late Wednesday, a US defense official said some Russian troops were leaving the Chernobyl area – home to a former nuclear plant that was the site of the world's worst nuclear disaster in 1986.
"Chernobyl is an area where they are beginning to reposition some of their troops – leaving, walking away from the Chernobyl facility and moving into Belarus," the official said.
"We think that they are leaving, I can't tell you that they're all gone," the official added.
The nuclear power station has been under Russian control since late-February, a move that has been subject to widespread international condemnation.
The UN's Human Rights Commissioner Michelle Bachelet said Russia's allegedly indiscriminate attacks on populated areas of Ukraine "may amount to war crimes".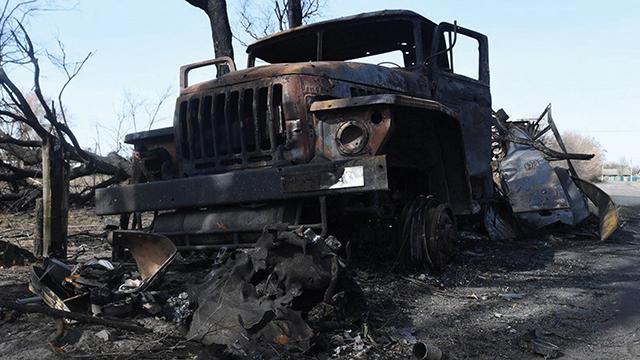 Addressing the Human Rights Council in Geneva, Switzerland, on Tuesday, she said there were credible allegations that Russia had used cluster munitions in populated areas on multiple occasions. Such weapons are widely banned by an international treaty, but neither Russia nor Ukraine are signed up to it.
Bachelet's office has also verified 77 incidents in which medical facilities had been damaged – including 50 hospitals.
Earlier in the week, Russia said it would focus its military activity in the Luhansk and Donetsk regions in the east, which it already largely controls.
Russia has made little progress against Kyiv's defenses, and US defense sources have said Russian forces are stalled 15-20km (9-12 miles) from the city center, arranging and digging shelters.
Russia has also been unable to capture Chernihiv, Kharkiv or Mariupol, the cities most devastated by Russian shelling. Ukrainian officials say thousands of civilians have been killed in besieged Mariupol, where an estimated 160,000 people remain trapped with little food, water or medicine, desperately trying to survive.
The siege of Mariupol may be remembered as the bloodiest battle in this war between Russia and Ukraine. Thousands are reported dead and Ukrainian officials say 90% of the city is destroyed.
There are US reports that Ukrainian forces are contesting Kherson, the only big city to have fallen into Russian hands.
Ukrainian forces have also made advances in recent days, retaking areas from Russian forces.
In Irpin, near Kyiv, the mayor said Ukrainian forces had retaken control of the town on Monday, and around 200 to 300 civilians had died in the town before it was retaken.
NATO has estimated that Russia has lost 7,000-15,000 troops during this month of war.
Ukraine has released little information about its own military losses, and the West has not given an estimate, but President Volodymr Zelensky said nearly two weeks ago that about 1,300 Ukrainian servicemen had been killed.
The fact that, currently, Russian troops are prioritizing the fight in the Luhansk and Donetsk regions in Donbas, could be an effort to cut off Ukrainian troops and prevent them from moving to the west to defend other cities.
The US also has seen activity from Russian ships in the Sea of Azov, including what appear to be efforts to send landing ships ashore with supplies.
Still, major Russian objectives remain unfulfilled, including in Kyiv, where constant shelling and gunfire shook the city Wednesday as the two sides battled for control of multiple suburbs.
Mayor Vitali Klitschko said at least 264 civilians have been killed in the capital since the war started.
Meanwhile, the number of people who have fled Ukraine since Russia invaded on February 24 has surpassed four million, the United Nations said on Wednesday.
US President Joe Biden visited Europe last week to demonstrate the transatlantic unity brought about by the Ukraine war. The most important message from his speech in Poland was that Putin "cannot remain in power," which US officials had to later explain was not a call for regime change in Moscow.
At the same time, Biden has at various times called Putin a "war criminal", a "brute" and a "butcher."
The level of destruction wrought on Ukrainian cities by Russian forces underlines Putin's determination not to appear to lose, war experts explain.
By Ana Dumbadze