The first Bakuriani Clean-Up Festival organized by Sadagi*, the Georgia Cleaners' Guild, took place the weekend of June 3-5. The volunteers came mainly from Tbilisi, Gori, Borjomi, and Bakuriani, and included local school students. Participants from about 10 foreign countries also participated, alongside Georgians, all of whom shared a desire become partners in contributing to the health and beauty of our ecosystem.
It was a great success, as were the results: over 400 volunteers, supported by 13 sponsors, seven organizations and the Bakuriani Development Agency collected over 52,000 liters of garbage, and that's not counting such bulky items as metal, construction materials, and tires! In total, probably about the equivalent of 1,000 70-liter garbage bags were collected for correct disposal!
On Saturday evening, volunteers were rewarded with a barbecue at the Didveli Gallery, accompanied by refreshments from Bakuriani Water, Teliani Valley Wine, and Tbilvino.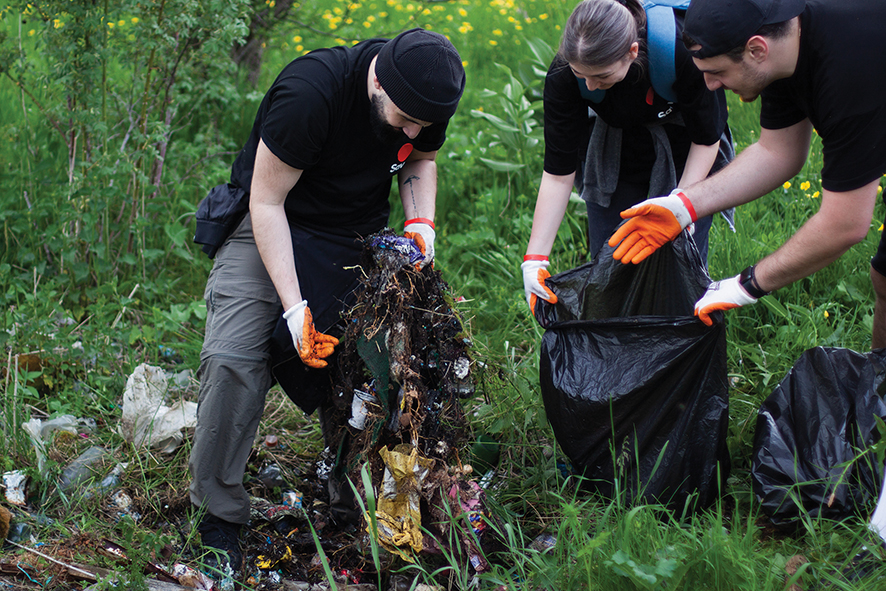 After dinner, participants were transported to Bakuriani Inn for the evening's entertainment. One of Georgia's most famous writers, David Turashvili, inspired his audience with the importance of unity on even seemingly insignificant (but hugely important!) issues as keeping our country clean. Givi Kupatadze's themes of resilience and positivity reinforced this message by describing Sir Ernest Shackleton's spectacular Antarctic explorations over 100 years ago. The evening concluded with Ninutsa Gabisonia and Bachi Valishvili performing popular Georgian songs followed by The Jetbird's more intense music.
And the clean-up effort continued on Sunday, notwithstanding the late night!
Bakuriani resident from Australia, Brett Lubben, inspired the event and coordinated the local effort. Sadagi and local volunteers managed the registration, municipal support, business participation, local transport, hotel and restaurant arrangements, and more, doing an excellent job considering that twice the expected number of 200 eager cleaners ultimately appeared!
The largest corporate sponsor was investment group Wondernet Express. Additional Golds: Archevani, Crystal Hotel & Spa, Kokhta-Mitarbi Resort, Palitra Holding, Parvus Consulting, and Tegeta Motors.
Supporting organizations included the Bakuriani Development Agency, Procredit Bank – 44 volunteers, the Financial Bureau – 77 volunteers (also a sponsor), the American Chamber of Commerce, Savvy, Keep Georgia Tidy, and the Bakuriani and Andeziti Schools.
Since its co-founding by Nikoloz Shurgaia in 2021, the Sadagi charity Sadagi – About Us has pioneered ambitious efforts to inspire his fellow-citizens to make our homeland a cleaner, healthier and more beautiful place to live. Over 50 members of Sadagi include Dato Turashvili, Katie Melua, Ilia Zedginidze and companies Dressup, Euroins, PepsiCo Georgia and KPMG.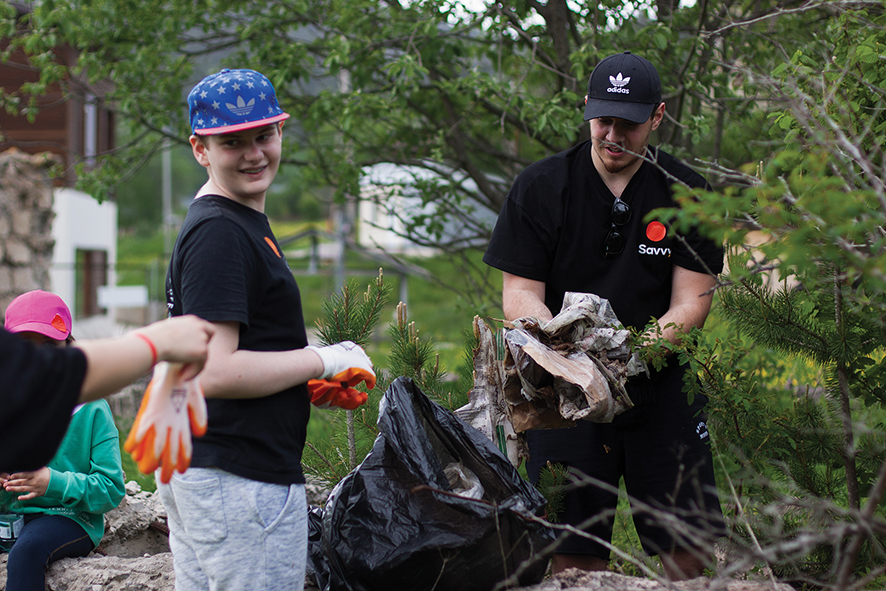 32 clean-up actions have already taken place at ski slopes, sports stadiums, near historical monuments and other venues. A further sustained effort is necessary to make a real difference, which Sadagi and its growing community are committed to. Monthly follow-ups are already being planned nationwide, including in Gudauri and the Tbilisi Sea.
Such clean-ups and festivals, communicated via TV, press and social media, condition our compatriots against littering, forming lasting good habits, and instilling a mindset of environmental stewardship. We want to involve all of our citizens in cleaning up Georgia's natural and urban areas on a large scale.
Each of us can become an active partner in making our homeland a happier, healthier and more beautiful place to live in and enjoy. Join us @ Sadagi – Home.
*Sadagi is an acronym for "Sakartvelos Damlagrbelta Gildia" or Georgian Cleaners' Guild.
By Sadagi donors Paul and Chauncie Radzianko