On July 23, Tbilisi Opera and Ballet Theater will close its 169th theatrical season. The last concert of this season is dedicated to the 150th anniversary of Zakaria Paliashvili, the founder of the Georgian National Composing School, the greatest Georgian classic, conductor, teacher and public figure.
Fragments from his operas "Absalom and Eteri," "Daisi," "Latavra" will be performed at the concert. Soloists of the Tbilisi Opera and Ballet Theater, choir, orchestra, Georgian National Ballet "Sukhishvilebi", conductors: Zaza Azmaiparashvili, Revaz Takidze, Davit Mukeria, and Malkhaz Kobakhidze, will take part in the anniversary evening.
Zakaria Paliashvili's work is one of the greatest achievements of Georgian national culture. He played a founding role in establishing the National School of Composing.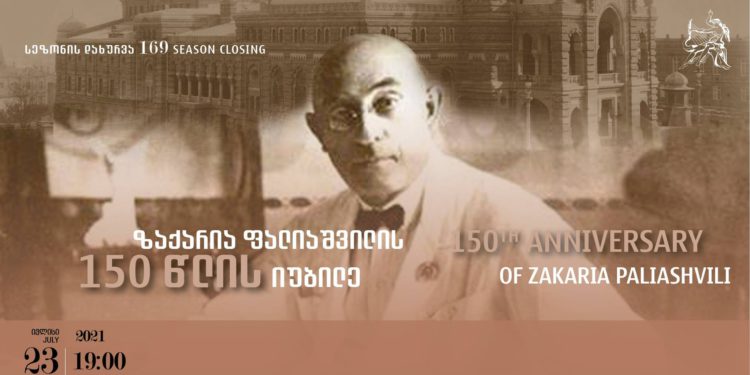 Paliashvili based his work on the artistic generalization of Georgian folk music culture and its synthesis with the best traditions of world classical music. Opera is of special importance in the composer's legacy. Paliashvili created 3 different types of Georgian opera: monumental opera – tragedy "Absalom and Eteri," lyrical-dramatic "Daisi," heroic-patriotic – "Latavra."
The names of the first two have long gone beyond the borders of Georgia. "Absalom and Eteri" was staged in Kharkov (1931), the Bolshoi Theater in Moscow (1939 and 1946), Leningrad (1972), Kiev (1972), Lodz (1972) and Saarbrücken (1974). "Daisi" was staged in Moscow (1937), Kiev (1938), Almaty (1943), Baku (1956), Saratov, Odessa, Novosibirsk, Yerevan, Gorky, Saarbrücken (1974), and Plisen (1975).
Generations of Georgian singers were brought up on Paliashvili's operas. The Tbilisi Opera and Ballet Theater is named after him (since 1937), as well as streets in Tbilisi and Kutaisi, Paliashvili House-Museums have been opened in Tbilisi and Kutaisi; The Paliashvili Prize has been awarded since 1971.
Translated by Ana Dumbadze