Within the scope of the Beat Plastic Pollution competition, 12 companies and organizations pledged to reduce single-use plastics. The competition unites representatives from civil society, the private sector, and embassies.
See the pledges of the participant institutions.
US Embassy Tbilisi, Georgia – pledges to reduce the use of pet bottles, single-use cutlery, plates, cups, plastic bags, and straws, while promoting the adoption of the reusable alternatives within the office and providing incentives their use;
Norwegian Embassy in Tbilisi– pledges to reduce the amount of single-use plastic they use and utilize;
Silk Hospitality • სილქ ჰოსფითალითი – pledges to replace single-use plastics across all departments of the hotel and start recycling;
Sheraton Grand Tbilisi Metechi Palace – raise awareness among employees about plastic pollution, threats and opportunities;
Sachkhere youth center • საჩხერის ახალგაზრდული ცენტრი – pledges to replace single-used plastics and begin clean-up activities;
საქართველოს ფერმერთა ასოციაცია/Georgian Farmers' Association – pledges to change internal policy and significantly reduce the purchase of single-use plastics, and start recycling;
Bolt – pledges to replace single-use plastics such us cups, cutlery and plates within the offices;
Green Geo – pledges to stop using single-use cutlery;
National Democratic Institute (NDI) – pledges to integrate environmental issues into procurement policies and reduce the use of all single-use plastics;
APM Terminals Poti • ეიპიემ ტერმინალს ფოთი – pledges to replace single-use plastics and pet bottles;
Peace Corps Georgia – pledges to change behavior of the office staff to reduce and sort waste.
The competition is organized with financial support from the German government within the Reducing Single-use Plastic Consumption project, which is implemented by CENN with support from GIZ, Prevent Waste Alliance, RARE and in partnership with ProCredit Bank. The media partner of the project is BMG;
Efes Georgia – pledges to strengthen their corporate responsibility and focus more on the single-use plastics usage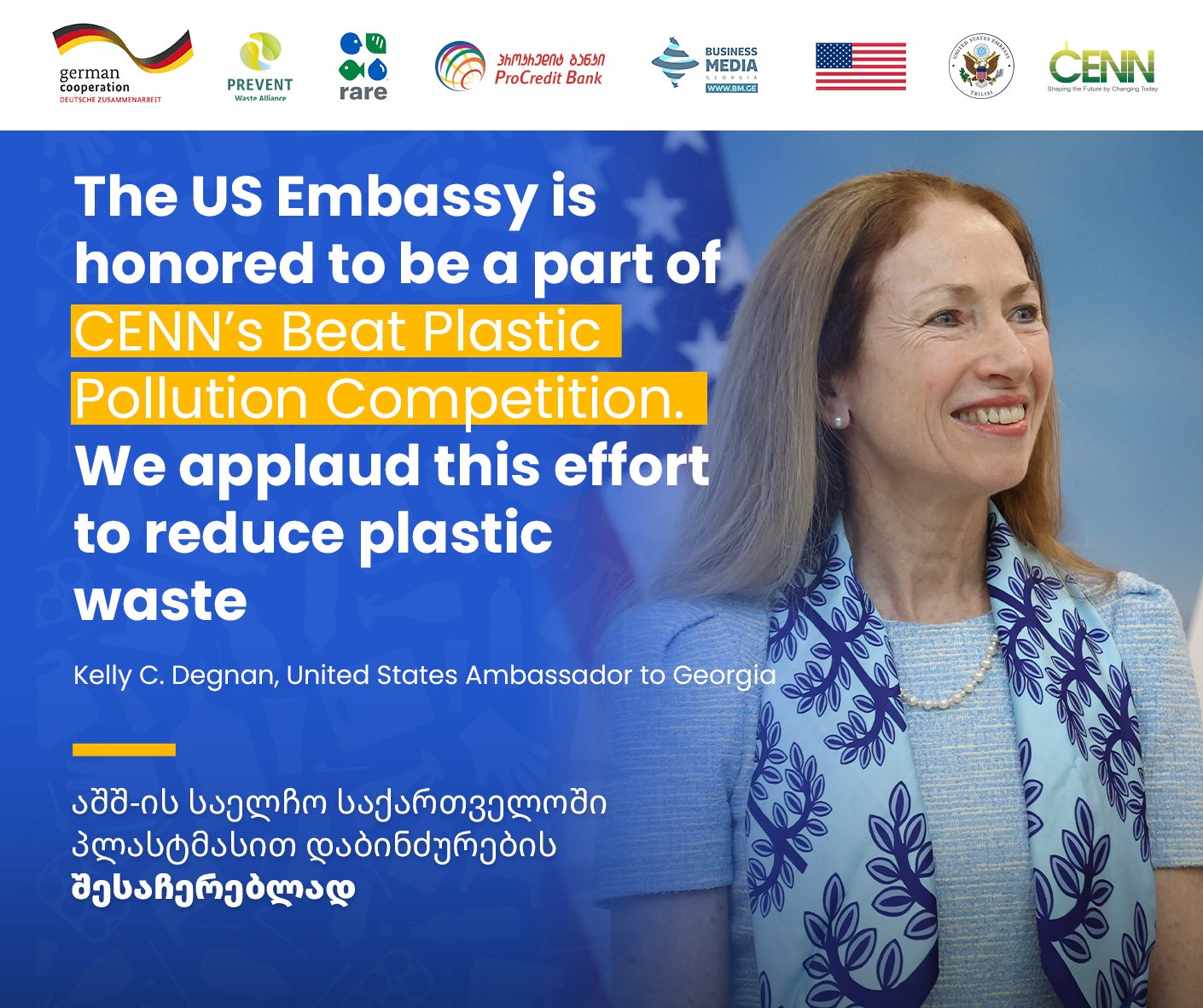 "The US Embassy is honored to be a part of CENN's Beat Plastic Pollution Competition. We applaud this effort to reduce plastic waste and look forward to collaboration with other like-minded organizations committed to being good stewards of the environment," says Kelly C. Degnan, United States Ambassador to Georgia.