The Ministry of Education and Science announced that a gastronomic school is to be established in Georgia with the support of the Basque Culinary Center.
The School of Gastronomy will be launched in cooperation with Caucasus University and the programs will be available to both Georgian and international students.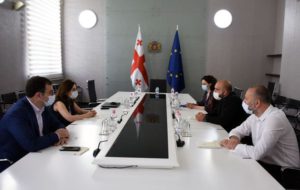 For this purpose, Alberto Rodriguez, International Development Manager of Gastronomic Programs of the Basque Culinary Center, has visited Georgia. Rodriguez's aim is to get acquainted with the culture and traditions of Georgia, as one of the most demanded and rapidly developing countries of gastronomic tourism, to develop and implement joint programs.
On the new project and future cooperation, Deputy Minister of Education and Science Tamar Kitiashvili held a meeting with Alberto Rodriguez at the Ministry together with representatives of Caucasus University.
By Ketevan Skhirtldze