Musician and former Beatles member Paul McCartney congratulated Tbilisi's Cafe Mziuri on its 5th anniversary.
"Congratulations to the Mziuri Café for five successful years, and for all your support of Meat Free Monday! Here's to the next five!" McCartney posted on social media.
Meat Free Monday is a campaign to reduce meat consumption. The musician is a vegetarian and often supports such campaigns. To find more about his special message of congratulations, GEORGIA TODAY spoke with the founder of Cafe Mziuri, Anna Goguadze.
"Cafe Mziuri has been an official member of the international campaign Meat Free Monday since 2018. In general, Mziuri is the only cafe in the Caucasus that is a member of this campaign, and on Mondays, our menu is entirely tailored to vegetarian dishes. The aim of this campaign is to raise public awareness about healthy eating," says Goduadze.
As Anna told us, from opening day, they used to say that one day, Paul McCartney would come to Georgia and have lunch in Cafe Mziuri. Everyone picked up this idea, and even their internet password was "will arrive."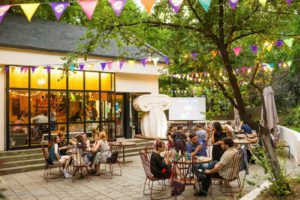 "This year, Cafe Mziuri turned 5 years. A few days ago, I wrote to Susan, member of Meat Free Monday, who was in constant contact with me from Meat Free Monday's head office. I wrote a heartfelt letter about us and sent a presentation where I showed photos of what Mziuri looked like years ago and what it is like now. I also told her about our cafe, what our goals were, and showed photos of the projects we run and host. She got excited. I told her, despite the pandemic, we still believed Paul McCartney would come to Georgia, and I asked her, since it was our birthday, maybe she could give him information about us so that he could perhaps write something to us that we would print or use on social media to prove that when you believe in something very much, you can succeed."
Susan did so, and told Anna that Paul was excited about the materials he saw about Mziuri. And, on Friday evening, Anna received a congratulations letter from Paul McCartney himself.
"Visitors usually ask about the Wi-Fi password 'who will arrive?' We say to them 'Paul McCartney' and they think we're joking," Anna says. "Paul McCartney found out about Georgia basically from Cafe Mziuri," she added.
The founder of Cafe Mziuri thinks that if we really want to develop tourism, bringing Paul McCartney would be the best step to help our country become more recognized.
By Ketevan Skhirtladze