Young, motivated people who generate fresh ideas are the best agents of positive change in their communities
As the pandemic continues to affect lives around the world, local initiatives are vital to countering its economic and social damage. Citizen engagement helps better address local needs, bringing communities together and consolidating resources to overcome the negative effects of the Covid-19 crisis.
With $315,000 funding from the government of Denmark, the United Nations Development Program (UNDP) is supporting dozens of community-based projects focused on social responsibility and civic activism in six regions of Georgia (Guria, Imereti, Kvemo Kartli, Mtskheta-Mtianeti, Racha-Lechkhumi-Kvemo Svaneti and Samegrelo-Zemo Svaneti).
In the Kvemo Kartli region alone, 29 youth initiatives were implemented in partnership with local civic society organizations – the International Scout Center 'Rustavi', Orbeliani Georgia, and the Rustavi Innovation Hub. This partnership guided young people through the implementation process and helped the authors of the winning ideas get additional funding to put them into practice.
On November 19, UNDP Head Nick Beresford and Deputy Minister of Regional Development and Infrastructure Mzia Giorgobiani visited the Kvemo Kartli region where they met with local authorities and young civil society activists.
In Marneuli, Beresford and Giorgobiani visited Public School no. 2 where a group of young activists arranged an open-air space to safely carry out classes during the pandemic.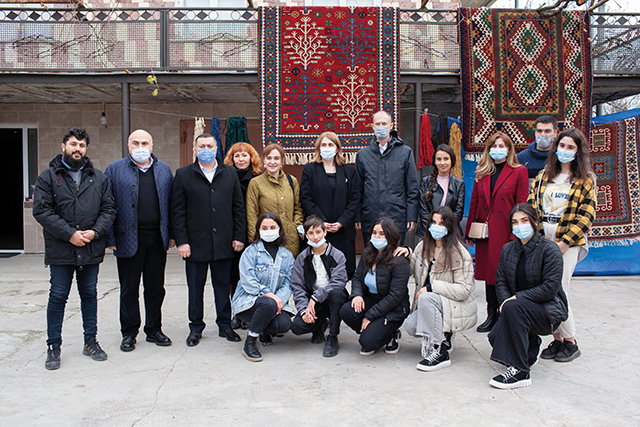 The delegation then travelled to the village of Dioknisi to meet with the authors of the idea to set up a greenhouse in the local schoolyard and use it as a fundraising opportunity for local community ideas.
Beresford and Giorgobiani also visited a Georgian-Azerbaijani library and a mobile museum presenting historic contributions made by the ethnic Azerbaijani to Georgia's development.
All these ideas were brought to life by local youth, volunteers and civic activists.
"Young, motivated people who generate fresh ideas are the best agents of positive change in their communities," said Beresford. "Even modest support can turn this enthusiasm into very specific results, improving social environments. We encourage youth creativity and innovative thinking. These skills are crucial to tackling new challenges created by the pandemic."
"The government of Georgia joins efforts with international partners to support citizen participation and local community initiatives, with a special focus on youth engagement in local development. Such initiatives contribute to crisis recovery and improve the social environment at the local and national levels after the pandemic and beyond," said Giorgobiani.
Local youth initiatives were financed by a grant scheme provided by UNDP through a Danish-funded robust project to advance decentralization and local good governance in Georgia.