Irma Elbakidze is the founder of companies "Binarea" and "Beston". Beston is a marketing company that provides all kinds of marketing services, from content creation on social networks to advertising. Binarea is a real estate agency offering everything connected with real estate. Irma Elbakidze has been instrumental in promoting the role of women in the real estate field. She started working in marketing at the age of 18 and is already a successful businesswoman. Having focused on the marketing direction with foreign companies, Irma was a marketer and translator referent. During the last five years, she has had constant contact with real estate agencies. With the accumulated experience, she decided to assemble her own team and create a brand.
"I was doing research for other real estate companies and realized how much potential our country has in this direction, and I thought that instead of foreigners doing it all, we should do it in our own country. Georgia has the greatest potential in this particular direction, potential which is growing by the day."
For Irma Elbakidze, like any other woman, establishing herself in a field dominated by men was very difficult. As a rule, females in real estate are viewed as unqualified and frivolous, since, according to widespread stereotypes, this direction is "a man's job." At first, our respondent had to raise her voice, demand what belonged to her, and show everyone that she was not doing less, and was often doing more, than her male colleagues.
"I'm very much in favor of women in business and in promoting their roles. It was very difficult at first because I had to be in a work environment dominated by males. It's hard to be heard at times like these, especially when you're the head of marketing and asking for budgets. I had to fight a lot and change my character, I toughened up a bit and showed that I could produce results."
Today, women are everywhere; the field of real estate no longer complains of gender imbalance and the interests of young women in this direction. Directors of real estate agencies and people in advanced positions are female. According to a US study, the share of women in the above-mentioned field is 63% on average, while in Georgia (according to unofficial data) it is almost equal men-women. The rise and success of women in this field is due to their determination, ability to take analyzed risks, and, most importantly, their inexhaustible source of motivation.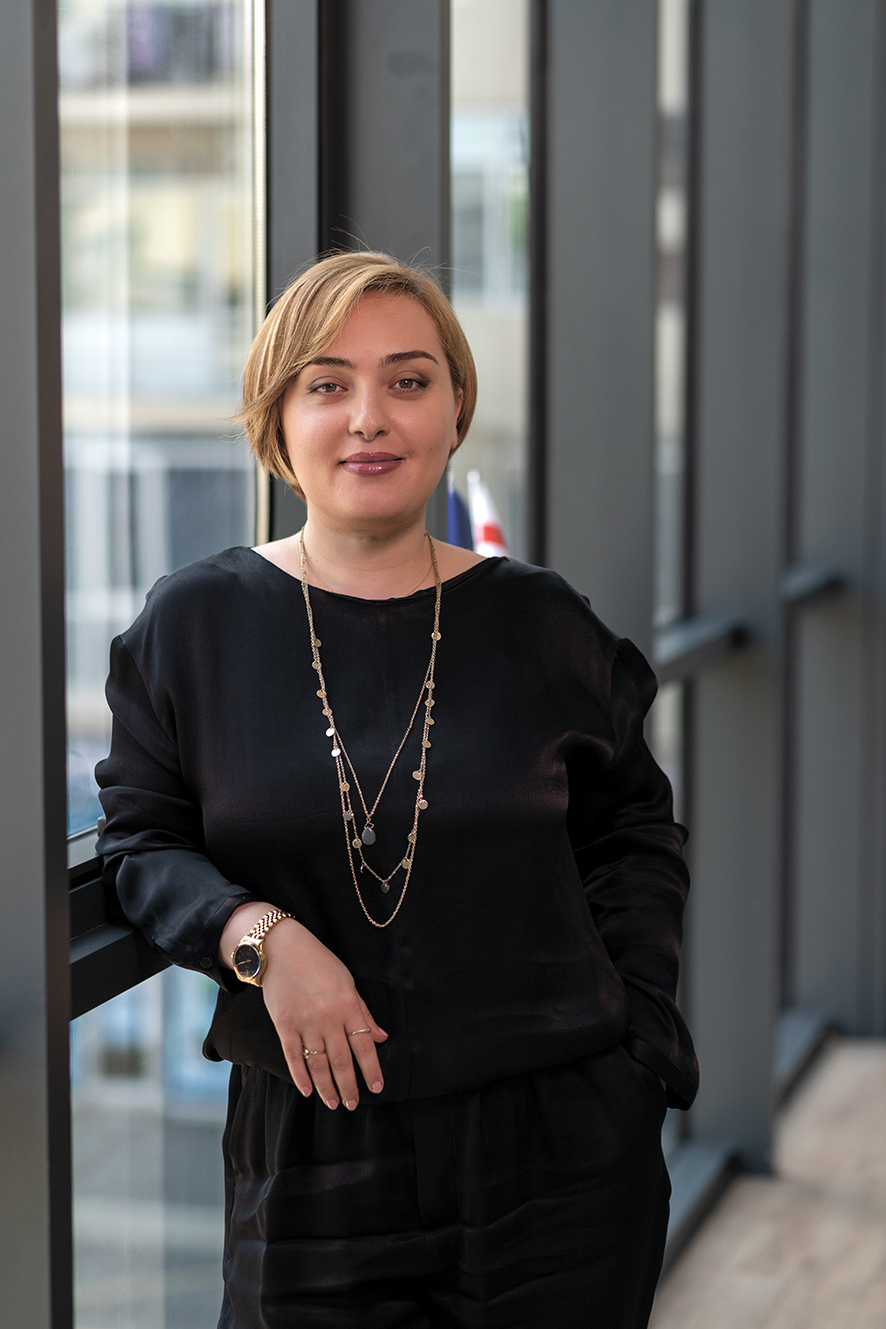 The dominance of women can be felt everywhere in the startup started by Irma Elbakidze:
"When creating the spirit of the Binarea company, I worked on every detail: the name, the branding, and the logo, together with my designer. When choosing the color, I looked at other companies and it turned out to be trendy to use yellow and blue, and I decided that purple would be one of the main colors, so that the line highlighted feminism."
Building a startup from scratch and creating a brand was not easy at all. Irma shares her own experience and tells us that the way to success is to find the strengths in yourself and show them off. Showing the public what interests you, and that your interests and those of your focus group coincide, are keys to the company's success. One of the biggest challenges in building a brand is finding additional investment, but when you build a customer-centric company, have a motivated and experienced team, and are ready for the expected results, solving any problem becomes easy.
"When I realized that my strength was breathing life into a company and the ability to start again at any time, I realized that I could build my own brand. And as my profession is Personal Branding and Marketing, I knew I could create everything myself."
Recently, Irma started a blog for personal branding to make herself and her company more recognizable, and to share her interests with the audience that needs her services. Personal branding is a recent trend in marketing: a brand is built on one person and not on the entire company.
To achieve our goals, we need to think, work and act more. Accordingly, the path from self-realization to success has become much more complicated. On this path, each of us is obliged to engage in deep and strategic self-analysis, and personal branding allows for just that. "Personal branding" is a marketing technique that ensures the identification and implementation of processes necessary for individuals and their career aspirations. It is an ongoing, long-term process of developing and maintaining an individual's or group's reputation and value code.
Customizing personal branding for the company Binarea was Irma's idea. She decided to first become the face of the company and then try out the new methodology on her team members.
"The company demands faces. Confidence is key to personal branding. A lot of people feel embarrassed when they talk about themselves, but shouldn't."
To build personal branding, we need to take several steps:
• Figure out what drives you – Start by asking yourself the following questions: What motivates you to get up in the morning and go to work? What skills or talents are you most proud of? What kind of tasks or projects energize you? What subjects most pique your interest? For example, if you are attracted to one certain field and believe that you will be able to succeed in this field, yet those around you tell you that you should try to establish yourself in a completely different profession, you should make a balanced decision. Judge with a cold mind which you are more interested in and where you have higher chances of success.
• Align your values with the organization's goals – Start by looking at the people who are successful and admired within your company. Observe the behaviors and traits they consistently exhibit. What are their most valued strengths? How does their behavior help the business move forward? Then ask yourself – Do you see any alignments between your current skills and the qualities your organization rewards? If so, focus on developing those areas. As a rule, the brand helps to promote itself, and if the interests of the startup founder coincide with the goals of the organization, the chance of success increases by 30-35%.
• Map your stakeholders – Just as you can't reach the right focus group with just any marketing technique, you can't succeed in personal branding if your message doesn't reach the right audience. To increase awareness of your organization, you should create a map of the interested user, which will help you see your goals more clearly and correctly calculate the next steps you need to take. As Irma noted during her interview with us: "If you talk at the right time about what people are interested in, your awareness increases and users start to subscribe to you on social networks."
• Make yourself visible – In our modern times, one of the easiest things to do is express yourself and interest others. You have a huge social networking platform for that. Once you've created your customer map, you need to start promoting yourself. As soon as you start talking about what you are genuinely interested in and adapt this topic to people's interests, your popularity will begin to grow. The key to demonstrating sincere interest in your colleagues is to see what they care about and what problems they're trying to solve. This gives you an opportunity to highlight and frame your own strengths in a way that can help them, without making it seem like you're primarily interested in your own advancement.
Personal branding can be customized for anyone. The main thing is to systematically work on yourself, and to ensure your activity appears often to the general public.
When talking about the issue of personal branding, it is impossible not to ask why this direction has become trendy recently and what could be better than providing marketing assistance for a company.
"Both are very good, but when branding a company, there are no personalities and the team is automatically considered and understood as one group. In personal branding, the company may not work anymore, it may move into the background, but if you have achieved recognition through personal branding, then you can already work with any company, because you already have a name and influence."
Personal branding is just kicking off in Georgia, but it is already becoming popular with those interested in different businesses. Many projects are underway to raise awareness through concrete targeting. You can get information about self-branding at conferences and online.
The main idea of personal branding is the balance between career success and protecting the interests of the company. In today's world, personal branding can be considered the best choice to establish yourself and increase awareness among the masses to achieve specific goals.
Personal branding – start with self-analysis and achieve your goals with success!
By Mariam Gorkhelashvili