Alcoholic beverages company Winiveria is going to export wine to a new export market. Co-founder Gia Piradashvili talked about the news of the brand in the program #Redact2.
In his opinion, the diversification of wine sales is important not at the expense of exploiting the markets of other countries, but also of Russia.
"Korea, Canada, Japan – these are the markets we are working on entering now. Everything is difficult. if you move and put maximum energy and also if you are lucky, you will definitely get the result", says Piradashvili.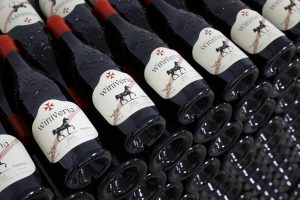 Today, the company produces up to 15 names of wine, and annually pours about 700,000 bottles, half of the bottled wine is exported.
"About 20% of wine exports to Russia come from Russia, although we are not dependent on the Russian market. Our wines belong to the high price segment and the prices start from 5 dollars and go up. We pour about 700,000 bottles of wine a year, so many bottles are sold, at this price it is a very big achievement, because even French or Italian companies achieve this goal with great difficulty."
The company appeared on the market since 2005 and currently exports wine to such countries as Norway, Belgium, Denmark, Germany, Italy, France, Australia and the western part of the USA.
By Mariam Gorkhelashvili