Wine Library is a shop-bar, where only Georgian small and medium business wine is sold. With this, the company contributes to the development of not industrial but small wineries and aims to introduce unique varieties to the world. Currently, they export Georgian wine to 20 countries. And the first branch outside the country is planned to be opened in Germany.
The founder and director of the company Nazi Khvtisiashvili says that the investment will be made by a German partner. The parties have already agreed, almost all the details are already certain, and only bureaucratic issues remain to be resolved.
– "The solution will probably take at least a short period of time, and in the near future, probably during the summer season, a branch of the "Wine Library" will be opened in the city of Dusseldorf. Our branch in Germany will have exactly the same concept and the same environment as in Georgia – with quality wines, diverse cuisine and attitudes towards guests. For Germans, quality is of crucial importance, and this attitude connects us" – said Nazi Khvtisiashvili in a conversation with Business Insider Georgia.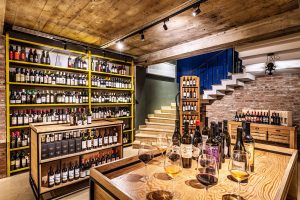 The history of Georgian wine dates back more than 8000 years, although this field has been developing for only 7-8 years, especially small and medium-sized wineries, which are so popular in Europe.
According to the director of the company, they are concentrating on quality as much as possible.
– "We select the wines by secret tasting, before they get on the shelves, they go through a strict tasting, we are most interested in quality, so the wine we send for export is boldly found in foreign restaurants and shops next to the wine of leading producing countries, such as – Italy, Spain, France and others."
Wine Library has been on the market for five years and currently has three branches in Tbilisi. soon, regional development is also planned, the first one will probably be Batumi, where another branch will be opened.
By Mariam Gorkhelashvili