The United States Agency for International Development (USAID) and the United Nations Children's Fund (UNICEF) have summarized their results following a year-long partnership. The two organizations have worked tirelessly to support the Government of Georgia in responding to the COVID-19 pandemic. From September 2021 to November 2022, UNICEF and USAID say they worked to provide "critical equipment and supplies to strengthen health services; improving infection, prevention and control measures; addressing vaccine hesitancy and enhancing demand for vaccination; obtaining real time data; improving water, sanitation and hygiene services; and countering disinformation related to COVID-19 vaccination."
Headed by Ghassan Khalil, UNICEF Representative in Georgia, and John Pennell, USAID Mission Director, the event also hosted youth groups and partners that facilitated the initiative's goals. This project was a continuation of a partnership project implemented in 2020-2021 that was also aimed at getting Georgia the equipment necessary in a rapid timeframe. The speakers reiterated their commitment to the overall objectives.
John Pennell stated that "what we accomplished fighting the pandemic also has lasting benefits for the health of Georgians, among them the training of medical personnel and oversight of the care program rollout, specifically the National Immunization Program." Being one of the first to step forward and help Georgia, Pennell notes USAID assisted with the first 100,000 doses of the vaccine. The organization also focused, throughout the pandemic, on strengthening the processes in the health sector, and partnered with other US-based health organizations for additional resources.
Complimenting Pennell's remarks, Ghassan Khalil said his team was "grateful to USAID for their tremendous support." He also reiterated the work done with the Georgian government and health workers, saying "we reached more than one million people and helped them to become more resilient and capable of coping with the impact of the pandemic."
During the event, the results of the year-long program and its benefits were on display for guests. Materially, the support provided allowed for a massive advancement in Georgia's mission to combat the pandemic, as well as future health crises, among which were 346 refrigerators and 500 cold boxes, mostly for health centers in the country's rural regions. These regions, still building their capabilities, were particularly vulnerable during the pandemic.
Because of this vulnerability, the health professionals in these communities were also given specialized training. 1,284 rural primary healthcare workers were put through advanced courses, with the help from the Nursing Association, to assist with pediatric cases. Additionally, over 1,200 facilities were outfitted with updated systems, allowing for a more rapid transfer of healthcare information and case files, as well as reducing unnecessary redundancies and the potential for errors. This technological assistance also helped over 94,700 youth through remote medical programs and care.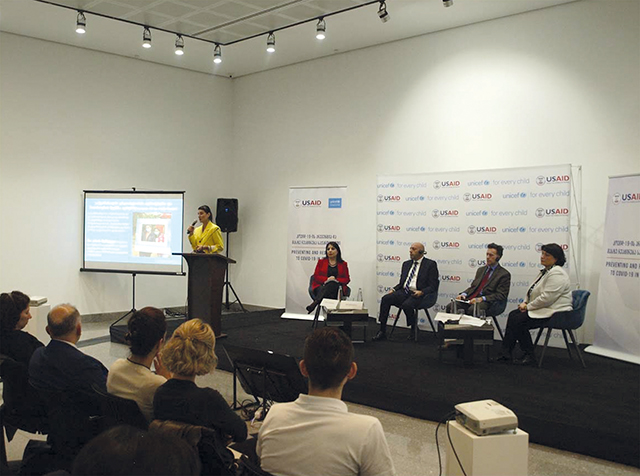 Advancing this outreach, members of both the healthcare and non-healthcare workforces were given curated education on infection prevention and control techniques. Over 31,000 workers were put through this training, and more than 400,000 others had access to various Covid-19 specific resources, particularly on vaccination. This effort led to a massive increase in vaccination throughout the education industry, with more than three quarters of the community taking part.
In one example, Pennell cited the work done in the region of Guria. During his statements, he referred to the "safe drinking water in schools and clinics in Guria." 32 schools and 4 hospitals were refitted with unique water filtration systems. These systems, through a partnership with Shalom Club Guria, improved the drinking water quality for an estimated 5,000 students and teachers as well as 7,000 patients in the region's clinics.
Continuing the mission of reaching the nation's youth, the report stated that 38,234 young people benefited from hygiene messaging. Aimed at improving safe practices, Covid-19 prevention, and general sanitation, the program had an impact on these youth, who likely shared this with families, expanding the impact. UNICEF and USAID partnered with Helping Hand, Adjara Organization of Scouts Movement, Civil Society Development Center, and Kant's Academy to amplify its reach.
The information campaign also remained a focus of the joint program. In working with key organizations such as the Communications Commission and the Ministry of Education and Science of Georgia, education courses aimed at media literacy have been reinforced. In concert with this initiative, efforts targeted at tackling disinformation reached an estimated 800 educators and parents, as well as 70,000 via online platforms through partnerships with Democracy Laboratory.
The event closed with a positive outlook for the future. While the health situation has improved due to these efforts, the work continues. Both UNICEF and USAID pledged their support to Georgia, as programs continue to be monitored and adjustments made as necessary. While the programs focus on a wide range of issues facing the country, the joint partnership initiative echoes UNICEF's motto; "we work for every child, everywhere, to build a better world for everyone."
By Michael Godwin