On February 28, the USAID Agriculture Program hosted the Market Access Facilitating event at the Event Hall Republic in partnership with the Retail Association. The purpose of the meeting was to stimulate and facilitate the entry of Georgian products into domestic retail chains. The event included a presentation of the new Commercial Guide developed by the Retail Association, which will act as a resource for Georgian producers interested in entering retail chains.
"This guidebook will help farmers understand what the individual markets need and how to access those markets while at the same time providing the members of the retailers' association with the more stable reliable and higher quality domestic supply," said Marika Olson, Economic Growth Office Director at USAID Georgia. "This is better for their bottom line and, of course, helps farmers as well, so this is one step further in USAID supporting the modernization and development of Georgia's agriculture system and wider economy, which we've been working on for the past 30 years."
The event also included a panel discussion highlighting the challenges faced by retailers and suppliers and a series of B2B meetings between Georgian agribusinesses and retail chain representatives, among them Goodwill, Agrohub, Daily and Carrefour, with the goal of increasing the number of Georgian products available in domestic retail chains.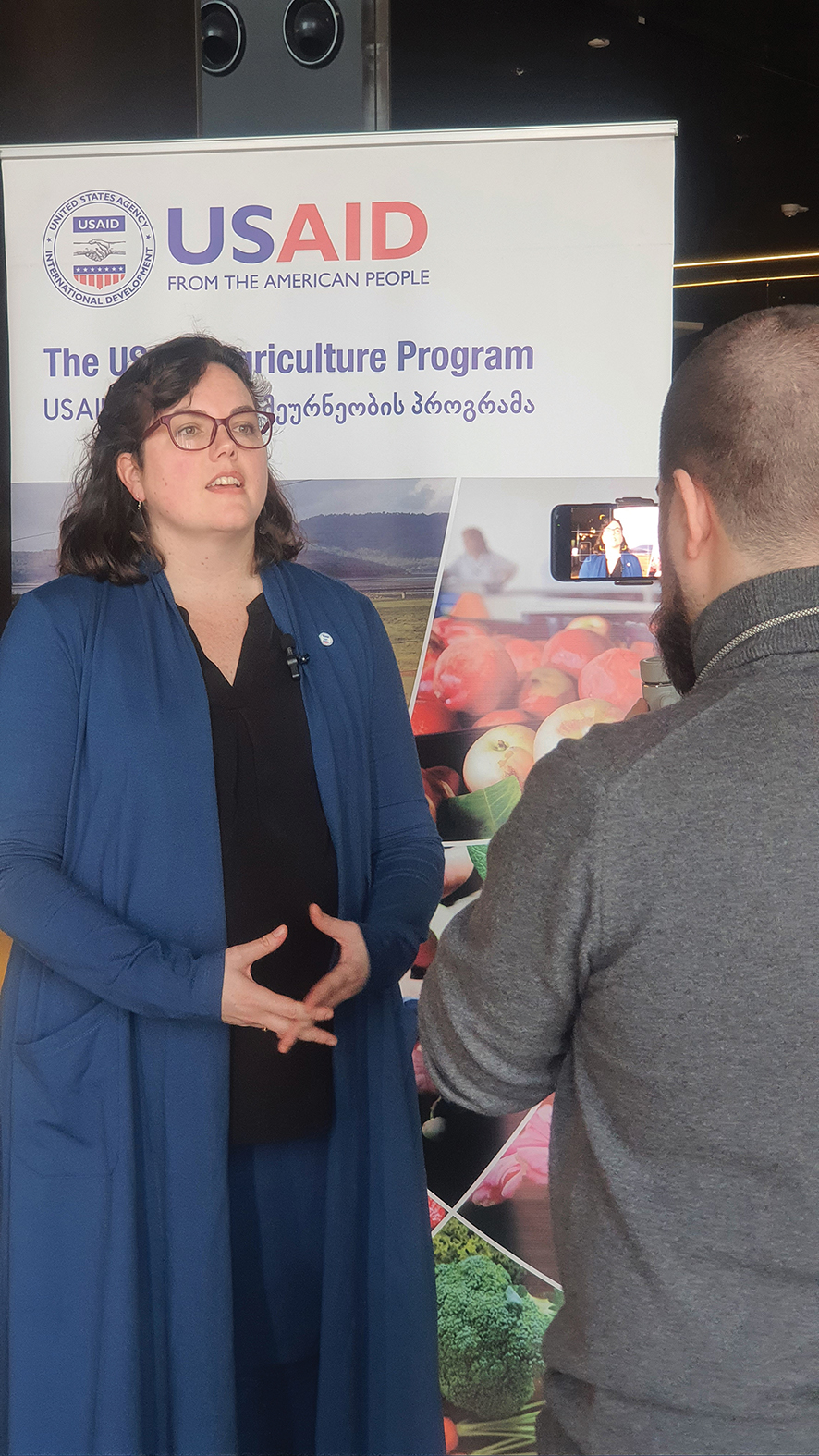 "I really believe that entrepreneurs in Georgia and retailers need to meet, need to exchange, need to negotiate in order to provide the best quality at the best price for Georgians," noted Jerome Adel, Country Manager of Carrefour Georgia. "The forum we had today on the occasion of the release of a guide book published by USAID is of importance to bridge the gaps and to build the understanding between partners."
The event brought together producers and retailers, both of whom have the shared goal of increasing domestic sales and expanding the market for Georgian agricultural products, which will have a significant positive impact on the industry and Georgia's economy as a whole.
"Today's meeting, organized by USAID, was truly interesting for me as a producer," said Zurab Gojiashvili, Tirifoni Fruit, Director. "Retailers, big and small, have always been a bridge between our customers and us, and that's why such events are essential. It will help us build trust with each other. Once again, I'm thankful to USAID for this and other initiatives which help the Georgian agriculture and food industry improve."
For over 30 years, USAID has shown unwavering support for Georgia's democratic and economic development and will continue so in the name of the American people.
By Erekle Poladishvili