The UK market has always been and will be an important and desirable market and strategic partner for Georgia.
To date, the UK is the largest investor in the Georgian Economy, while Georgia was one of the first countries to sign a free trade agreement with the UK after the latter decided to leave the European Union, and the majority of Georgian products are now free from any customs charges.
The agreement of strategic partnership between the UK and Georgia was signed in October of 2019 in London. The document entails partnership in various fields and, most importantly, a free trade regime between the two countries.
For Georgian entrepreneurs and businessmen, the British market is very attractive and interesting. However, they often have to face some serious challenges.
This especially applies to small-business owners who do not have enough resources to form straight connections with British partners and distribution networks.
The British Georgian Chamber of Commerce (BGCC) has a vested interest in encouraging bilateral relations between Britain and Georgia, including investment, trade, and cultural awareness-raising between the two countries through conferences, trade missions and exhibitions.
The BGCC also has a big focus on professional education, arranging internships and facilitating the attendance of Georgian businessmen on courses at such prestigious institutions as Plumpton Agricultural College, which has a focus on wine-making, wine business branding, and marketing, particularly useful for today's Georgia.
Mako Abashidze, the Founder of the British-Georgian Chamber of Commerce, and most recently, the Chair of Creative Women Georgia, in this interview with GEORGIA TODAY discusses why Georgia should look to the UK for a good trade partner.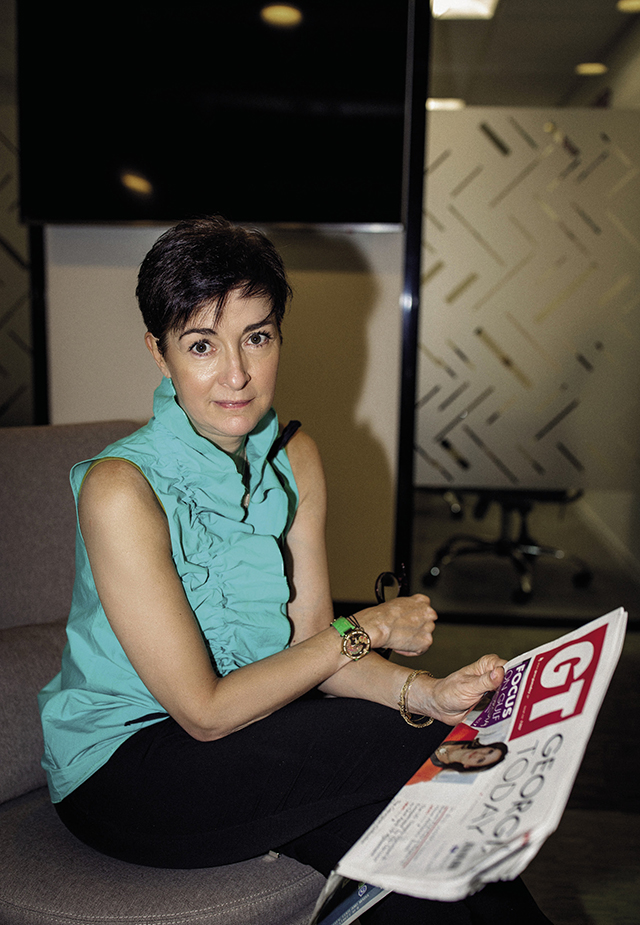 What were the BGCC's hot projects prior to the pandemic?
Since its founding in 2017, BGCC has launched over 500 events in Georgia and the UK- from conferences, business summits, and expos to trade shows, fairs, press trips and cultural events.
In all these years, we have been proud and grateful to have BP as our founding member.
Our partners are the Georgian National Wine Agency, Tourism Administration, Georgian Embassy and British Embassy, Ministry of Culture, Department of International Trade, and BGCC Business Members – private companies.
Priority sectors for the BGCC are Tourism, Media, Business, Trade & Investment, Wine Trade, Education, Charity, and Medical.
How did Brexit and then the pandemic affect the BGCC's work?
Live events were postponed for almost year and a half, but we are organizing our first live event in Tbilisi, "The Creative Women Assembly," in spring 2022.
"Creative Women" is an international platform founded in 2016 and uniting top professionals and influential women from over 40 countries. I'm honored to be a Chair of the Creative Women in Georgia.
The Creative Women Assembly in Georgia is a unique business networking event and is being held under the High Patronage of the President of Georgia, Salome Zurabishvili. We are very privileged to have the President as a patron and host of this event!
Our future plans are to make the Creative Women Assembly in Georgia an annual, regional, and global event that brings together female leaders and business owners from around the world.
In January, a Free Trade Agreement was introduced between the UK and Georgia. What does this mean for the two countries?
The FTA is a unique opportunity to develop trade between our countries and increase the volume of commodities to trade. It is a great potential for Georgian producers, but likewise we are promoting Georgia as an export destination to British businesses.
We're working with British food producers to explain and show the great potential in exporting to Georgia. Georgia was not among the priority countries for the UK, but since Brexit and the free trade agreement, things have changed.
In the current business climate, British business is more flexible and adjustable to the new reality, and it is definitely looking for new markets. I strongly believe that British food products can be very popular and price competitive in Georgia, and we all love the British standards!
Next spring, we're planning to launch a Trade Show with British Products in Tbilisi.
Which Georgian products are UK consumers most interested in, and how is the outlook for increasing this trade?
Wine is at the top of the list, but the latest figures show that Georgian jams, juices and spring water have a good chance, too.
A great example of this is in the ongoing success of Georgian companies Kind & Noble, Natakhtari, Lomisi beer, August fruit jams and juices, and Benji's fruit brandy.
How has the Georgia-UK Trade Hub been working out? What progress has been made?
The UK-Georgia Trade Hub was launched by a Georgian businessman who has been living in London for over 15 years, Bachi Gabunia. The BGCC is actively supporting his initiative.
From the very beginning of this project, we had great support from the Georgian Embassy and Georgian Ambassador to the UK, Sophiko Katsarava, and her professional team. The Embassy was a link to get fast and efficient information on legal issues, communication with Georgian government structures and Enterprise Georgia on policies, certificates, and other important issues. Actually, the launch of the UK-Georgian Trade Hub in October 2020 was held at the Embassy!
In December last year, the UK-Georgia Trade Hub started activities and regular shipments to the UK. Its online shop was successfully launched and is running smoothly. The timing was great, as online shopping is now the fastest growing sector.
Regular containers travel between the UK and Georgia 1-2 times per month, and that tendency is growing. Grouping goods into shared containers makes it easier to send products regularly, and in smaller quantities, starting from 1 Euro a pallet.
This initiative is a brilliant support for small and medium size Georgian producers wanting to send their goods to the UK fast and affordably.
What do you have in store for the future of BGCC activities?
First the Creative Women Assembly in Tbilisi, then, next spring (dates to be announced), we're planning to show a selection of British products to local distributors, to do a British Expo of potential food and beverages from the UK in Georgia.
2021-2022 saw the BGCC's main activity being to increase awareness of the free trade agreement and to communicate and introduce to new markets as many producers as possible, from both countries.
How do you see Georgia's current economic position and its future potential? What is needed for its economic recovery?
International trade support and new markets. Georgian products have proven to be really good quality, and the BGCC is always there to support, give information, and to consult with businesses on all practical matters.
***
Honorary Consul for Georgia Derek Pickup spoke to GEORGIA TODAY about his own involvement in boosting Georgia-UK relations, and his hopes for the future.
In 1996, I organized an exchange of delegations between Tbilisi and Georgia. One of the key areas we identified for developing economic links was wine. Unfortunately, despite introducing key people from both Bristol and Tbilisi who were involved in the wine industry, nothing happened. At that time, there was a lack of understanding in Georgia regarding what was required to move the introductions we facilitated into a business relationship.
In 2018, we took another trade delegation to Tbilisi from Bristol, and discussions took place regarding a far wider range of business opportunities. Areas were identified for further investigation, and this led to more visits, more discussions, and more support from the Georgian government. Unfortunately, the political situation in Georgia and the lack of stability in the region led to talks stalling. And then Covid-19 came along.
UK investors are regarded as being very careful, and the continuing political instability within Georgia and in the region makes investors nervous. The Covid pandemic and related issues made Georgia even more isolated, and the possibility of developing business relationships even more challenging.
Now, however, the world is starting to open up again, the UK is looking for new markets, and Georgia has very much an open door policy. The UK and Georgia have signed a free trade agreement and the time is right to start up talks again to develop economic links. To this end, in Bristol, we are investigating the possibility of taking a business delegation to Tbilisi in 2022, and we hope that this will be "third time lucky" and that all the trust and contacts we have been developing over the past 25 years will be enough for some of the business investors in Bristol to see the many opportunities for investment in Georgia.
Interview by Katie Ruth Davies