This was the title of a competition held in 2022 by the Georgian National Trust, brainchild of long-term Georgia patriot Peter Nasmyth. Invited for my first visit to the Trust's headquarters for the winners' awards ceremony on October 15, I went with great anticipation. The competition was for residents of the Tusheti province, who are doing the most to preserve and maintain the local heritage, whether this be tangible or intangible, the culmination of the World Monument Watch day events (first was the 4th October in Tusheti), funded by World Monument Watch in New York.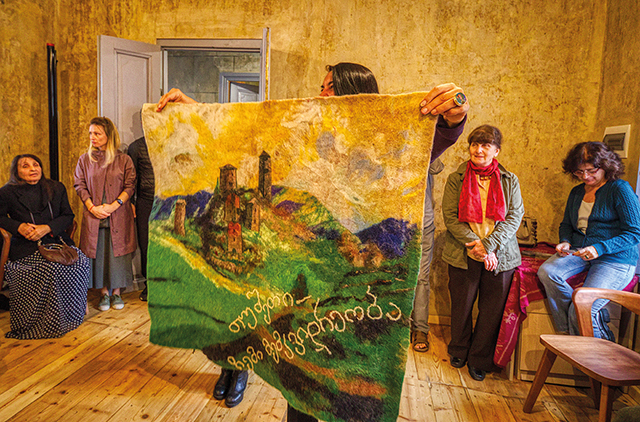 The National Trust of Georgia, running along similar lines to the one in the UK, which manages and supports heritage there, is housed in a fully renovated old house in Avlabari, Tbilisi. Showing me around, Peter told me that this restoration took over two years of the Trust's ownership of five years to complete, and unearthed many surprises along the way.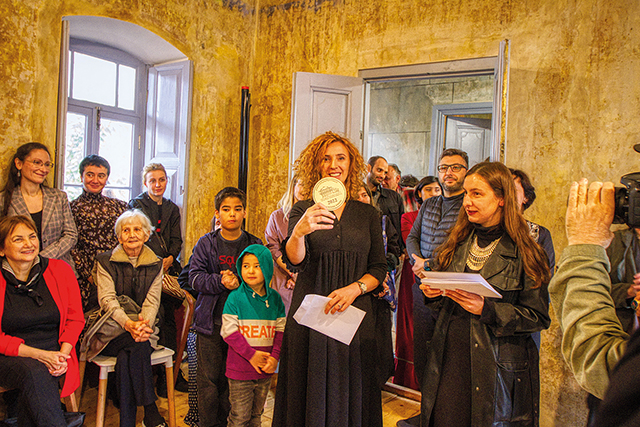 "We were scraping back the layers of paint on the walls in the two main-floor rooms, and this revealed not only some lovely stenciled wall designs, but also two Persian fireplaces which had been completely covered up!" he said.
Elsewhere, pottery fragments and worm-holed but still heavy and solid beam sections were left on display. The entire roof, and much else, needed replacing, but all has been done in materials and styles which nicely complement the original design of the house, which is several centuries old. As an example of what can be done to restore old architecture in Georgia, it's a magnificent showpiece for the Trust.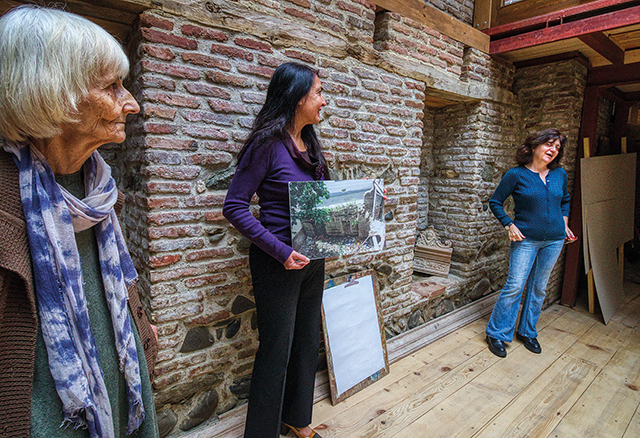 On to the awards, plaques to affix to the houses of the winners. These were as follows:
Marine Mikeladze, wool/felt and knitting
Ilia Chrelashvili, architecture
Mariam Kachidze, Tsova-Tush language and the Tusheti brand (audio/video archive, folklore)
Levan Mikeladze, cuisine
Ia Nekervauli, architecture
Salome Idoidze, architecture
Pati Mishidze, architecture/museum/photographic archive
Lili Murtazashvili, wool/felt and museum
Manana Bukurauli, Tsova-Tush poetry
Georgian and Tsova-Tush singing and dancing complemented the theme of the day, along with local food and wine. Old photos from Tusheti, as well as drawings of the local architecture with its unique slate watchtowers, adorned the walls. The guests were mostly Georgians, and Peter hopes that they will have come away with pride in what can be done by them and their country-folk to preserve Georgia's cultural heritage. Building by building, a story, photo and song at a time, this can be done; every such effort makes a difference. People can buy a membership in the Trust to help support its work, as in the UK.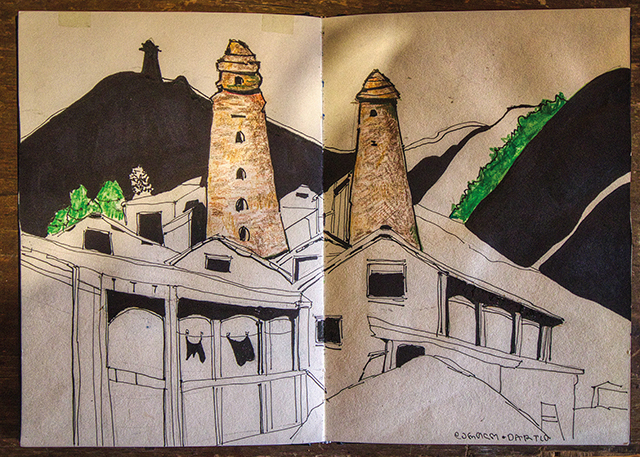 Tusheti almost entirely empties for the winter, its residents leaving for lower locations before the snows close it in; hardly anyone chooses to stay for this long, harsh season of complete isolation. What is also amazing is that its flourishing tourism industry is being developed with hardly any electricity, this being supplied chiefly by solar panels and a few fueled generators. My own visit there a couple of years ago revealed rather scary roads (our unflappable driver had had many years' experience), towers, and landscapes which took in magnificently far, far distances right from the road. Fortress-like villages made all of slate, most beautifully preserved in their original forms, added the human element. But modernity is also threatening to come in and change things, in the form of new highway projects and insensitive modern architecture which will irreversibly alter the unspoilt look of the province.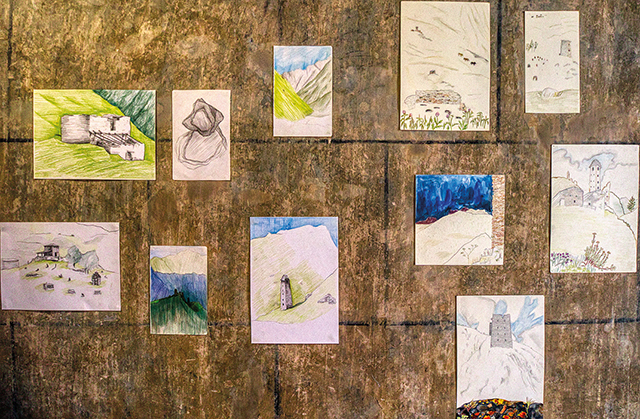 Other parts of Georgia will also have similar opportunities to show off their efforts to maintain their cultural heritage. This ancient little country is unique everywhere, in song, dance, costume, architecture, cuisine, landscape, language or dialect, and more.
The National Trust headquarters also has several rooms to rent for heritage-minded individuals, contact details below:
The National Trust of Georgia
33 Mepe Solomon Brdzenis Street 0103, Tbilisi
Board Members: Peter Nasmyth–co-chair; Marine Mizandari–co-chair; Maia Kipshidze, Irakli Kordzakhia, Catherine Leonard, Maia Mania, Eliso Sulakauri, Tamar Teneishvili, Nato Tsintsabadze
contact@nationaltrustofgeorgia.org.ge
www.facebook.com/thenationaltrustofgeorgia
www.thenationaltrustofgeorgia.org.ge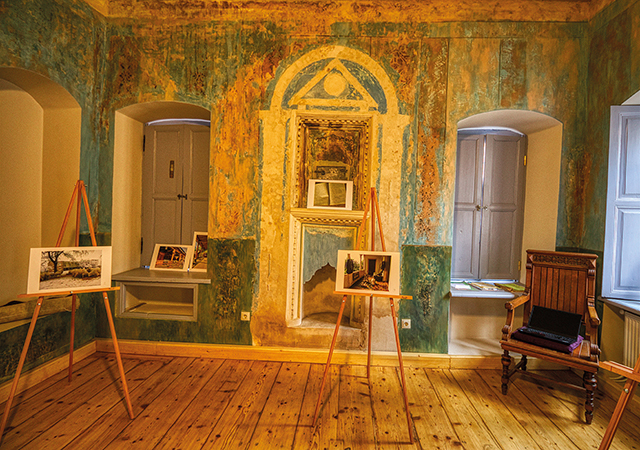 BLOG by Tony Hanmer
Tony Hanmer has lived in Georgia since 1999, in Svaneti since 2007, and been a weekly writer and photographer for GT since early 2011. He runs the "Svaneti Renaissance" Facebook group, now with nearly 2000 members, at www.facebook.com/groups/SvanetiRenaissance/
He and his wife also run their own guest house in Etseri: www.facebook.com/hanmer.house.svaneti