After a seven-month pandemic pause, the long-awaited live show returned to the San Carlo Theater in Naples and opened its doors to the audience. From May 14 to May 23, at the Ancient Italian Opera House, everyone's favorite opera, Giuseppe Verdi La Traviata was performed. The world-famous Georgian singer George Gagnidze was invited as the main baritone role, who performed Giorgio Germont's role with two different cast crews, in 7 plays.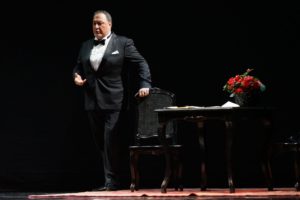 He's partners were: Aleksandra Kurzak, Ailyn Pèrez, Piero Pretti, and Ivan Magrì. The play was conducted by British maestro Karel Mark Chichon. The semi-stage staging by director Marina Bianchi was characterized by minimalism.
This play was amazingly emotional for everyone. The singers had missed the sincere emotions of the audience, live applause, and the audience – a direct communion with true art.
Special attention was paid to the famous Georgian singer George Gagnidze. Special articles about him were written in the famous newspapers Corriere della Sera and La Repubblica.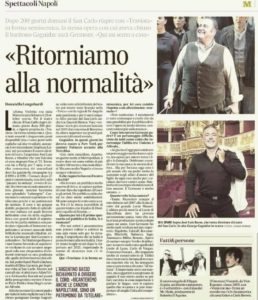 The famous Italian edition L'Ape Musicale wrote: "Georgian baritone George Gagnidze, who is highly appreciated at the San Carlo, praises the character of Giorgio Germont with a distinctive voice: a timbre with a beautiful texture, he convincingly dominates the text, demonstrates excellent legato, and always unfolding adequate volume. He is an authoritative father rather than an authoritarian, dignified, measured in interpretation, and always elegant in the singing line. George Gagnidze was the best in performing the trio. "
Also noteworthy is the review published in Vesuviolive: "Germont's father, performed by George Gagnidze, acquires more depth in this uniquely intimate version, reveals hierarchic but also truly paternal feelings, capable of understanding the pain caused. The cameo of his song "Di Provenza il mar, il sol", which is a real oasis of serenity in the fire of passions, was perfectly performed by the Georgian baritone."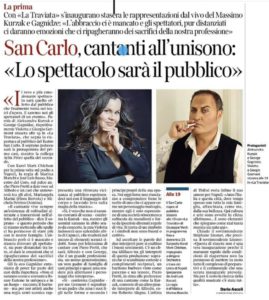 Connessi all'Opera wrote: "Baritone George Gagnidze is a worthy performer of the role of Father Germont. In his very first phrase, you will feel the ability of unleashing the variety and nobility of the timbre, the firmness of style, and intonation. "