The construction company of wooden houses and cottages, kohi.ge, builds economical, ecologically clean and low-cost wooden houses in any region of Georgia, using centuries-old technologies spread in North America and Europe.
Special benefits are available for the population of the regions of Georgia who want to return to the land of their ancestors or arrange a tourist complex and introduce the beautiful places of Georgia to more foreigners.
There is not one person who has not dreamed of a wooden house, a beautiful wooden cottage on the edge of the forest, or their own wooden cabin in a village.
Kohi.ge is the company that will make this dream come true and do so quickly, with quality, and affordably, in any part of Georgia, giving you a house that will need no renovation and will be ready to live in.

Houses built with kohi.ge technology are warm in winter and cool in summer. Most importantly, they are cheaper than a traditional concrete house and can be built quickly.
You can order 1 square meter from 750 GEL within the summer campaign of kohi.ge, but the final price depends on the wall thickness and the materials used. The average price is 1000 GEL per square meter, and there are more expensive projects under the recently launched special product Kohi.ge Premium.
kohi.ge houses are economical, ecological and fast to build, and they are energy efficient, because they require much less money to heat or cool.
The house includes high-quality plastic doors and windows, black or brown, thermal insulation in the walls, ceiling and floor, electricity, and communications.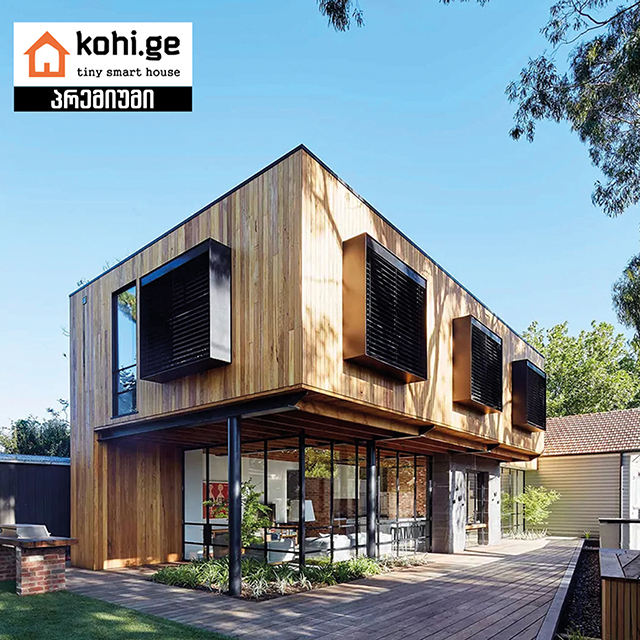 Why choose Kohi.ge?
According to Levan Pirtskhalava, company director: "This is our standard that sets us apart from everyone else. Our main challenge is to develop the wooden house construction industry. Unfortunately, there are no official standards in Georgia to assess the durability and quality of wooden house construction, so our company is developing its own standard, which will be developed according to the standards of construction of the most successful Canadian wooden houses in the world.
"Our houses will be suitable not only for the Georgian but also for European markets, which we are going to achieve from 2022.
"The choice is simple – choosing Kohi.ge means choosing European quality."
595808024 is the kohi.ge hotline. Company consultants will help you select the project you want.
Phone: 595808024 | www.kohi.ge | info@kohi.ge | www.facebook.com/qokhi.ge