After a challenging 2020 and early 2021 for the tourism sector, various positive developments, such as the alleviation of restrictions, were seen in the tourism sector in Georgia in the second quarter of 2021. As of July 2021, there are no restrictions of movement in place within Georgia, and both land and air borders are open for eligible visitors. Below is a timeline of the relaxing of various COVID-19 measures in the second quarter of 2021:
• From May 17, the curfew was moved from 21:00 to 23:00.
• From May 22, restaurants were allowed to operate on weekends in open spaces.
• From June 1, restaurants were allowed to operate on weekends in both open and closed spaces.
• From June 1, land borders were reopened.
• From June 14, tourism information centers around the country re-opened.
• From June 16, mandatory PCR testing for visitors under the age of 10 was eliminated.
• From July 1, the curfew (23:00 – 04:00) was removed.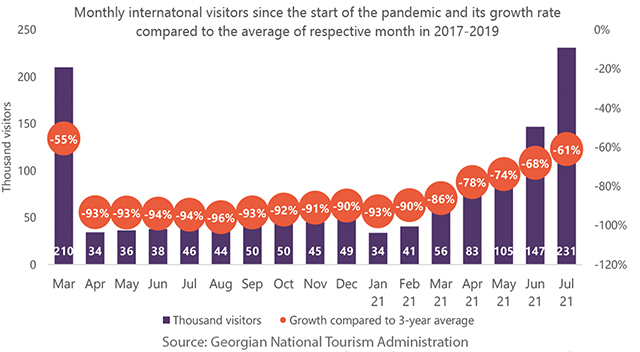 The prospects of the tourism sector's recovery in 2021 have also received a significant boost from developments in the aviation industry. According to Mariam Kvrivishvili, Deputy Minister of the Ministry of Economy and Sustainable Development, as of July 2021, 72% of the number of direct flight routes had been recovered, compared to 2019 levels. In particular, Batumi International Airport has shown rather positive tendencies, with growth of 21% in terms of the number of flight destinations compared to 2019 levels*.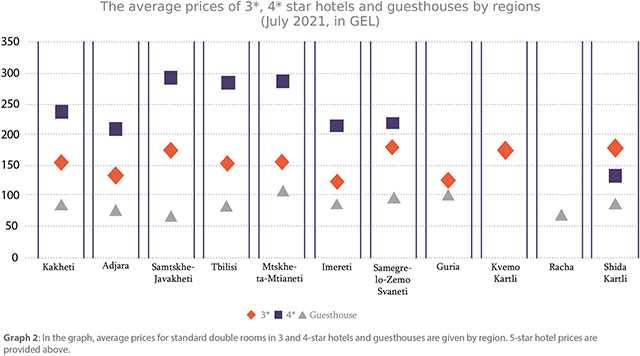 WizzAir, a major airline carrier for the Georgian market, has reestablished its international hub in Kutaisi. Meanwhile, various other airlines (such as FlyArystan, Air Astana, Air Manas, Gulf Air, Qatar Airways, Air Arabia, FlyDubai, LOT Polish Airlines, Eurowings, Bees Airlines, Aegan Airlines and Turkish Airlines) have renewed, expanded, or started operations in Georgia so far in 2021**.
The tourism sector also received another boost recently as in the updated state budget of 2021, the Georgian National Tourism Administration's budget was increased by GEL 10 mln . In addition, Georgia has been elected to the Executive Council of the UNWTO for four years, which will allow the country to have a say in global developments in the tourism sector.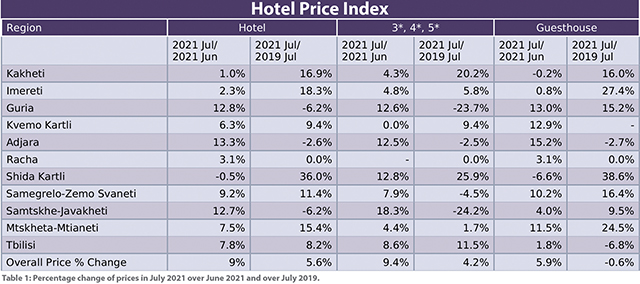 These positive developments have resulted in a significant increase in the number of international visitors since March 2021. Moreover, apart from absolute numbers, the growth has also been evident with respect to the pre-pandemic levels of visitors (defined as average number of visitors in respective month in 2017-19) – in March 2021, only 19% of pre-pandemic level was recovered, while in July 2021, this figure amounted to 39%.
However, there are significant obstacles that persist in the way of recovery. In particular, the significant increase in number of COVID-19 cases and deaths in recent weeks raises uncertainty about tourism's recovery in 2021 and beyond. Pertinently, this spike has recently resulted in Georgia moving to the red country list of Israel, one of Georgia's key source markets, especially in 2021 so far. This has already resulted in Israel moving from 2nd place in terms of visitors in June to 5th in July. Moreover, despite the rollout of a general vaccination program, and a specific program for the tourism sector, the vaccination process has not been fast enough so far, with most of the sector and the country still unvaccinated (even with the vaccination rate picking up in recent weeks). In fact, some measures for curbing the spread of the virus have been reinstalled. Rapid scale-up of the vaccination process and mitigation of the spread of the virus is crucial for sustaining current positive developments in the sector.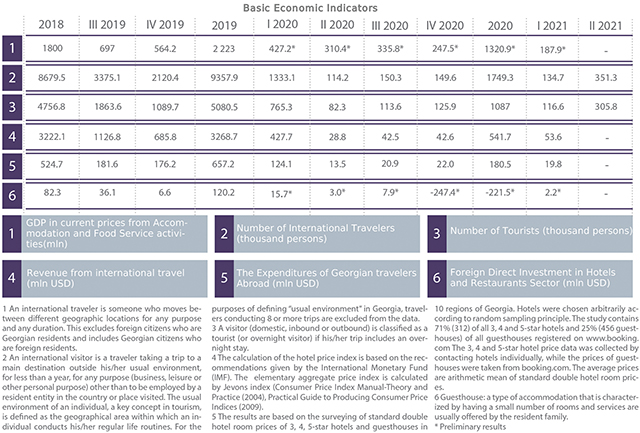 Hotel Price Index
In July 2021, in Georgia, the hotel price index increased by 9% compared to June 2021. The 3-star, 4-star and 5-star hotel price index increased by 9.4%, while for guesthouses, the price index increased by 5.9%.
In July 2021, compared to July 2019, hotel prices in Georgia increased by 5.6%. The prices of 3*, 4*, 5* hotels increased by 4.2% and the prices of guesthouses decreased by 0.6%.
Average Hotel Prices
In Georgia, the average cost of a room in a 3-star hotel was 149 GEL per night in July 2021, while the average cost of a room in a 4-star hotel in Georgia was 265 GEL per night and the average cost of a room in a guesthouse was 85 GEL per night.
The average cost of a room in a 5-star hotel in Georgia in July 2021 was 524 GEL per night. In Guria, the average price was 809 GEL, followed by Adjara – 550 GEL, Kakheti – 543 GEL and Tbilisi – 539 GEL.