For many of us, coffee is one of the most important elements and a precondition for a successful and energetic day. No doubt, starting a day with a strong and tasty cup of coffee can have a great influence on our mood and productivity daily, however, making the right choice is important. Now, as outdoor eateries have been allowed to host guests since February 15, many of our favorite places throughout the city are well up and running, and are waiting to greet thirsty customers.
Here, we guide you through the top places in Tbilisi where one can drink the most delicious cup of coffee and enjoy a cozy and friendly environment and quality service at the same time.
GLORIA JEAN'S COFFEES
Gloria Jean's, an Australian coffee brand with 40 years' experience, is available in Tbilisi on Liberty (Freedom) Square.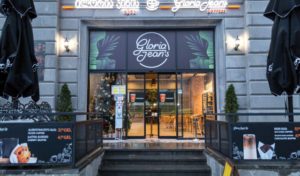 Original Blend Dark Roast is the signature taste of Gloria Jean's. However, coffee lovers can find a wide variety of special coffees suitable for any taste, from delicate and creamy Cappuccino to intense and aromatic Americano. And only original top quality beans roasted in Australia are used during the preparation process. Each cup of coffee at 'Gloria' is controlled by professionalism, with the condition of the beans to milk temperature carefully maintained. No burnt milk or dissatisfaction here!
The new branch at Liberty Square continues the tradition of the brand by sourcing quality coffee beans, and training the best baristas to serve up their unbeatable coffee with a smile.
1/3 Aleksandr Pushkin Street
Daily from 08:30 AM – 8 PM (except weekends)
(+995) 555 33 48 73
https://www.facebook.com/gloriajeanscoffeesgeo/
LE GATEAU
Le Gateau is a boulangerie offering a wide variety of premium French desserts, cakes and freshly made bread. Moreover, it is widely known among coffee lovers as one of the best facilities to enjoy the highest quality coffee in Tbilisi. When visiting the facility, one can enjoy the combination of its distinguished sweets and tasty coffee.
"The long-awaited day has come! After a long wait, our cafes started hosting in the open air. Do not spend the warm and sunny days of February at home, create your mood by visiting Le Gateau. Visit our cafes in the open air!" the brand addressed loyal customers.
42 Abashidze Street, Vake; 24 Al. Kazbegi Ave.; 25 Pekini Ave.; 1 T. Shevchenko Str.
Daily from 08:00 AM – 8 PM (except weekends)
(032) 247 15 15
https://www.facebook.com/LeGateauGeorgia
PAUL GEORGIA
This French family bakery & patisserie, running internationally since 1889, easily won the hearts of the Georgian coffee and sweets enthusiasts. PAUL Georgia is one of the most popular places to have a delicious, light lunch and quality coffee in Tbilisi.
"From now on, you can visit us and sit on our terrace (except weekends); the time to be together has come again!" the facility announced following the lifting of restrictions.
26 A. Abashidze Str.; 15 Al. Kazbegi Ave.
Daily from 09:00 AM – 8 PM (except weekends)
(+995) 558 37 59 58
https://www.facebook.com/paul1889.georgia/
LUCA POLARE
Apart from finest ice cream and sweets, Luca Polare offers coffees for all tastes. Moreover, they serve the most delicious hot chocolate!
LUCA's coffee is the highest quality Arabica, with beans picked in South America. Mocha, Latte, Cappuccino, Americano, or Espresso? The choice is up to you! Notably, LUCA's coffees can be enjoyed with vegan milk.
Branches:
Tbilisi: 11 Mosashvili Str.; 12 Eristavi Str.; (Round garden); 7 Sandro Euli Str.; 9 Kazbegi Ave.; 125 Agmashenebeli Ave.; 2 Kakabadze Str.; 7 Pekini Ave.; 3 Arakishvili (Vake); Eastpoint (2 Tvalchrelidze Str.); City mall Saburtalo (1 Kavtaradze Str.).
Batumi: 3 Irakli Abashidze Str.
Daily from 08:00 AM – 8 PM (except weekends)
(032) 238 08 02
https://www.facebook.com/LucaPolareOriginal/
DOLCI DI PARADISO
If you've been to Dolci di Paradiso once, you'll be sure to want to head there again and again. Here, you will find the highest quality, best service, delicious ice cream, coffee and sweets.
The authentic Italian brand Kimbo coffee will fill you on your way to work in the morning with distinguished flavors. Dolce di Paradiso is a real Italian paradise where you can feel for yourself what heavenly sweets and coffee are like.
40 Chavchavadze Street, Vake
Daily from 10:00 AM – 8 PM (except weekends)
(+995) 577 25 22 00
https://www.facebook.com/dolcidiparadiso