Athletes from 136 countries took part in the 2021 Tokyo Summer Paralympic Games which opened in Japan on August 24 and ended on September 4. The Georgian delegation was represented by 13 athletes in the competition, participating in six sports.
In Wheelchair Fencing:
Irma Khetsuriani: Two-time world champion, 18-time World Cup winner, European vice-champion; Nina Tibilashvili: Three-time world champion under 23, silver and bronze medalist, Seniors – Vice-Champion of Europe, multiple bronze medalists of the World Cups; and Gvantsa Zadishvili: World champion in team fencing, two-time World Cup silver and bronze medalist.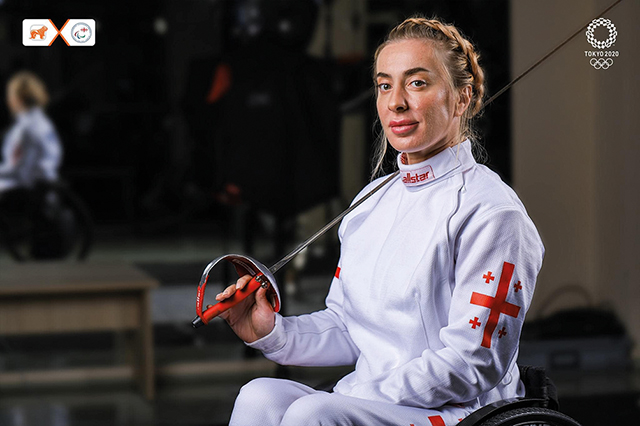 In Para Judo:
Revaz Chikoidze: Gold winner of the European Championship, Two-time Grand Prix gold and bronze medalist; Giorgi Gamjashvili: World Cup and World Championship bronze medalist, Grand Prix silver and bronze medalist; Zurab Zurabian: Winner of the Grand Prix Gold; Giorgi Kaldani: Winner of three gold and bronze medals at the Grand Prix; Ina Kaldani: Two-time Grand Prix bronze medalist.
In Para Powerlifting:
Ahmad Razm Azar: Four-time World Cup gold, two-time silver, and bronze medalist; and Akaki Jincharadze: World Cup gold medalist, three-time silver, two-time bronze medalist, and European Championship bronze medalist.
In Para Swimming:
Nika Tvauri: Participant of the 2012 London Paralympic Games, winner of the bronze medal at the 2015 Seoul World Games, two-time gold medalist at international championships and tournaments for the blind, holder of three-time silver and two-time bronze at international championships, World Games bronze medalist.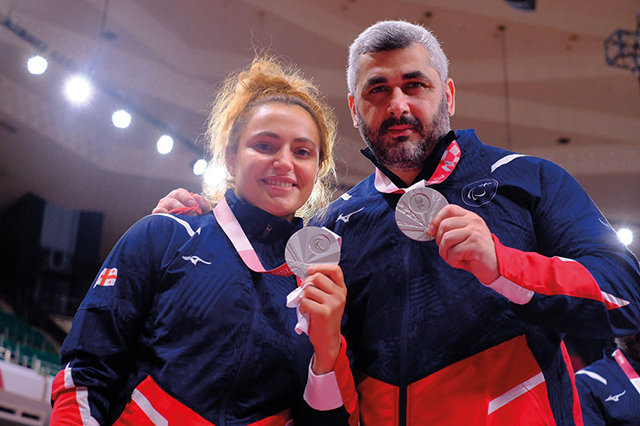 In Para Athletics:
Davit Kavtaradze: Silver medalist of the 2018 European Championship in Berlin.
In Paralympic shooting:
Lado Chincharauli: Georgian champion in the para shooting, Vice-Champion of the US Open.
THE GEORGIAN WINS AND LOSSES
At time of going to press, the Georgian athletes are competing successfully, and so far have won three silver medals, a first for the country.
Wheelchair Fencer Nina Tibilashvili, Para judoka Ina Kaldani (-70 kg), and Para judoka Revaz Chikoidze (+100 kg) were the talented medal winners, with Kaldani becoming the first Georgian female judoka to win a medal at the Paralympic Games.
In Para Powerlifting, Akaki Chincharadze took 4th place, while Wheelchair Fencers Irma Khetsuriani and Nina Tibilashvili both competed for the finals.
In the quarterfinals, Khetsuriani's opponent (in category B) was Italian Rossanna Pasquino, who won at 14:10, however, Khetsuriani competed without mistakes and won 15:14.
The competition between Nina Tibilashvili and Ukrainian Natalia Morkvich (A category), also ended at 15:14.
In the following match, Khetsuriani lost the bronze medal to China's Xiao Rong at 6:15, while Tibilashvili won a silver medal, having lost to China's Jing Bian in the final 7:15.
By Ketevan Skhirtladze