Lying between the Europe and Asia divide, the Black Sea has a long history of changing hands and playing a pivotal role in the region's geopolitics. In a newly released study, Paul Taylor takes a look at the role this region and the nations around it have played, and currently play, in the events that have brought us to the current crisis. With increasing tensions between NATO and Russia, as well as the lingering questions over Ukrainian and Georgian acceptance into NATO, the Black Sea is once again in the globe's sights.
Paul Taylor is a Friends of Europe Fellow and long-time veteran Reuters EU Affairs Editor. In his new report titled "Murky waters – the Black Sea region and European security," he takes an in depth study of what he calls one of the most bitterly contested strategic zones around Europe since the end of the Cold War. In addition, he analyzes its role in the escalating Russia-Ukraine crisis and the risk of armed conflict.
In presenting his study, the Friends of Europe hosted a panel discussion with guests MEP Viola von Cramon, the Vice-Chair of the European Parliament's Delegation to the EU-Ukraine Parliamentary Association Committee; Igor Yurgens, the Chairman of the Institute of Contemporary Development in Russia; and Alina Frolova, the Deputy Chairman of the Center for Defence Strategies in Ukraine and former Deputy Minister of Defense of Ukraine. Jamie Shea, Senior Fellow and former Deputy Assistant Secretary General at NATO, guided the discussion as moderator. Prior to the panel discussion, Paul sat down with GEORGIA TODAY to discuss some of his findings.
You mentioned the economics of the region, and the increased financial and political incentive for Black Sea states to seek increased economic relations with the EU rather than with each other. Could this be a key pressure point for Russia, or another actor, to destabilize the region and shift control in their favor away from NATO/the EU? If so, what is the best way to prevent this from happening?
It's possible, but I think you have to look at a country like Georgia in terms of attracting investments and becoming a hub for energy and transportation, telecommunications, and sea trade. There are a lot of things Georgia could do for itself that have been obstructed for domestic reasons that are not always clear to an outsider. If you look at the combination of the failure of the Anaklia Deep Sea Port project and the Namakhvani Hydropower dam project, almost a billion-dollar project the government let fall through, as well as the very opaque dealings surrounding the fiber optic network that Georgia seems to be letting slip, while it could be a really important fiber optic hub between Central Asia and Europe. Those are domestic things.
Whether there was a Russian hand in any of those things, I don't know. If there was, it seems that it has to do with this backsliding in Georgia's political culture and the rule of law. Georgia had made itself a pretty attractive place to do business when you look at all the indexes such as the World Bank and Transparency International. It still figures high on those indices, but it's slipping, and it is less attractive, less legally secure, and less transparent for people to invest in long term projects than it was. There was interest from China in investing in Georgia too. As such, Georgia is in a position to play the West and China against each other, or bring them together, for its benefit. For me, it's not Russia that's ruining these things but rather Georgia itself.
Since the collapse of the Soviet Union, Russia has increasingly become the only real naval power with an uncontested hold on the Black Sea. Is there any way to counterbalance this through the development of Ukrainian, Georgian, or other naval deployments?
The international naval presence is regulated by the Montreux Convention, and I don't think the West has an interest in calling that into question. It may tie our hands, but it also ties everyone's hands. Within those constraints, Bulgaria, Romania, Ukraine, Georgia, and Turkey are entitled to develop their maritime forces. Mostly, these are of a coast guard nature, and there's not a lot more. I think Romania is the country most looking into acquiring more, and the UK has now signed an agreement with Ukraine for development of the Ukrainian Navy.
We have to look at what our partners and allies are achieving in the Black Sea and the Sea of Azov with their own naval forces. Then, what further value can NATO add and where should they not go. When I saw that UK destroyer going on a freedom of navigation patrol through Crimean territorial waters, it seemed like that was bordering on provocation. It was a demonstration for the media, and they brought a media crew along. My own sense was that not everyone in the NATO maritime sphere was particularly happy with that.
The number of NATO ships operating in the Black Sea has tripled since 2014, so they are certainly more present there and they're getting Russian attention. That type of "showing your flag" provides reassurance for our Black Sea allies and partners and is worth doing. What the risk is is the erosion of maritime rights. There's been a big erosion of maritime rights by way of the Russian annexation of Crimea. They've taken Crimea's territorial waters, their Exclusive Economic Zone, and are operating Ukrainian offshore drilling platforms.
There's a real issue about access to the Sea of Azov, as Russia is continuing to delay, although not prevent, the passage of Western commercial shipping through the Kerch Strait. It's clear, however, that none of the littoral states are going to be able to build a navy that can match the Russian Black Sea Fleet. It's more about coastal defense, patrolling, and protecting those maritime rights.
Ukraine and Georgia, as well as other regional states, have received significant military support in the form of ISR, materials, and training. Given that there is certainly a difference between providing small arms and ammunition, and larger missile or aircraft platforms, is there a red line that you see in this as well?
I think the second red line I see is the matter of permanent basing of US or other NATO forces in Georgia or Ukraine. I know there was a discussion in the Georgian government about whether or not to offer the United States use of a base in Georgia. Countries that are looking to join NATO are trying to make themselves as useful as possible, and particularly to the most important ally, the US. I think it was wise not to offer it, as you don't want to offer it if you don't think that's what they want.
I also think it comes down to the nature of the weaponry. You want to be able to provide weaponry that enables a country to defend itself. You want to be wary of providing a country with things that provide a real offensive capability, such as things that have the range to reach into Russia. That's the destabilizing nature of the matter.
In your piece, you mentioned "One Region – Four Categories" as a way to describe the Black Sea and her surrounding states. Does this outline a potential for a special directorate or commission for the region, with representatives from all four categories to compartmentalize decision making?
I think that if you had a senior enough EU special representative for the Black Sea region, then that person would be in a position to galvanize all the different departments together on a particular strategy. I think the EU would gain from having that overall strategy. That overall strategy would help it to work between the countries that are member states, the countries that are associated with the EU, an applicant country like Turkey, and an outreach to Russia if and when Russia is willing to do that.
The idea, unfortunately, can't work now as we are in a zero-sum period. Any idea of working with Russia on anything right now is a very hard sell. However, Russia is a neighbor and has certain common interests; fighting climate change, keeping the Black Sea clean for fisheries. There are also certain projects that Russia will not allow, such as the "middle corridor," because that's a way of getting around Russia. I think the EU, if it could use its own toolbox in a more holistic way to support the region, that would be a big win. Appointing someone as a special representative whose briefing is to look at that whole area holistically, I think that would be progress.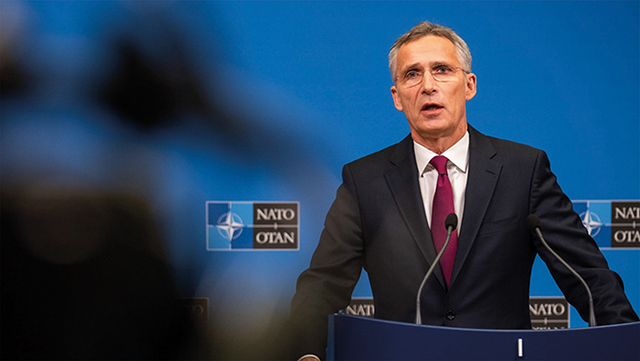 ***
Paul, in his introduction to the panel discussion, reiterated his stance on Ukrainian and Georgian integration into NATO, noting that the two must realize that the prospect of joining either NATO or the EU is not realistic in the foreseeable future. To complement this further, he added that the original promise to both countries that they would eventually be allowed in was misplaced and should not have been said.
Comments from Alina Frolova were in more of a rebuttal format, stating that it is Russia who is acting provocatively. In addition to their continued occupation, she states, they have taken subversive measures to undermine the legitimacy and readiness of the government and military, respectively. She insists that NATO and other allies cannot allow larger states, such as Russia and China, to dictate the futures of smaller nations. In her closing statements, she said, "Russia has nothing to offer the world but aggression."
Igor Yurgens made a statement that has been at the center of much of the Kremlin's statements for quite some time. From the Russian perspective, they do not believe that NATO and the West as a whole are taking them seriously and giving due consideration to their concerns. In addition, he reiterated the requirement that NATO exclude Ukraine and Georgia from any membership opportunity, and a complete removal of NATO heavy military equipment from the western border region.
A long-time supporter of Georgian integration with Europe, Viola von Cramon remained firm on the West's position that Russia is acting as the primary aggressor. Stating that Putin is making an attempt to reunite the former USSR states, the need for dialogue and deterrence is more important now than ever. Additionally, she outlined that Putin has been unjustly interfering in Georgian affairs, namely the recent cancellation of the Anaklia Deep Sea Port project. This project stood as an immense step towards further economic and political connections between Georgia and Europe. When asked about the potential of removing Russia from the Society for Worldwide Interbank Financial Telecommunication, or SWIFT, she answered that it has been considered but no decision had been made as of the time of writing.
Shortly after this presentation and panel discussion, the United States Ambassador to Russia John Sullivan visited the Russian Foreign Ministry. Leaving two formal documents, responses to Russia's demands from NATO, he left their offices after only half an hour. Shortly after this, both United States Secretary of State Anthony Blinken and NATO Secretary General Jens Stoltenberg held separate emergency press conferences.
In both of these statements, they repeated the stances the US and NATO have outlined in recent weeks. Both Georgia and Ukraine, they say, have the right if they so choose to join NATO, or not join, like Finland and Sweden. Calls for additional avenues of civilian and communication and mutual briefings on military exercises were made, in addition to the final statement that it is the position of NATO that they reinforce the right of other nations to seek self-determination.
Jens Stoltenberg closed saying, "a political solution is still possible" but also stated that "tensions are increasing." More high-level meetings are being scheduled in the coming days to expand on these statements, while Russia has only reiterated its position on NATO's actions. In turn, it is unlikely NATO will bend to these demands despite threats of "the gravest of repercussions" if the Kremlin is not answered satisfactorily. As more NATO and Russian military units filter into the larger Eastern Europe and Western Russia region, only the "cooler heads" can walk this back from the brink of armed conflict.