A tour of any public and private school in America, as well as some other nations, will offer many of the same mundane views: teachers preparing for their next class, students rushing and shuffling their papers for their next examination, and often a glass case with trophies and medals the school's sports teams have won in years past. However, there is one sight many may not have thought to see. A young student in an immaculately pressed uniform, military-style rank and unit insignia, and shined dress shows. These students, referred to as cadets, are members of a government-funded program called the Junior Reserve Officer Training Corps (JROTC).
Participants in these programs are often distinguished from the regular student body by a uniform usually in similar design to the service branch with which they are associated. These units are often displayed in special or civil events, competing in unique sports and physical challenges, and undertaking unique courses in their curriculum. While participation is almost universally voluntary, the programs offer benefits that include special scholarships for university, unique entry avenues to military service academies, civil service networking opportunities, and promotions or bonuses upon entry to military service should the participant choose to enlist.
This program comes in many forms. Many of the British Commonwealth countries have various Cadet Corps for each of their Army, Navy, and Airforce branches. Lithuania has their Lithuanian Riflemen's Union, and a long list of other similar organizations exists, even in some smaller island nations for their Navy. The core purpose of these units varies, but all are generally concentrated around citizenship, sport, personal responsibility and professionalism, and often provide some form of information or incentive for civil or military service.
In addition to these fundamental courses, many of the courses include aspects of military-style training. Participants in the British Cadet Corp's various branches often spend time hiking and camping with military field uniforms and equipment, and practice basic rifle marksmanship. American JROTC programs include basic first aid and land navigation courses. The majority of these programs include some form of parade, military drill, and marching practice, complete with public appearances in ceremonial and national holiday parades.
The Lithuanian Riflemen's Union (LRU) has a unique structure compared to their American and British compatriots. They maintain two main sects of the organization, the Youth Riflemen and the Combat Riflement. Youth Riflemen, aged between 11 and 18, are taught subjects such as leadership, national history, first aid, and military training. The Combat Riflemen, all over 18, are taught more armed and unarmed national defense, given the nations concerns with growing Russian aggression and interest in the Baltic region. The LRU is a separate non-profit organization supported by the government, with its own leadership and management infrastructure, and it operates with assistance from the Armed Forces, police, fire, and rescue service of the country.
The organization of these programs is often done at the school, county or district, region or province, and then national level. While most are separated from their Armed Forces and are a federally operated institution, they are sponsored and supported by the Armed Forces. The instructors and coaches are currently serving or former members of the Armed Forces and go through special youth management and educational training programs to acclimate them to working with these younger participants.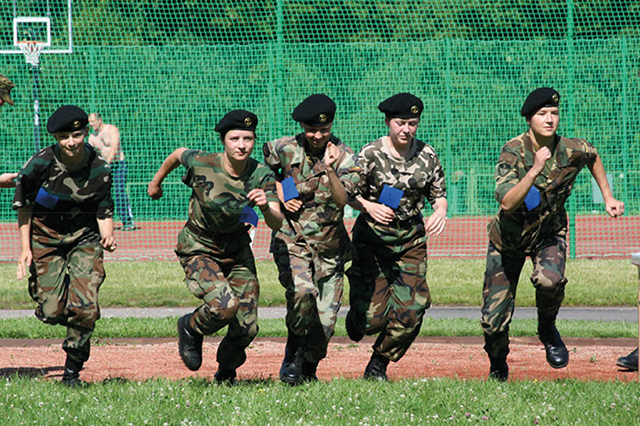 Currently in Georgia, there exists the General Giorgi Mazniashvili Youth Legion. This group, founded in 2013, is a private group that only began working with the Ministry of Defense, particularly the Georgian SOF, in 2016. Accepting Georgian applicants aged 15 to 21, their focus is basic fieldcraft, including hiking, camping, first aid, survival, and limited marksmanship instruction. Their educational focus lies in helping young Georgians to become confident, capable, and prepared members of society in a national defense framework.
While this organization has drawn a noticeable participation group, over 250 members at the time of writing, it has largely missed the publicity and wide ranging recognition that organizations in the aforementioned nations receive. The association with federal and established educational and military institutions and subsequent integration to garner the support, materials, and standardization to achieve reach and legitimacy is deeply advantageous.
Achieving this would possibly need association with the Georgian federal government, official and expressed support by the Ministry of Defense, an allocated annual budget, and standardization across most or all educational institutions in the nation. Instructors will need to be qualified veterans of the Georgian Armed Forces and be certified to work in these youth programs. Participants will be issued standard uniforms, and organized into units based on the school they attend. Activities will be determined largely on the budget allocated, but standard for every unit. The curriculum will include much of what the General Giorgi Mazniashvili Youth Legion currently includes, but also Georgian history, patriotism and citizenship, leadership and basic management and ethics, and the program will need to be underpinned by a set of core values, memorized by each participant.
The addition of this youth organization, formed in the mold of its American, British, and Lithuanian sister programs, will change the nation's youth. By enriching the younger community, reviving their patriotism and sense of pride, and instilling a sense of confidence in their abilities, the country will see a reborn generation. With the General Giorgi Mazniashvili Youth Legion already operating as a perfect launchpad, startup resources needed from government entities would be low. The existing bonds between some members of the Georgian Armed Forces and the Youth Legion have made the ground with which to expand this fertile relationship.
Despite the troubles the nation faces now, the state of the youth will be the ones that make the corrections and push Georgia's strengths. In addition to this is the development of education, as studies in America and Australia have shown a significant increase in the personal and academic performance of students involved in the JROTC or Australian Army Cadets. While this new Georgia program should not be used as a recruitment tool, it will give young citizens an opportunity to explore the potential of service in their Armed Forces as well as develop a respect for what their service members do for their nation. While the saying, "the youth are the future of a nation," can certainly be labeled cliché, it still rings true. As such, Georgia's future really does lie in the hands of these young and confident volunteers, and the program that aims to shape them.
By Michael Godwin