The organic hazelnut grower farmers' Association CAUCASNUT, which has implemented a group organic certification system since 2014, achieved significant success in 2023 – 306 Association members received an EU-recognized organic group certificate.
At this stage, the production capacity of the Association is up to 1,300 tons of shelled nuts, of which up to 563 tons are organic certified in 2023. The Association works with about 700 farmers in Western Georgia who manage hazelnut plantations according to organic and fair-trade standards. The Association plans to increase the number of its members and production potential by 20-30% every year.
The Association CAUCASNUT was founded in January 2020 by the initiative of 8 cooperatives and 1 informal group of farmers of Zugdidi, Tsalenjikha, and Vani municipalities having several years of cooperation experience.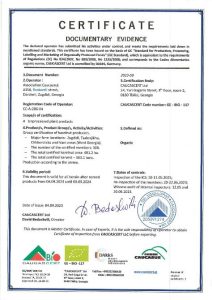 The goals of the Association CAUCASNUT are:
Facilitating the certification of hazelnut producers by organic and fair-trade standards;

Helping farmers involved in the certification system with the necessary advice and technical support for the production of hazelnuts;

Promoting the sale of organic and fair-trade certified hazelnuts at premium prices through interested market partners;

Promoting the development and accessibility of various services necessary for hazelnut farmers.                                                   
The Association CAUCASNUT uses a group certification system, through which it carries out ongoing training/informing of member farmers, inspects their farms, facilitates their external audit by an accredited certification body, and ensures the traceability of manufactured products at all levels of the production chain.
The organizational development and certification activities of the Association CAUCASNUT are supported by the project "Organic Hazelnut Production Value Chain Creates Income and Decent Employment in Western Georgia" financed by the Danish Development Agency (DANIDA) and HEKS-EPER (Switzerland).