She responded to the distance between dreams and reality with action at the age of 22 and tackled a job that carried a huge responsibility, both for herself and for the country. Hard to imagine, isn't it? At the age of 22, you set out on a path to create a new history of development and innovation in the field of education. And this at a time when bureaucracy was at the zenith.
She brought the idea to fruition in 2002 and founded the first Progress School in Kutaisi. Why the name "Progress"? She says that the word "pro" means a lot to her. The association that this word evoked in her gradually became a reality – in the form of a network of modern, successful and progressive schools.
"I have always liked to share my views and thoughts with others, especially with people I would consider my teammates. I talked about the word "progress" for the first time with my friend, and as soon as I got a positive answer, I realized that my future school would definitely be known as Progress."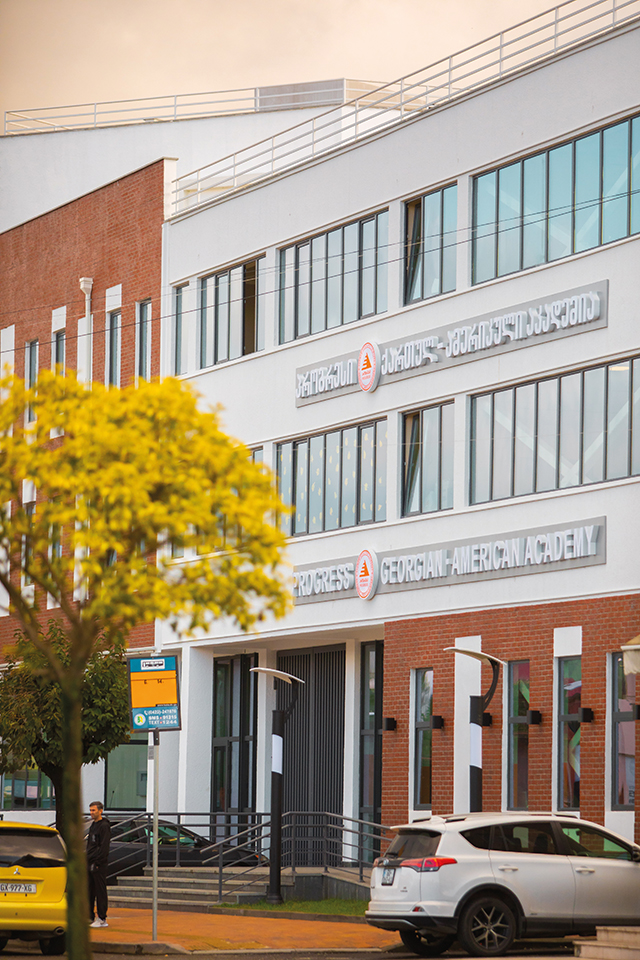 Progress already had its own color 20 years ago: Nina saw it in orange and felt the harmony and association of the sun, energy, success, life force. For the logo, the choice stopped at a pyramid, on which steps are taken to the heights. Over the past 20 years, many students have passed this way: The Progress team has seen a number of successful graduates climb to the top of the pyramid.
The path to establishment in the educational space was not easy. The necessary environment for the development of the private education sector at the time was practically non-existent.

"Difficulty and success were equal in my life. Joy and celebration were sometimes replaced by obstacles and disappointments, but I never lost hope. Everything was connected with the heavy social background in the country, lack of electricity, lack of water, unemployment. Bureaucratic complexity created separate barriers. It was a place where you were recognized and blocked at the same time."
22-year-old Nina was a "little girl" for them, one who was constantly accompanied by artificially created obstacles. And yet she continued fearlessly on her way to her goal.

"I am a person who is happy to take risks, but I do so wisely. I believed in myself and my abilities, so I never took an unreasonable risk at any stage. I believed in myself and believed that everything would work out with my colleagues, my teammates, and it happened – today our school is a place where new generations grow up and then they themselves create progress, bringing more development."
This constant striving and a school ready for modern challenges, the accumulated experience and the competitive environment, contributed to the formation of Nina Chikvashvili as a successful person in business.

"There are many strong and successful women in our country. We often meet and share our views with each other. Today, there are many projects (at both the non-governmental and governmental level) where gender balance is maintained. Nevertheless, I think that Georgia still remains a country where the patriarchy is still the authority. A man is perceived as a powerful figure in business or political activities. Unfortunately, women have to stand in the shadows at such times. I have noted it many times and I will repeat it again – women's skills and abilities are not inferior to men's resources, and I believe that a strong woman really brings progress."

In 2009, in London, Nina decided to study the direction of business management in more depth, and in the process she discovered the work already done was in absolute accordance with her theory.
"I have never stopped learning and developing, although my pursuit of education was mainly related to pedagogical, English-philological activities. Business is a completely different specialty. I looked at Progress as a business model and started working in this direction to make the educational network of Progress more profitable and effective, so as to bring more good and wealth to my country."
Nina Chikvashvili's success formula combines three important concepts – a high sense of responsibility, love for one's work, and the ability to work in a team.
"Success does not come easily, it requires physical and mental work. A high sense of responsibility helps you to be successful the most. You should use it to the end and be in harmony with yourself. When you create something new, it is better to have a partner. Sharing your views and work should make you happy."
Chikvashvili has the full support of those women who take the first steps in the direction of business.

"I communicate with many women who want to create something new and valuable. And for that, you need a strong desire, to be constantly looking ahead, and to maintain stable management of crisis situations. Today, in our country, there are many support mechanisms in the form of projects and grants that support the maximum involvement and development of women. The main thing is to take the first step, spare no effort, and believe me, you will definitely succeed."
Nina constantly and continuously worked not only for the school, but also on the continuous development of herself. This is evidenced by the diversity of her achieved statuses and education – English language teacher, PhD in educational management, English language trainer of the British and American Councils, Montana State University scholarship holder, graduate of the London School of Management, American College – Board-certified international consultant, Peace and Education Expert (South Korea), and, thanks to a grant from IREX and the US State Department, she did an internship at the Bozeman School.
The action between dreams and reality started in 2002 has resulted in the creation of a 20-year success story, a story that has one and at the same time many heroes in the form of the Progress team.
"In order to make your dreams come true, first of all, you have to overcome the fear of doing something new. You will create something new and valuable when you have a strong desire to do so. Nobody and nothing can stop you if you are ready for change," Nina says.