On August 25, the final evening of the Batumi series of "Night Serenades" was held at Ilia Chavchavadze Professional State Drama Theater in Batumi.
The participants of the concert were world renowned Korean violinist Heyeoon Park, famous Georgian pianist Tamar Licheli, Festival base orchestra "Georgian Virtuosi " (first violin Lela Mtchedlidze). The concert program included Ludwig van Beethoven's Violin Concerto in D major, Op.61 (arr. C. Hynde for Violin and String Orchestra), Liszt/Counoud's Waltz from Faust, Vaughan Williams's The Lark Ascending and Rachmaninov's Hungarian Dance from "Salon Pieces", Op.6 N2.
"Night Serenades" will move to Tbilisi from September 22 and will meet the classical music listeners at Tbilisi State Conservatoire Grand Hall.
Giorgi Issakadze:
We are so happy. The first three concerts of the festival were held with great success. The concerts featured excellent musicians, soloists, and we had a very huge vocal and instrumental program. Participants of the evening performed an amazing violin concerto in D major of Ludwig van Beethoven, op. 61 (K. Hind's version for violin and string quintet) Franz Liszt / Charles Gounod's – Waltz from the opera "Faust", Ralph Vaughan Williams's – The Lark Ascending and Rachmaninoff's Hungarian Dance, from – "Salon Pieces".
Our festival will continue in Tbilisi – on September 22, 23 and 24 we will meet listeners in the capital. The festival evenings will be held in the Vano Sarajishvili Tbilisi State Conservatoire Grand Hall, where fabulous artists will appear before the public.
Tamar Licheli:
It is the happiest day. "Night Serenades" returned to Batumi again with its amazing evenings. I am very glad to be a part of this festival. It is very pleasant to meet with listeners and talented participants. Our concert was held with great success and I would like to thank the organizers of the festival for giving a real musical celebration to music lovers every year.
Heyeoon Park:
I am the happiest to have played with the wonderful Georgian pianist Tamar Licheli. I performed works by Rachmaninoff and Williams and I hope the listeners enjoyed it. Thank you very much for giving me the opportunity to be a part of this festival.
Lela Mtchedlidze:
I am the happiest that I'm a part of the "Night Serenades' ', which was founded by the legendary Liana Issakadze. This festival is continued by the representative of the Issakadze family – Giorgi Issakadze. I am happy that the most precious festival is not lost and continues and develops. In addition to the fact that we had amazing soloists – Hayeoon Park and Tata Licheli, we as a quintet, of "Georgian virtuosi ", presented the most difficult program, with a new version of Beethoven's violin concerto.
The founder of the festival is the world-famous violinist and conductor Liana Issakadze, the artistic director – German-based musician and teacher Giorgi Isakadze.
Night Serenades" is an international festival with the longest history in Georgia, which has been existing for 41 years. The idea of creating the mentioned festival belongs to the world-famous Georgian violinist and conductor, People's Artist of Georgia – Liana Issakadze, who is one of the greatest musicians of the century. She was included in the Encyclopedia of 2000 Prominent Musicians of the 20th Century by the Cambridge Bibliographic Center (England, 2002).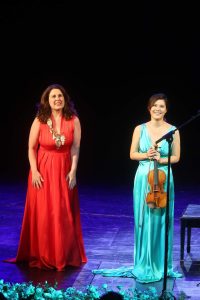 In 1982, Liana Issakadze founded the international festival "Night Serenades" in the most beautiful part of Georgia, Abkhazia, which took place in Bichvinta in summers and was very popular. Unfortunately, due to the tragic events in our country, the festival ceased to exist in 1991, and it was possible to restore it only 18 years later, in 2009, in the beautiful Black Sea city – Batumi.
Over the prolific history of the festival many legendary musicians have participated in it such as Alfred Schnittke, Kurt Mazur, Gidon Kremer and many others.
Supporters: Ministry of Culture, Sport and Youth of Georgia, Ministry of Education, Culture and Sports of Adjara, Batumi City Hall, Tbilisi City Hall, Borjomi City Hall, Embassy of Italy, Embassy of Germany.
Hosts: Hotel Borjomi Likani, Hilton garden Inn Tbilisi.
Partners: Georgian Philharmonic Orchestra. Ilia Chavchavadze Professional State Drama Theater, furniture house "Nita" – best guarantee of quality and design, perfumery store chain "Lutecia", Yves Rocher, the founder of herbal cosmetics from France, Company "Sarajishvli", Brothers Khutsishvili Wine Cellar, HOTSALE.GE, "PSP" pharmacy.
Media partners: Public Broadcaster Adjara, Georgian Public Broadcaster, Rustavi 2, Imedi Media Holding, POSTV,  Euronews Georgia, Media holding "Georgian Times", Ertsulovneba TV, "TV25", Media And Digital Communications Agency "Clip Art", Ambebi.ge, "Prime Time" news agency, "Georgian Press", "Georgia Today", "Messenger", Journal "Sarke", "Adjara" newspaper, radio "Fortuna", website "Fortuna.ge"