We have introduced new and highly successful brands to the market, says EFES Georgia GM Veli Dincel of Efes Georgia successes in 2023 so far. "We started several big projects in the direction of corporate responsibility. We have also received another international quality management certificate. If we only mention these achievements, we can already say with certainty that the current year has started very successfully for EFES Georgia.
"Comparing 2022 to 2023, we can confidently state that we have experienced overall growth for our business. In particular, the beer category within key accounts has shown impressive expansion in 2023 so far. Furthermore, we have observed a moderate increase in the HoReCa segment, encompassing the beer and CSD categories. It's worth highlighting that our export statistics indicate significant growth in both the beer and CSD categories during this period with high-double digit growth momentum," he notes.
EFES Georgia presented the new Georgian premium craft beer Taati. Please tell us about this new brand.
Taati is made using three types of top-quality malt and three special aroma hops. Taati beer is produced in limited quantities with a special brewing method, which gives the liquid a unique flavor. In its aroma, you will feel a balanced combination of herbs with floral notes. When tasting, you can feel tropical fruits, which come from special hops produced in New Zealand and Australia.
Taati is a Georgian word and means to move at a slow, unhurried pace. We recommend drinking Taati slowly, allowing each sip to reveal the harmonious fusion of these exceptional ingredients.
What can you tell us and how would you evaluate, from your point of view, the competitive environment in Georgia and the Georgian beer market in general?
With so many players in the beer market, competition is high. But EFES Georgia has been an obvious market leader in the beer sector over the years. As for high competition in Georgia, we are sure this is good for consumers because they get better quality, more varied products and services tailored to their needs from competing companies.
Let's talk about your great initiative in the field of sustainability, which is called EFES Georgia Entrepreneurship Program.
Sustainable development is one of the priorities for EFES Georgia. The company is currently working on several projects that aim to protect the environment and resources, as well as improve the environment for the future generation of Georgia. This year, EFES Georgia has successfully passed the ISO 14001 audit and received certification for its Environmental Management Systems. The aim of EFES Georgia's Entrepreneurship Program is to support Georgian visionaries and entrepreneurs for the sustainable development of the country. EFES Georgia is running different environmental projects, including wastewater treatment, plastic reduction, energy efficiency, etc.
Sustainable Entrepreneurship Program 'Go Green' is implemented by EFES Georgia, Impact Hub Tbilisi and Startup Büro and aims to support sustainable entrepreneurship by empowering early-stage startups and individuals. During the program, the participants deepened their knowledge in several areas: product development and validation, customer segmentation, value proposition, marketing, branding, advertising, sales, Growth Marketing, MVP – technical product creation, business model and finance, Pitch Deck and fundraising. After completing the program, the startups/companies had a business plan, business model, financial plan, communication strategy, product prototype or technical plan for its implementation, Pitch Deck and investment proposal to seek funding sources.
At the final stage, the Go Green pre-accelerator demo day was held, where the participating startups presented the results of their 12-week work. About 60 startups took part in the qualifying round, 9 teams were selected by us based on the interview. It was a 12-week project – a kind of education. Specialists of the field were involved in it. We prepared the startups so that they were ready for the next stage – financing.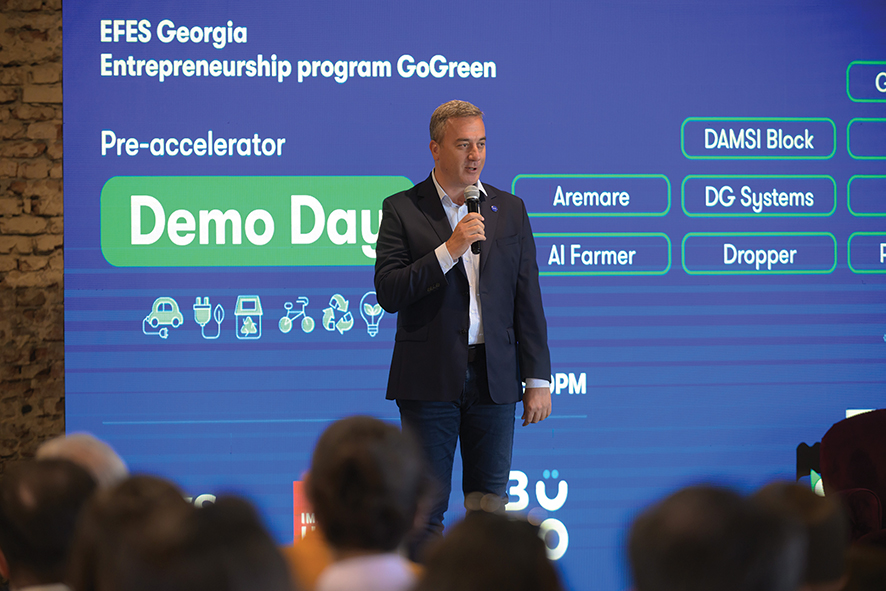 Environmental protection is one of the important parts of responsible business. In 2023, EFES Georgia, in cooperation with the National Forest Agency, started a new campaign regarding forest protection based on a specific memorandum. Please share the details of this campaign.
We have to underline that EFES Georgia is the very first company to participate in the Forest Friend volunteer program for the care of forests in Georgia, and the new brand of EFES Georgia – EFES Special became the partner of this particular project. Rather than talking directly about our activities and our support, I would like to briefly introduce you to what EFES Georgia does in the direction of environmental protection and what we contribute to our environment. Within the framework of the Forest Friend project, the EFES Special started to take care of the renewal of 12.1 hectares of forest located in the
Simoniantkhevi quarter of the Tianeti forestry area (in the Mtskheta-Mtianeti region). As a result of this program, the ecosystem will be restored and the ecological situation will be improved; additional opportunities will appear for the locals, 36,000 trees will grow, 2090.6 tons of oxygen will be produced and emissions of greenhouse gases will be reduced.
The Forest Friend platform was established with the noble goal of bringing society together to care for, maintain and restore the forests of Georgia. This initiative was made possible with the financial support of the Biodiversity Financing Initiative of the United Nations Development Program (BIOFIN), and its main partner is the National Forestry Agency of Georgia.
We are glad that we now have the opportunity to take care of the challenges facing the forests of Georgia together with our consumers. By purchasing EFES Special, you become a friend of the project and a friend of forests at the same time.
Tell us about the brand; what makes EFES Special so special?
EFES Special is a special beer series crafted using special brewing techniques. Through long brewing, cold filtering, and careful cultivation, the beverage gains a delicate and smooth flavor. With its distinctive packaging, delightful taste, and light color, this beer promises a new experience for consumers.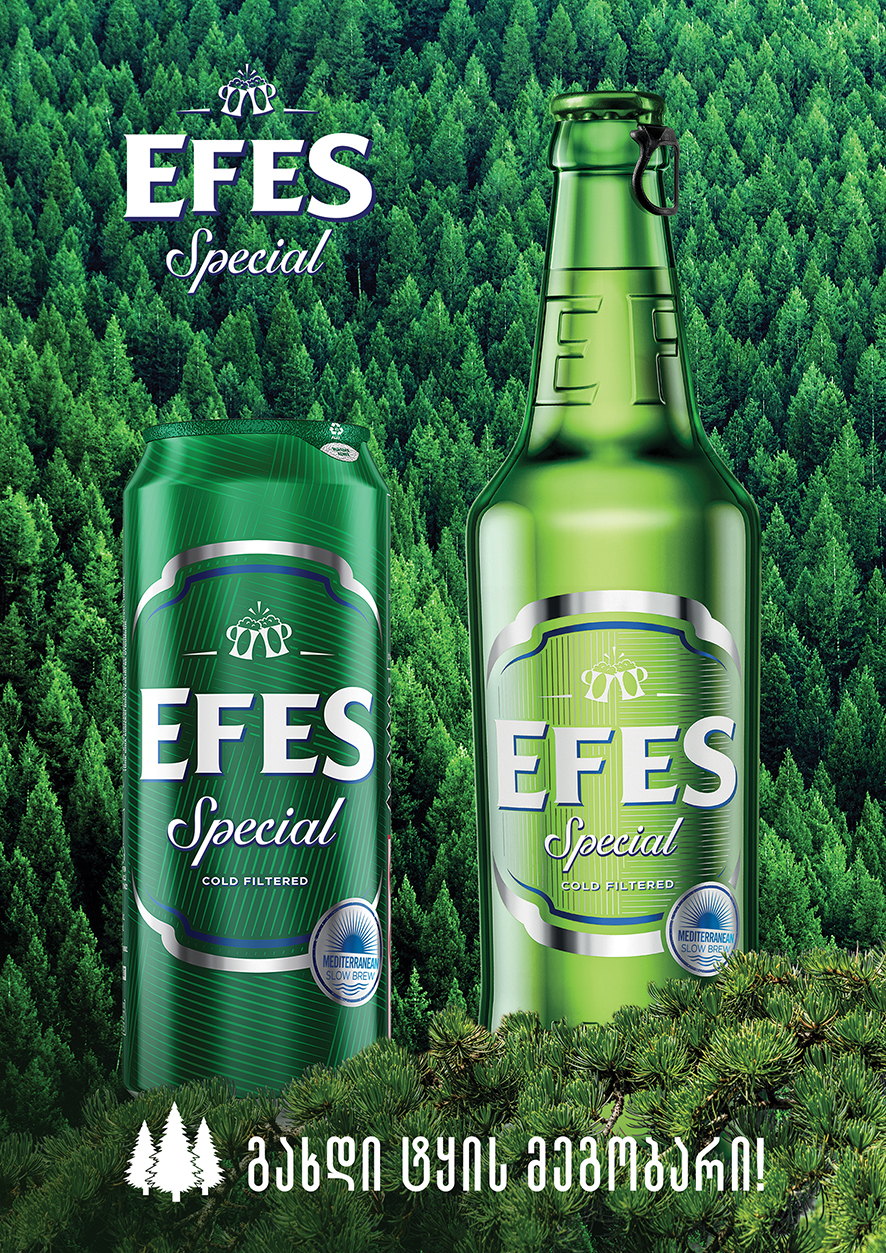 What is the export potential of the industry and what is our country doing in this regard?
The volume of beer exports to global markets is increasing every year. Georgia as a country exports 4.7 million liters of beer every year. Currently, EFES Georgia exports beer and lemonade to 23 different countries. The direction of export in our company has been developing over the years, both in terms of market volume and quantity, it is one of the main priorities and perspectives of our growth. From this point of view, we intend to increase our investments and export Georgian products to other countries. Also, we want to activate communication with customers in the existing export countries to raise the awareness of our brands, thereby strengthening our position in the market.
Thanks for this comprehensive information. A lot of important and valuable news has been collected for you this year…
Finally, I would like to mention that by the end of September, Oktoberfest will start in Georgia with our licensed brand, Lowenbrau. Lowenbrau is one of the 6 breweries that have the right to participate in Oktoberfest. It should be noted that Lowenbrau has been sold at every Oktoberfest since 1810. Let's celebrate the real German festival with real German beer, Lowenbrau! Cheers..