Step inside the building and you'll be sure that no-one behind the doors can help you as much as the doctors of The American Hospital Tbilisi can. This super-modern environment is full of delighted people who want to serve you and make your grief and pain disappear forever. With standards never seen before in Georgia, this hospital is going to reign the market.
GEORGIA TODAY met Dr. Irakli Gogokhia, Chief Medical Officer of the hospital, to ask some questions about the Georgian healthcare sector and about the hospital itself.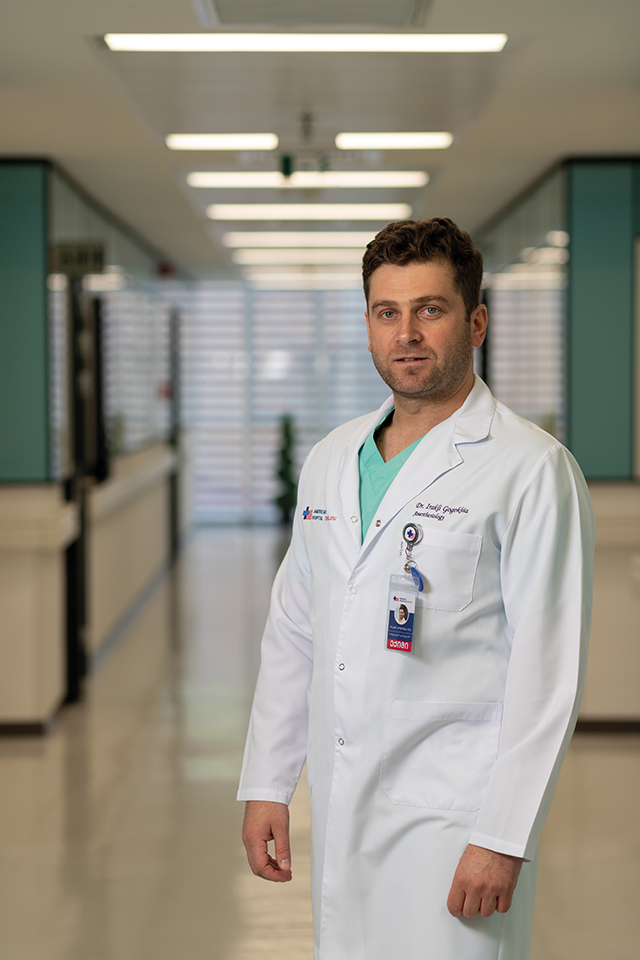 "At American Hospital Tbilisi, it is important to set American medical standards in Georgia," Dr. Gogokhia tells us. "We are proud to say that this project is a result of an agreement between the Georgian and American governments, with the support of an investor. What we are willing to achieve is to deliver diverse services to our customers to become leaders inside the country and the hub for the region. To demonstrate our capabilities, even though the doors of the hospital were opened for the first time in October 2021, we managed to become fully functional in just a few months.
"We offer our patients safe and high-quality treatment, in a great environment. Our medical team unifies young doctors who had fellowship or residency programs in different countries. Thanks to the knowledge they bring to the table, we have a great variety of services we can deliver."
The Hospital unites five main centers of excellence: Trauma-orthopedic, cardiovascular, pediatric, neurosurgical, oncological and minimally invasive centers. It has 183 beds and wards for them arranged according to international standards.
"We care about our patients and want their safety and comfort to be guaranteed," Dr. Gogokhia says. "But all this would not be possible to manage if the financial side was not on point, if enough resources were not invested."
We offer our patients safe and high-quality treatment, in a great environment. Our medical team unifies young doctors who had fellowship or residency programs in different countries
We ask him how the Georgian healthcare sector is faring these days.
"In USA alongside support from the private insurance sector, the country itself wants its citizens to be financially strengthened when it comes to costs of services. In the US, $17,000 is spent on insurance issues per capita. The Georgian healthcare system spends nowhere close to that benchmark – just GEL 1000 (approx. $340).
"In terms of challenges, I'd say Georgia has an unnecessary number of clinics, which results in a misbalance on the market. The number of customers is much lower than what service providers intend to serve. Therefore, no-one should be surprised if a hospital capable of serving 100 patients at a time is constantly semi-filled. This is caused by two factors: on the one hand, we are seeing a growing number of hospitals which are interested in adapting current models of healthcare, rather than bringing something new to the sector. On the other hand, this misbalance between capabilities and needs is caused by mismanagement – Much more is invested than the demand requires. Therefore, investors struggle to regain their costs, which makes it harder to reinvest. Reinvestment itself is crucial in less developed and small countries like Georgia to improve the business. Our sector constantly needs improvement: every doctor has to have trainings from time to time. New expensive gear needs to be bought to improve the service and so on… Without the money reinvestment can bring, none of this will be possible. And for our constantly improving sector, it's a crime to deliver outdated service to a patient."
We asked him what solution he suggests.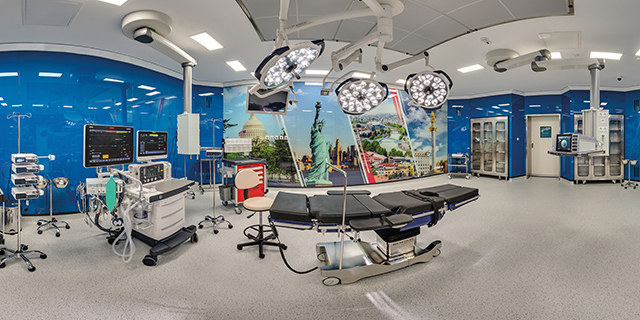 "One of two solutions is to open more public hospitals," he answers. "It may sound unusual from me as Chief Medical Officer of a private hospital, but we have to face reality. Since the 1990s, when the government gave away all its medical buildings to private companies, the sector has become dominated by private hospitals. These days, just 5% of all clinics are state-controlled. If we had more public hospitals, it would create a new standard and there would be greater competition.
"The second of two solutions, I consider helpful is to stand out from current competing clinics and concentrate on higher quality and better management. Realizing the fact that the demand for some high-tech services like Cardio and Neuro surgeries are 10 times less than the sector can afford, the only way to grab attention is to offer better services than others. Of course, it comes with increased costs, but if the investment in the creation of a hospital is greater, the quality of the service should become the niche of company. That's the tactic we use and we find it useful."
Our mission is to create the best patient-oriented service in the country and the region by following all the international standards and mastering all the medical innovations
To round off our interview with Dr. Gogokhia, we ask him where the American Hospital Tbilisi has its sights set next.
"Currently, we're working hard to get accreditation from the Joint Commission International (JCI). If we manage to achieve our goal, then the American Hospital Tbilisi will become the first ever Georgian hospital to get full accreditation from such an influential organization in the global medical sector. Our mission is to create the best patient-oriented service in the country and the region by following all the international standards and mastering all the medical innovations. We will continue partnering with our American colleagues to improve our services. In the evolution of the Georgian healthcare system, we want to do our bit by caring about our patients, maintaining their wellness and becoming trustworthy partners to the country."
17 Ushangi Chkheidze str.,
0102 Tbilisi, Georgia
www.ahtbilisi.com
Tel: +995 (32) 2 009 009
Interview by Erekle Poladishvili