On August 24, the press conference of the 15th anniversary international festival "Night Serenades" was held at the Ilia Chavchavadze Professional State Drama Theater in Batumi.
The press conference was attended by Deputy Mayor of Batumi Sopho Khalvashi, Deputy Minister of Education, Culture and Sports of Adjara Akaki Dzneladze, artistic director of "Night Serenades" festival German-based musician and teacher Giorgi Isakadze, director of the festival Nina Tsagareli, concertmaster of the "Georgian Virtuosi" and first violin Lela Mtchedlidze. Soprano Eilika Wunsch, tenor Riccardo Marinello, violinist Heyeoon Park and pianist Tamar Licheli.
Organizers and supporters talked about this year's festival program, invited artists, news and future plans.
Sopho Khalvashi, Deputy Mayor of Batumi:
"Throughout the years, "Night Serenades" has always been distinguished, it will be important for our Batumi this year as well. Traditionally, Batumi City Hall is a supporter of the festival, and I want to wish it a lot of success, and I would like to wish it great success, because this year's musicians are really outstanding, and listeners are in for a great celebration."
Akaki Dzneladze, Deputy Minister of Education, Culture and Sports of Adjara:
Festival "Night Serenades" is important not only for Batumi, but for the whole Georgia, because I emphasize that Liana Issakadze is a brilliant musician, and Batumi-Tbilisi geography of Night Serenades is one of the most outstanding musical episode of the Georgian cultural space in recent years. It is necessary to support this festival, and I would like to emphasize if it is possible, but I will say – it is one of the best cultural festivals in Georgia in terms of its intellectuality. Great thanks to this festival".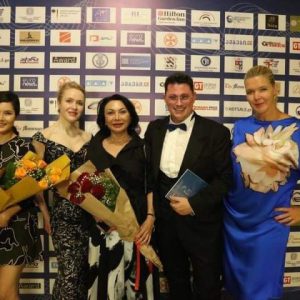 Giorgi Issakadze, artistic director of the festival:
"The program of the festival, as usual, is very diverse and interesting. This year, we will host a number of world-renowned foreign and Georgian musicians:
Principal Guest Conductor of the Orchestra della Toscana, Principal Conductor of the Orchestra Milano Classica and Principal Conductor of the Orchestra Scarlatti Young Beatrice Venezi will perform famous Intermezzos and Overtures from Italian Operas. She will also perform Tchaikovski's Violin Concerto with famous Georgian violinist and winner of the Wieniawski International Competition Veriko Tchumburidze. Laura Marzadori, concertmaster of La Scala orchestra, soloist and winner of international competitions, will present Mozart's Violin Concertos. Piano recital will be held by Antti Siirala, winner of the international Beethoven competition, professor of the Hochschule für Musik und Theater München and one of the outstanding pianists of his generation.
Korean violinist Hyeyoon Park collaborating with Tamar Licheli will play works by Franck and
Vaughan Williams, as well as Beethoven's Violin Concerto. The audience will also meet young
Georgian musicians.  The soloists will traditionally be accompanied by Festival Base Orchestra "GEORGIAN VIRTUOSI" (First violins Lela Mtchedlidze).
An amazing evening was presented to us by tenor Riccardo Marinello, winner of the German project "Das Supertalent" and the internationally renowned Georgian tenor Giorgi Oniani, who performed masterpieces of Italian opera and Neapolitan songs in Borjomi. I would like to mention the amazing performance of the world-famous German clarinetist Sabine Grofmeier.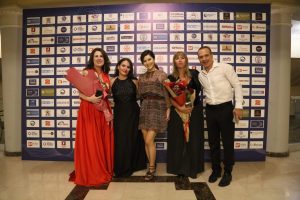 Nina Tsagareli – Director of the festival:
We meet the fifteenth anniversary "Night Serenades" with important and joyful novelties. First of all,
I would like to mention that our geographical area has expanded and Borjomi, a very important city
for the history of the festival, has been added to the host cities. This year "Nigh Serenades" was
solemnly opened with gala concert in Borjomi and then traditionally moved to the beautiful
Batumi.
The second most important novelty is that the Georgian Philharmonic Orchestra has become the
partner of the festival, which will hold one concert every year within the framework of the festival.
Along with 6 unforgettable evenings, master classes and workshops for music school students,
students and people with disabilities, as well as an exhibition of the artist Eka Abuladze, the first
representative of Astro-Art and Art-Science in Georgia will traditionally be held as part of this year's Festival.
Ricardo Marinello – tenor:
"I'm very happy to be here. It's my first time in Batumi and I'm proud to offer my music to the audience of this festival. I'm Italian and I'll perform the masterpieces of vocal music such as "O Sole Mio" and the greatest aria "Nessun Dorma".
Eilika Wunsch – soprano:
"I am the happiest that I am in Georgia and I will meet the audience in this beautiful theater. I will perform the most precious arias for me and I hope that the audience will enjoy it. Thank you Georgia for the invitation.
Heyeoon Park – violinist:
"I am looking forward to the meeting with the audience, it's great pleasure and I want to show my abilities as much as possible – to play my best. I will play with Tata Licheli. She is a talented pianist and I am glad that I had the opportunity to work with her. I love Georgia, the weather is good, and the mood is also…"
We would like to remind you that this year's international classical music festival "Night Serenades" is being held for the fifteenth time. The festival is hosted by three cities: Borjomi, Batumi and Tbilisi. Traditionally, at the concerts of "Night Serenades" world-famous musicians will perform works by famous composers.
The founder of the festival is the world famous violinist and conductor Liana Isსakadze, the artistic director German-based Georgian musician and teacher Giorgi Issakadze,
On August 24 at 20:40 the concert will be broadcast live on Adjara Public Broadcaster.
Program:
César Franck – Sonata for violin and piano in A major
Wolfgang Amadeus Mozart – Exsultate, jubilate,  K 165
Ernesto De Curtis – Torna surriento
Wolfgang Amadeus Mozart – Il re pastore  – L'amerò, sarò costante
Emmerich Kálmán – Die Csárdásfürstin  – Tanzen möcht' ich
Giuseppe Verdi – Rigoletto  – La donna è mobile
Franz Lehar – Die lustige Witwe – Lippen schweigen
Giacomo Puccini – Turandot  – Nessun Dorma
Eduardo di Capua – O sole mio
Giuseppe Verdi – La Traviata  – Sempre libera
Supporters: Ministry of Culture, Sport and Youth of Georgia, Ministry of Education, Culture and Sports of Adjara, Batumi City Hall, Tbilisi City Hall, Borjomi City Hall, Embassy of Italy, Embassy of Germany.
Hosts: Hotel Borjomi Likani, Hilton garden Inn Tbilisi.
Partners: Georgian Philharmonic Orchestra. Ilia Chavchavadze Professional State Drama Theater, furniture house "Nita" – best guarantee of quality and design, perfumery store chain "Lutecia", Yves Rocher, the founder of herbal cosmetics from France, Company "Sarajishvli", Brothers Khutsishvili Wine Cellar, HOTSALE.GE, "PSP" pharmacy.
Media partners: Public Broadcaster Adjara, Georgian Public Broadcaster, Rustavi 2, Imedi Media Holding, POSTV,  Euronews Georgia, Media holding "Georgian Times", Ertsulovneba TV, "TV25", Media And Digital Communications Agency "Clip Art", Ambebi.ge, "Prime Time" news agency, "Georgian Press", "Georgia Today", "Messenger", Journal "Sarke", "Adjara" newspaper, radio "Fortuna", website "Fortuna.ge"