Let GEORGIA TODAY introduce you to Terrassa Group, which offers not only quality construction and design, but also active involvement in maintaining and developing a healthy living environment. The company's goal is to make available a combination of quality and comfort where every person has the opportunity to live in a healthy environment.
The company has an ongoing project in Bakuriani – "Terrassa Resort Bakuriani," a premium class complex that includes residential apartments, hotel rooms, a ski depot, a restaurant, an indoor swimming pool and other recreational spaces. 4800 sq.m are dedicated to the inner courtyard, where children's entertainment and various spaces will be installed. Apartments there will be fully renovated with furniture, appliances and accessories.
The hotel rooms have a rental service provided by the Austrian company STS Hospitality.
The project is interesting both for living and for investment. Bakuriani is a 4-season resort and the interest and demand is increasing by the year for both real estate for sale and rent, especially for premium class complexes, since everything is available here in one space.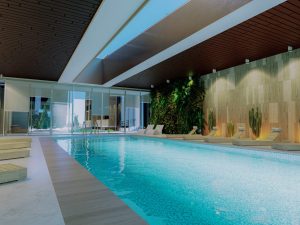 The company currently has a special offer – interest-free installments for up to 4 years without an initial contribution, as well as a discount within the summer promotion for both single payment and installments. Keep in mind that the promotion will end soon, so hurry to become the owner of a comfortable and well-furnished living space in Bakuriani.

Translated by Mariam Mtivlishvili