"We collect, we collect plastic! We collect plastic, we collect plastic bottles, we collect plastic bottle caps, we collect plastic cups, we collect plastic, we give you points, we turn it into a USB cable…" – A few days ago, "Tene" company cars appeared on the streets of the capital city, calling the city's residents to give them plastic waste and in return collect Tene points, which can be exchanged for USB cables.
"Since you cannot bring plastic to us, we came to you!" – the company says.
The Georgian USB cable manufacturing company is eco-friendly and they have set a goal against environmental pollution. Their factory is located in the compact settlement of Tserovani IDPs and they often host interested people to learn about the cables making process.
The above-mentioned action of handing over plastic to the streets was initially one-time, however, as it is clear from the company's Facebook page, the interest and emotions of the citizens convinced them to repeat a similar action in the future.

"It's true, we can't go everywhere and all, but the emotions experienced in this one day were enough to turn this one-time action into a tradition in the future."
If the sound of the Tene car does not reach you, now you can put plastic waste in the Tene boxes located in different locations. Many companies, schools, and universities have already placed similar boxes on their territory "for a green future". Also, since April 22, the company "Eski" has become a partner of Tene and a new point of delivery of plastics.
"You can already hand over plastic waste to ESKI at number 7 Nato Vachnadze (collective farm square) and take care of the environment with us!"
We remind you that the company Tene recently created a collector of plastic cups as well.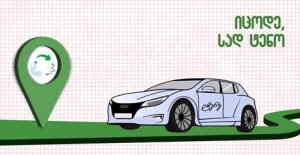 By Mariam Gorkhelashvili