When did you last visit a city in the city? There's one not very far away, a place you will never forget: Tbilisi Hills, one of the greatest projects and the biggest investments Georgia's beautiful capital has ever seen. This green city, with its super-modern architecture, boundless golf course and unbelievable sunrises and sunsets, is sure to impress!
But, you might ask – how is it possible for such an interesting place to exist so close to Tbilisi? That's what makes Tbilisi Hills so unique. It takes just 15 minutes to get there from the center of the city, and it is 15km from the international airport. Thanks to its altitude and stunning views, you can see both the city center and the airport in one sweeping gaze.
This green city can proudly offer you what we miss the most in Tbilisi – great nature and fresh air. Just these features alone might push you to buy an apartment, house or land in Tbilisi Hills. To inspire us more, GEORGIA TODAY asked its Estonian CFO Sergejs Millers why we should consider a move to Tbilisi Hills.
"First of all, we have unique physical asset," he tells us. "The land itself, the size, the green environment, natural hills, surroundings, fresh air, spectacular views of the mountains, amazing sunsets, sunrises, diverse fauna: Tbilisi Hills is a perfect combination of all of them. Having spent one sunny day here, you'll see it for yourself.
"The second is community: a gated green city in the city. It's an essential component, in fact. We care about our complex and residents and we work to build a community where they can enjoy every day of their lives in a clean, healthy and safe environment.
"The third is quality: We follow international standards, paying attention to the details. This is reflected in the materials, solutions and approaches we use. Also, we have a golf course. It's 60 hectares of a well-maintained, evergreen area. It's a very exciting game that will grab most who try it. I believe many in Georgia will come to enjoy it. In fact, even real estate valuation companies have found they couldn't compare us directly with other existing real estate projects. It confirms the uniqueness of the Tbilisi Hills project," he says.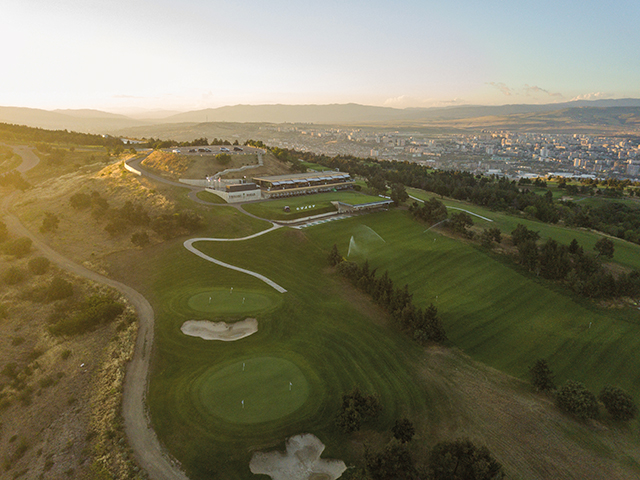 Tbilisi Hills has prioritized environmental quality in its project. We asked Mr. Millers to explain this decision to us.
"Environmental quality is an integral part of our project, strategy and value proposition in general. In Europe, this trend has been around for years. We are going to build a half megawatt solar energy park in Tbilisi Hills. Last year, we installed a power charge station for electrical cars. Our golfers and employees use fully electrical cars and we will invest more in new, sustainable, green solutions.
"Our holding has a hydro power business in Georgia, and a solar energy business in the Baltics, so the renewable energy concept is nothing new for our shareholders. More than that, there is strong interest in expanding this direction. Therefore, in our case, it also reflects investor values and priorities," he notes.
Any successful project has to overcome a number of challenges to prove its sustainability. The last two years were full of challenges, not just for this project but for all companies. We asked Mr. Millers how the Tbilisi Hills team managed to survive the waves of the pandemic and its economic, social and moral challenges.
"Morally, I could say the previous year was very hard and challenging for the whole team, but nobody left the company, and we remained focused on growth. We worked on improving our processes, and we built a very good foundation for the upcoming year. 2021 was a very intensive and productive year in Tbilisi Hills.
"Our golf unit exceeded the sales budget by more than 30%. Also, within the last year, we successfully kicked off big international tournament series, like 'Gamarjoba,' where we see strong demand and great opportunity to introduce Georgia as new destination to golf travelers. All this was achieved despite the pandemic, unstable business environment and restrictions. We worked hard to extend our reach to new markets.
"Financially, 2021 was truly not a bad year. Our real estate business sales grew more than three times compared to 2020. The first apartment building was fully sold by the end of the year, and we have already sold the first apartments in the next building," he tells us.
Speaking of the financial side, we asked Mr. Millers to explain to us the impact of the pandemic and the war on the market. How much will it affect expectations in 2022 and beyond?
"The interesting fact here is that despite the war, the real estate market is growing," he notes. "The demand for property is strong, and for rental property super strong. Speaking in numbers, it's an over 80% Y-o-Y rental price increase, proved by several sources and market studies. Another fact is that the mortgage issue is on the negative side. For me, these two factors indicate that there is a big money inflow coming into the market, and we feel it too: after a relatively quiet March, now we have a growing number of requests. More and more people are considering premium real estate, exclusive land plots and apartments, as they see it as a good, safe investment opportunity. Also, they understand that prices are set to rise further still.

In regard to Georgia, in general, based on TBC Capital market analysis data, the economy is performing well and basically all macro indicators are green and even exceed analysts' expectations. To some extent, this is being driven by migrant inflow, but not only this. It seems the Georgian economy in general has been winning from recent developments, despite the fact that these developments are actually negative. I'm sure there are many exciting opportunities for the country to develop and grow if the government makes smart, pragmatic and forward-looking decisions."
Mr. Millers is an expert in the market, but he is not the CFO of such a successful project only because of this fact. We asked him when and why he decided to join Tbilisi Hills and what his role is in the project.
"In fact, I joined this exiting project thanks to the pandemic," he says. "In the middle of 2020, I was in Estonia. We were forced to suspend the startup project I was contributing to for a couple of years. I began looking around for other opportunities and found information in a newspaper that Oleg, the majority shareholder, was looking for a colleague to supervise a project on site in Tbilisi. The next day, I had a meeting with the holding's CEO, and my decision was made within a weekend, even without visiting Tbilisi, because I was so excited by the scale and idea of the project. I took a chance, and I don't regret. It's been an amazing and very challenging journey full of interesting things.
"Initially, I joined as CFO and deputy director. Later, my responsibilities extended to supervision of operational activity, areas like sales and marketing, development and later construction. Nowadays, I'm a board member in all three companies – development, construction and golf. My role and involvement are quite wide. Basically, I oversee all planning and operation. From a business perspective, my responsibility is to ensure control, financial discipline, development pace, and at the end to bring to life the overall strategy."
Speaking on the overall strategy, we asked Mr. Miller to reveal some details about the further expansion strategy of Tbilisi Hills.
"In the foreseeable future, we will be fully focused on development of the existing 330-hectare area, as it requires more than a decade of committed work and efforts. For our nearest plans, we have new, exclusive land plots with a view over Tbilisi, the next apartment buildings, the recreational and relaxation area, a top brand hotel, new golf club house and other interesting projects."
Tbilisi Hills is a project you simply have to be part of. This suburban settlement is a city in the city, where high-quality and eco-friendly building materials are used. In a nutshell, Tbilisi Hills corresponds to all the highest European standards on the market.
INTERVIEW BY EREKLE POLADISHVILI