Hebashi Holding Group was launched with the efficient help of a promising founder who possesses great passion and ambition, armed with a wealth of knowledge of scientific and practical studies and policies in the real estate sector worldwide. The beginning of 2022 witnessed the advancement of Hebashi Holding Group to a level that puts it at the forefront of competition with the largest international companies in Georgia.
To find out more, GEORGIA TODAY spoke to Hebashi Holding Group owner, founder of GAABU, and president of Georgian Egyptian Business Council, Hany Hebashi.
As an experienced investor and real estate expert, what do you think about the business situation in Georgia?
According to what I've seen in the past few months, it's looking good. It really gives us high expectations. I believe that the upcoming years will be promising in terms of economy, in terms of achievements which are coming soon for Georgia.
How was 2021 for your company? And looking ahead to 2022?
According to the company itself, now it's promising in terms of profit and achievements. We are launching a new project "Batumi Pearl," named so because Batumi is a pearl of the Black Sea. 2021 was a really positive year for us to be able to start 2022 with such a project. It's not a small project. Also, we have a chain of pearls coming soon in Batumi, in Georgia's 2nd pearl, Tbilisi, too. And there is also a travel agency being created to meet the coming demands of the tourism sector.
We have a success story to build, investments to encourage, a huge network which will get businesses to come to Georgia
You visited the 11th International Exhibition of Construction Materials Technologies and Real Estate. Tell us about it.
Our visit there was fantastic, because there were not only companies based in Georgia, but also international companies which are presented here. It gave us ideas how to expand our network for "Batumi Pearl". The "Batumi Pearl" project consists of 31 floors and includes a 5-star hotel, a group of selected international restaurants and a number of luxury brand stores, which in turn will benefit from the importance of the location and the splendor of design and international standards of implementation. The project represents a standard of modernity, elegance and beauty, and to guarantee that, we sought partners from Georgia and globally.
What is the reason for the success of Hebashi Holding Group?
First of all, we are working continuously and in clear steps to achieve the company's vision through planning and actual study of projects that are unique in excellence and innovation that serve the largest segment of society, where our passion leads us to cover and meet needs by introducing new real estate products to become landmarks and brands that we are proud of. The reason for the success of Hebashi Holding Group is that we all seek to achieve one goal. The vision and mission in founding Hebashi Holding Group is to fulfil ideas I want to achieve in Georgia. I believe we will continue to succeed, because it is not about profit, it is not about business, it is about how we can be part of the Georgian community and how we can get things done in a better way, for them and for us as one community. Honesty and sincerity, in addition to passion, science, and young, bright and open minds, had a great impact in creating the imprint of the 'Hebashi Holding Group for Real Estate Investment.'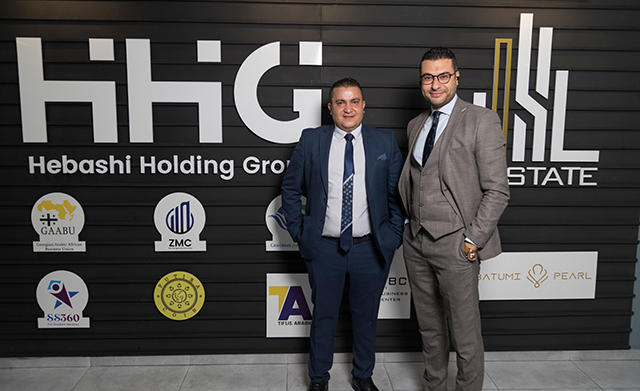 What are your future plans?
The future plans of the company see us looking to expand. We need to be involved in more industries in Georgia. And we need to be image first for Georgia as a country. We have a success story to build, more and more connections to be part of investments in Georgia. We are looking to build a huge network to get businessmen to come to Georgia.
EXCLUSIVE INTERVIEW BY MARIAM MTIVLISHVILI