Opera de Las Palmas de Gran Canaria closed its 54th season with Giuseppe Verdi's opera Macbeth, where the main roles were performed by the world-renowned Georgian baritone George Gagnidze and the famous Italian soprano Anna Pirozzi.
Demand to attend the show was so great that the management of the Grand Canary Theater decided to move all the performances to a larger hall – the Alfredo Craus Auditorium.
The play was staged by the famous Spanish director Alfonso Romero. The performances were conducted by Italian maestro Francesco Ivan Champa.
"Macbeth" performances were held on June 15, 17, and 19, and the audience was amazed by the play. George Gagnidze received extended applause. After performing Macbeth's aria, the audience greeted him with loud applause and did not let him leave the stage for 10 minutes.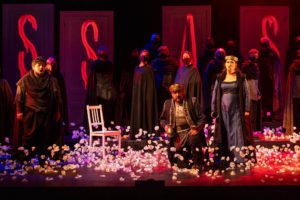 Spanish critic Gayetano Sánchez dedicated an article to the premiere of Macbeth in the famous magazine Ópera Actual. Clearly fascinated by George Gagnidze's performance, he praised him: "For the first time, George Gagnidze performed in town, a powerful baritone who filled the stage with his vocal power and physique. Long applauded, especially in his outstanding aria 'Pietà, rispetto, amore.'"
Gagnidze noted that it was a great honor for him to perform in the homeland of the famous Spanish tenor Alfredo Kraus, with the most difficult role of Macbeth, which requires a lot of effort in both vocal and dramatic, acting terms. George Gagnidze made his debut in this role in 2013 at Teatro Carlo Felice, Genoa and he was partnered with one of the best Lady Macbeth – Maria Guleghina.