Eco-friendly projects, especially in terms of construction, are relatively rare in Georgia's capital Tbilisi, however, luckily, this timely trend is gradually becoming more popular, as more and more people realize that building a sustainable "green" economy together, and saving natural resources, is an essential issue.
One outstanding example of an energy-efficient smart residential building equipped with the latest eco-friendly technologies is Solar Energy Apartments SEA, located in Old Tbilisi, in the Ortachala district.
Notably, the project of such a concept is the first not only in Georgia, but in the Caucasus as a whole.
The 9-storey building, named Solar Energy Apartments SEA, will be completed in September 2023. Importantly, its residents will be free of utility bills, elevator service bills and other services related to electricity consumption. In total, they can save up to 70-75% of utility bills by choosing to live in Solar Energy Apartments SEA.
Levan Okropiridze, the Project Manager, tells us about the construction process and the benefits the project will give not only its residents, but the entire street and even the city as a whole.
Okropiridze explains that during the construction process, the entire street was rehabilitated, as the underground communications needed to be changed and renewed, which itself was beneficial for local residents.
"From the beginning of construction, we have been making interesting and significant changes," he notes. "Our project has contributed to raising awareness among the population about the importance of a green and sustainable economy and caring for natural resources. As such, apart from installing solar panels both on the roof and on the balconies, the project also envisages the use of geothermal waters, which provides hot water of up to 70 degrees for the residents. This is directly linked to solar energy. It gives us great savings, as the geothermal waters are used to heat up the flats through underfloor heating. This is a big relief in terms of energy efficiency.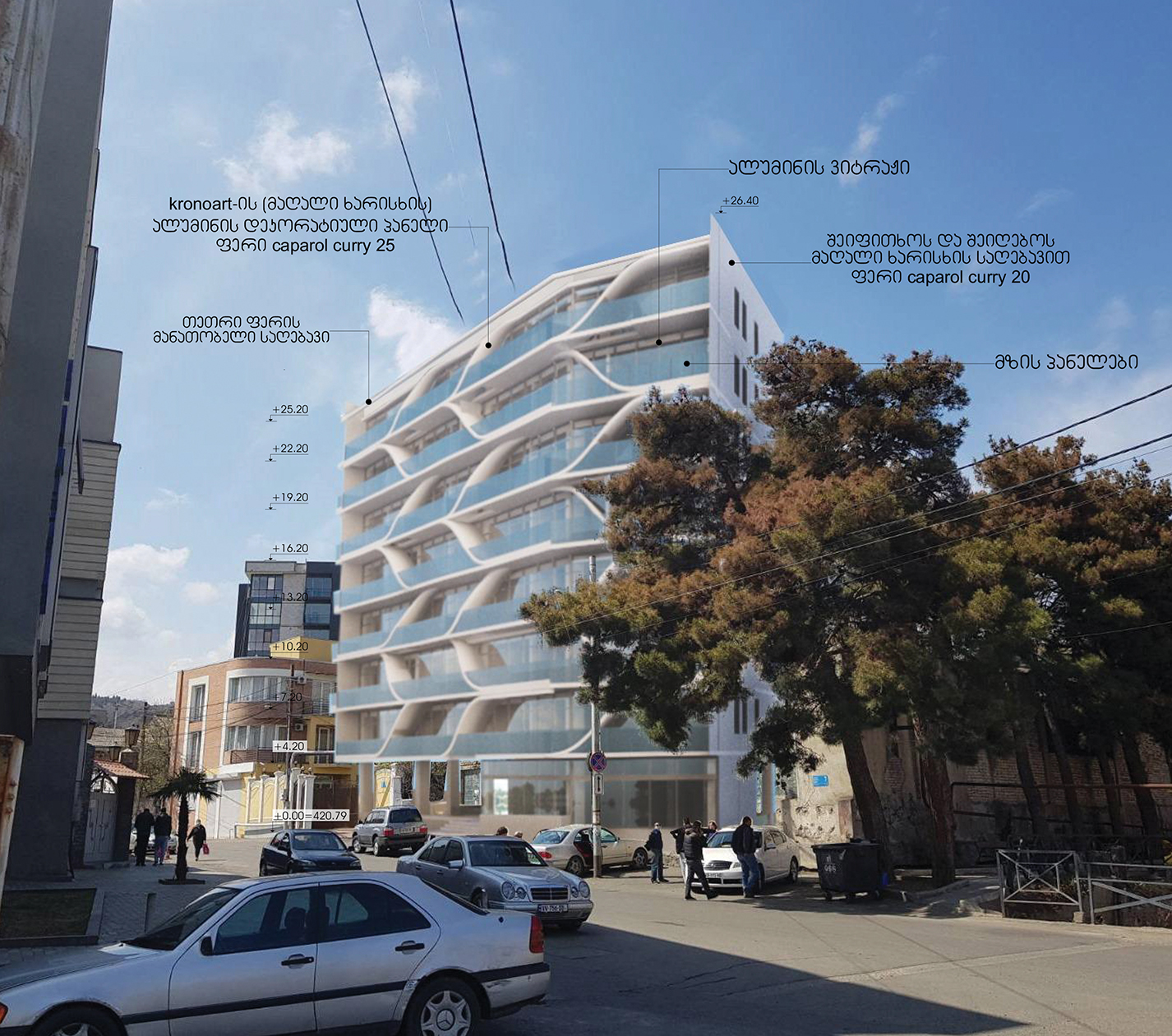 "Further, the project is implemented with Breeam certification, which is the highest standard in the EU construction sector for energy and thermal projects. There is actually no higher standard than this and we are the only ones who have it in Georgia."
Okropiridze notes that for the authors of the project, one of the key points during the construction was using artificial intelligence and the latest "Smart House" technologies, which were further improved and developed in the process. The residential multi-apartment complex will have a private meteorological station, meaning that a special program will inform the residents about weather conditions so they can dress appropriately before leaving home, "all for the comfort and well-being of the residents," Okropiridze adds.
The developers of the project have already equipped the building with the ultra-modern smart technologies of "Smart House," meaning residents can open the entrance door or call the elevator with a retina scan. At the same time, everything that a resident might need can be managed by mobile phone. A smart management service is yet another opportunity offered to SEA residents.
"At the Solar Energy Apartments SEA, the flats are delivered to customers fully equipped with furniture and home appliances of only the highest quality, exclusive and very expensive products," Okropiridze notes. "We're installing an energy-efficient German elevator, which gives and generates energy while moving. Demand for such orders is so low and rare in the Georgian market that even the biggest companies in the field, such as our partners Gorgia and Citadel, have never had such orders from a company. We can say that these are our 'special orders.' The same applies to, for instance, the paints we're using during construction, which are of exclusive design and quality, and naturally, very expensive. We aim to create the best living conditions for our customers, and that's why we spare no efforts or resources to achieve it.
"What makes our project interesting are the nuances and details," he says. "In general, the biggest loss in terms of energy efficiency comes from windows, walls and doors. We use windows in compliance with Breeam certification, which is being installed and used in Georgia for the first time. Not even the biggest companies in the market have used them so far. They provide minimum energy efficiency loss and maximum saving of resources.
"Also, the building is built only with energy efficient blocks of EU standard, which are expensive and rare but guarantee a 'warm' life for residents. Those blocks also provide guaranteed privacy and isolation, meaning that the common problem of noise coming from neighboring apartments will be eliminated as much as possible," Okropiridze claims.
He notes that over the years, society's awareness of "green" economy has also risen, in which the contribution of Solar Energy Apartments SEA is significant.
"Seven years ago, when we started talking about the construction of an energy efficient residential complex using solar energy in Georgia, the feedback from society was quite skeptical. Today, the reality and approach to this matter has sharply changed. When we talk about our project at UN or EBRD conferences and EU Exhibitions of Green Enterprises, we see a totally different approach from the audience. Everyone wants to own an energy efficient product, such as electric cars, etc. Our project is already a member of the UN Economic Network and also it got to the EU Exhibition of Green Enterprises, having been printed in its catalogue, as it meets the highest standards of construction and represents an example of Green Architecture. Once the project is completed, we're planning to cooperate with EBRD, the biggest financial institution worldwide, and also meet their criteria. This means that one small residential building in Georgia will include the standards of the three giant leading organizations worldwide in itself! This is a project of the future that we're building, and it sharply changes the vision of the economy of the future.
"Our residential complex is located in a historic and very touristic district – Old Tbilisi, which contributes to active involvement in terms of tourism. Buying an apartment from us and then putting it up for rent to visiting tourists is a very beneficial investment in the future. This is a matter of a small investment that will result in a stable source of income.
"Unlike many other developers, our goal is not to just complete the construction and leave, but to finish the project and still stay in touch with our customers, communicate with them, offer them our services and experience and create the best living conditions for them. We consider them to be our partners and friends, not only just customers," Okropiridze tells us.
Most importantly, as the Project Manager himself also noted, this "small" residential complex has significantly contributed to raising awareness and changing society's vision of what a "green" economy is and how much it matters in Tbilisi and beyond. Gradually, other companies and developers are expected to follow their example and switch to energy efficiency, in order to ensure a healthy living environment and future for the next generations.
By Ana Dumbadze