Shangri La Batumi opened its doors to the public on the 1st of August, 2023 in the 5-star Ramada Plaza Hotel on Zhiuli Shartava Avenue. As it stands today, Shangri La proudly claims the title of the largest entertainment complex on the Black Sea coastline, with of 28 gaming tables and 136 state-of-the-art slot machines, with ability to expand.
Shangri La Batumi has several leading slot machine brands, with a standout feature—the largest single bank of Light & Wonder – TwinStar cabinets in the whole of Georgia. These cutting-edge cabinets house a selection of state of the art progressive slot games. Furthermore, the entertainment complex offers a dynamic multilevel Jackpot system, with the values updated in real-time and prominently displayed on the complex's floor as well as the official website.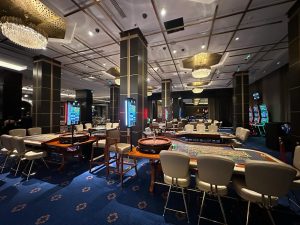 The Shangri La brand has solidified its renown not only within the confines of Georgia but also well beyond. This is evidenced by the over 700 guests who visited the entertainment complex on the 5th of August, for the eagerly awaited live musical performance by the esteemed Israeli Mizrahi music pop singer-songwriter and composer, Moshe Peretz. The venue was abuzz with excitement, resonating with the harmonious melodies that filled the air.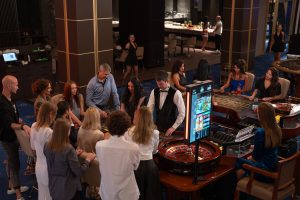 Mark your calendars, for the official grand opening is slated for the 7th of October, promising an event of grandeur and prestige that befits the Shangri La name and reputation. We look forward to seeing you all there!