Biograpi, a brand member of the renowned Wissol Group, is making waves in the Georgian market with its innovative approach to urban development. Last year, Biograpi entered the development market, aiming to revolutionize the country's urban sector. One of their flagship projects is the remarkable Sakeni complex, which promises to set new standards for comfortable living and convenience.
Sakeni, located at Vazha Pshavela #25, is a multi-story complex boasting modern architecture and an inviting interior. It is designed to provide residents with a holistic living experience, blending historical motifs with contemporary aesthetics. Biograpi's emphasis on creating an organic and homely environment sets Sakeni apart from conventional developments.
"The construction of the building has already started and the complex will be completed within the given time frame, which is 42 months. The investment in the Sakeni project exceeds 70 million dollars," said Vasil Pkhakadze, executive director of Biograpi, speaking to Georgia Today.
Biograpi recently signed a memorandum with various commercial partners for the Sakeni project. These partnerships are set to introduce an array of premium amenities within the complex, catering to the diverse needs of its residents. Notable establishments include:
• Gastronome: A premium delicatessen store, offering a wide range of high-quality products.
• Octopus: A 25-meter pool and fitness center, providing a space for exercise and wellness.
• Paul: A French restaurant, serving delectable culinary delights with a touch of elegance.
• Bistro Gastronome: Italian Restaurant, offering authentic flavors and a cozy dining experience.
• Dunkin: An American restaurant, bringing best coffee in the city, delicious treats and beverages to satisfy cravings.
• Ska: A healthy food chain, providing nutritious options for those seeking a balanced lifestyle.
"First of all, we are very happy that a Gastronome Group will participate in this project. We will be represented by two brands, it will be Gastronome – a premium class delicatessen store with entirely different concept and Bistro Gastronome, an Italian restaurant that is already successfully operating in the market. The latter will be presented in Saken with a large terrace and a diverse assortment," said Giorgi Getiashvili, Director of Gastronome.
By bringing together these renowned brands, Biograpi aims to create a thriving ecosystem within Sakeni. This diverse range of establishments ensures that even the most discerning customers will find their desired products and services conveniently located under one roof.
Sakeni's central location in the heart of the city further enhances its appeal. Residents will enjoy easy access to the largest Gastronome hypermarket in Tbilisi, making shopping a breeze. The presence of Octopus fitness hall, tennis courts, and Co-working space promotes an active and collaborative lifestyle.
Furthermore, the lush 2,000 sq.m. green yard offers a serene space for relaxation and rejuvenation. In addition to the commercial and recreational amenities, Sakeni will house a spa and aesthetic center, a pharmacy, a bank, and various other valuable offerings. These facilities are strategically integrated to ensure residents can efficiently manage their daily needs while enjoying significant time and energy savings. Sakeni aims to provide a comfortable and fulfilling environment where residents can focus on living a healthy life and nurturing human connections.
Biograpi's projects are distinguished by their implementation of modern smart architecture technologies and eco-friendly approaches. The construction process prioritizes energy efficiency, utilizing premium-quality European or local materials. The integration of the latest thermal and acoustic insulation and safety systems ensures a secure and comfortable living space for residents. Biograpi's commitment to quality and excellence reflects its dedication to providing a better life for its customers.
"Dunkin has been operating in the market since 2015, we count up to 80 restaurants in the Georgian market already, we are a member of Wissol Group, therefore we are participants and supporters of this project from the very beginning. It is undoubtedly a very interesting project since it is one of the premium locations, so we will be happy to offer our customers the tastiest coffee and other delicious products in the city," said Giorgi Mshvildadze, the director of the company.
With the Sakeni development project, Biograpi is redefining the urban living experience in Georgia. The harmonious blend of commercial partners, extensive amenities, and a well-designed living environment makes Sakeni an attractive choice for those seeking a comfortable and convenient lifestyle. Biograpi's vision to create a vibrant living environment where residents can socialize and enjoy human relationships.
Beyond Sakeni, Biograpi has ambitious plans for the development market in Georgia. In addition to this flagship project, they are set to develop two more multifunctional complexes: "Matiani" on Tsereteli Avenue and "Hisni" on Ketevan Dedopali Avenue. These upcoming projects will seamlessly integrate residential, commercial, and office spaces, further enhancing the urban landscape and providing residents with a comprehensive and interconnected living experience. Biograpi's approach to construction goes beyond aesthetics and convenience; they prioritize sustainability and eco-friendliness. The use of energy-efficient constructions built on solid rock foundations ensures long-lasting and environmentally conscious structures.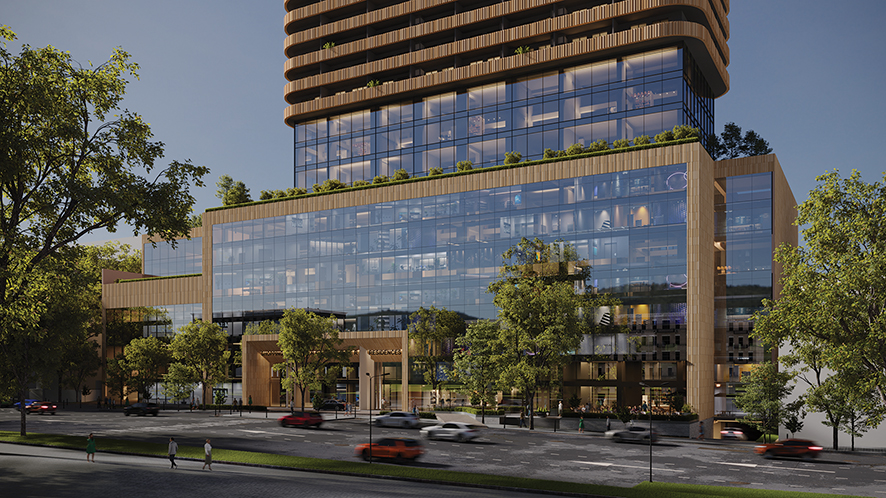 The Wissol Group, with its 25-year history of successful business operations, brings a wealth of experience and expertise to Biograpi's endeavors. This partnership ensures that Biograpi operates with a solid foundation, guided by a commitment to excellence and customer satisfaction. This innovative development promises to elevate the standards of urban living in Georgia, offering a seamless blend of convenience, luxury, and sustainability. Biograpi's dedication to creating a better life for their customers shines through every aspect of the Sakeni project, from the carefully selected commercial partners to the state-of-the-art construction techniques employed.
In conclusion, Biograpi's Sakeni development project represents a significant milestone in Georgia's urban renewal landscape. The collaboration with prestigious commercial partners, the focus on convenience and time-saving amenities, and the commitment to quality and sustainability all contribute to making Sakeni a coveted living destination. With its vision for holistic living and its determination to set new industry standards, Biograpi is poised to leave a lasting impact on the development market, enriching the lives of residents and establishing itself as a beacon of innovation and excellence.
By Mariam Gorkhelashvili