Being a true creator is a gift of nature, which opens the eyes of a world as light, magical and unique as air. It is through this skill that an interior designer creates what we call a warm hearth, a pleasant environment or just a favorite place. One of the most successful recent projects in this regard is the unique eco-friendly hotel 'Raymond Palace' in Bakuriani, which has gained great recognition from the public in a short period of time. GEORGIA TODAY spoke to the author of its design, artist Teona Bekauri, about the work process and her recent projects.
"Although I was studying at the Faculty of Architecture of the Academy of Arts, I started working as a film directing artist for Sandro Vakhtangov in my fourth year at the TV Film Studio," Bekauri tells us. "We implemented really revolutionary projects for that time, particularly works in the video art genre, such as Van Gogh's Ear, Ephemera, which was created on the musical compositions of Dato Evgenidze, and the unique work 'Dreams in the Post-Soviet Space,' which won international prizes.
"Then I was invited as the head of the design team at the Audience Studio, where we prepared programs for Imedi TV, Mze TV and the current Public Broadcaster. You might remember Tiko Berdzenishvili's 'Mealomania,' created in the audience. Then I received an offer from Tbilisi City Hall to implement the project 'Tbilisi – City of Light.' I created 3D sketches of buildings to give us a more realistic view of where and how the lights were to be installed. This project of the Opera House, Rustaveli Theater and many other famous buildings belongs to me, and the artistic lighting of the buildings of our capital originates from here.
"At the same time, I started working for Neostudio, which produced Magti promotional videos. I was the directing artist for viewer's favorite ads, and also worked on computer graphics for Magti and other companies. Later, I was invited to work as a production artist in advertising company Sarke, which was such a powerful studio that people came to us from abroad to shoot commercial videos. Many masterpieces in this fi eld have been created on the basis of Sarke.
"Then there was Imedi TV, where I worked as the main artist of the channel and created a number of scenes. Along with my friends, I also have graphic packaging experience for several TV stations. I also collaborated with the Public Broadcaster, where I am the author of several TV shows, TV series and movie scenery. Among them is the project 'Without Comment,' which was created according to Nika Sabashvili's extraordinary play, together with the director Shalva Shengel. I also made the important film 'Viking Journey in Georgia' with him.
"At the moment, I'm working on an album, which we call 'the project of the century,' and it really deserves this name – it is a project of the Sakdrisi Committee, of which I am a member, and it concerns the Pitareti monastery complex, its architecture, frescoes and miniatures. Also, about a month ago, I started working on a conceptually unique project for the design of a hotel-type residential complex in Bakuriani. I believe that both of them will be successful not only for me and the team working in these areas, but for the whole country."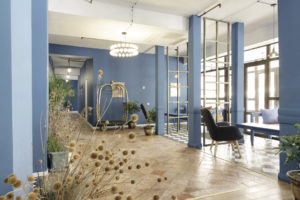 TELL US ABOUT HOW YOUR EXPERIENCE HELPED YOU TO CREATE "RAYMOND PALACE"?
Since, despite my profession as an artist-architect, my main activity is related to cinema, I have combined these two directions by working on interior design in parallel, and with years of experience, I think I have achieved very good results. Raymond Palace is a clear example of this, a project with a new approach. The person who finds themselves in this interior finds a sense of calm and happiness, with artistic values at the forefront. Routine-mercantile issues take a back seat. My goal, to change the philosophy, style or attitude of staying in a hotel, has been successful in the final look of the interior. While working on it, I wanted to break the standards, an effect achieved with laconic, precisely intended, seemingly insignificant accents.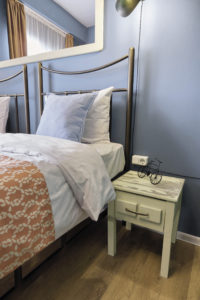 WHAT ABOUT THE RANGE OF COLORS YOU USED ON THE HOTEL?
Bakuriani, as you know, is a mountain-skiing resort. Thus, I wanted there to be colors in the interior that help guests unwind from the snowy environment after arriving here in winter. I am never afraid of experimenting, and for this project, I decided to use two basic colors: green and blue, which I mixed with coral, ocher and copper tricolor accents. I combined coral with blue and ocher with green. I even created and combined a kind of rhythm of colors with a variation of the copper palette.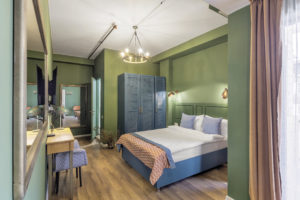 IN ADDITION TO THE UNIQUE DESIGN, WHAT ELSE DISTINGUISHES THIS HOTEL?
It is eco-friendly, which is reflected in the materials used in its creation. Although it is quite difficult to store solid waxed wooden furniture, we decided to use this material in the main part to ensure that the guests were in an environmentally friendly environment. A large part of the interior furniture is made of solid wood, so that guests can feel the power of nature- minimally processed items in the hotel environment.
It is a place where people can hold various important events, photo sessions, shoot movies, etc., facilitated by the composition of the hotel interior, which is unique from any point of view. Its location, top views, specially created unique posters, hand-painted and crafted lamps, etc., stand out. In the rooms, we rejected the idea of a wardrobe, and instead put in airy closets, which are much more comfortable for vacationers: spacious storerooms with laminated doors that allow ventilation. It is all very interesting, both visually and functionally. Hangers also have different and interesting designs.
In addition to being eco-friendly, each room has a safety fi re hose, as well as a unique heating system, through which the hotel rooms are constantly supplied with pure oxygen from Bakuriani imported from outside, and clean water flows from the taps.
WHO IS THE TARGET VACATIONER?
In my view, it is aimed at successful, free people; travelers who are well aware of the price of inimitable sensations, unique design and how important it is to live in a subtle, different, emotional and atmospheric environment for even a few days. The concept of our lobby and restaurant is also very interesting: we have created such a non-standard environment in this space that both jazz and electronic music are an organic part of it. Thus, experts in the field of tourism predict a great future and popularity in our location, and even consider it as a kind of symbol of the Underground of the resort world.
WHAT WAS YOUR SOURCE OF INSPIRATION WHILE WORKING ON RAYMOND PALACE?
One of the inspirations in my working process turned out to be very important to me: Ingmar Bergman's film "Wild Strawberries", in which the main character remembers his past. I wanted this place to be unforgettable for vacationers. I believe that our guests will be filled with exceptionally pleasant emotions, which will leave an indelible impression on them.
BY MARIAM MTIVLISHVILI, TRANSLATED BY KETEVAN SKHIRTLADZE