"Economic success cannot be achieved at the expense of nature, but greening the economy will make it stronger and more sustainable." 
Aiming to assist Georgia in addressing the environmental impact of economic activities, the United Nations Development Program (UNDP) is helping the country to adopt legislation on environmental liability that will hold private companies accountable for pollution and other environmental harm.
Five by-laws designed by the Ministry of Environmental Protection and Agriculture (MEPA) with UNDP support will fill in the details of the Law on Environmental Liability, adopted by Parliament in March and expected to come into force in 2022.
UNDP and MEPA signed an agreement on 13 April, committing to working with the Government and the private sector to finalize the legislation. In addition, UNDP will help raise environmental awareness across  Georgian society and expand environmental education to secondary schools.
A nine-month initiative will be implemented with $106,000 support in funding from Sweden, as part of a broader program that assists democratic reforms in Georgia's public sector.
"Government, private sector and society must work hand-in-hand to achieve our national environmental and climate goals," said Minister of Environmental Protection and Agriculture Levan Davitashvili. "Environmental liability, introduced by the EU Member States and other countries, is an effective mechanism to monitor, address and prevent environmental damage."
"Economic success cannot be achieved at the expense of nature, but greening the economy will make it stronger and more sustainable," said UNDP Acting Head Anna Chernyshova. "We support Georgia to adopt environmental policies that will promote responsible businesses and green industries."
"Protecting the environment is our shared responsibility," said Erik Illes, Head of Development Cooperation/Deputy Head of Mission at the Embassy of Sweden. "Sweden is Georgia's strong supporter in achieving its national Sustainable Development Goals, including the one on Responsible Production and Consumption."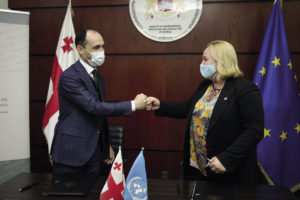 With the support of the UNDP and Sweden, MEPA's Environmental Information and Education Center(EIEC), the National Environmental Agency (NEA) and other agencies, will finalize environmental liability by-laws and submit them to the government.
The EIEC will organize training programs for 60 MEPA employees and roll out public information campaigns in Tbilisi and the regions. A digital campaign will be carried out through the EIEC website that will be adapted for people with disabilities to widen the outreach.
Aiming to engage young people in protecting the environment, the EIEC will work with the Ministry of Education and Science to design an educational program for children that will be introduced into the secondary school curriculum.