First published by investor.ge.
Georgia's summer tourism is already on track to break records this year, data released by the Georgian National Tourism Administration (GNTA) in June shows. Tourism revenue from January – May 2023 reached a value of $1.35 billion, with Galt & Taggart analysts estimating that this year could reach a record annual value of $4 billion. This comes on the back of a strong post-Covid recovery in 2022, when tourism revenue in the country reached $3.5 billion, a 107% increase compared to 2019.
And with higher revenue has also come new tourism trends for the country. Travelers to Georgia in 2022, on average, spent more and stayed longer than visitors before the pandemic – a shift away from the country's previous high-volume, low-value model of tourism, statistics from the GNTA revealed.
As the sector attempts to capitalize on these new origin markets and recalibrate into a more sustainable, low-volume, high-value model, a greater emphasis is being placed on integrating internationally recognized levels of service – a feat that has become increasingly challenging in the face of major staff shortages in the aftermath of Covid. "Despite the fact that we are seeing such a strong rebound in tourism and are operating at full capacity again, a lot of our former employees – around 80% of those we had to let go of during the pandemic – didn't come back," Director of Human Resources for Sheraton Grand Tbilisi Metechi Palace Tinatin Paradashvili previously told Investor.ge.
"Once you lose people's trust, it is difficult to regain. So, it has been a big task trying to recruit an entirely new staff and bring the level of service back to where it was pre-pandemic."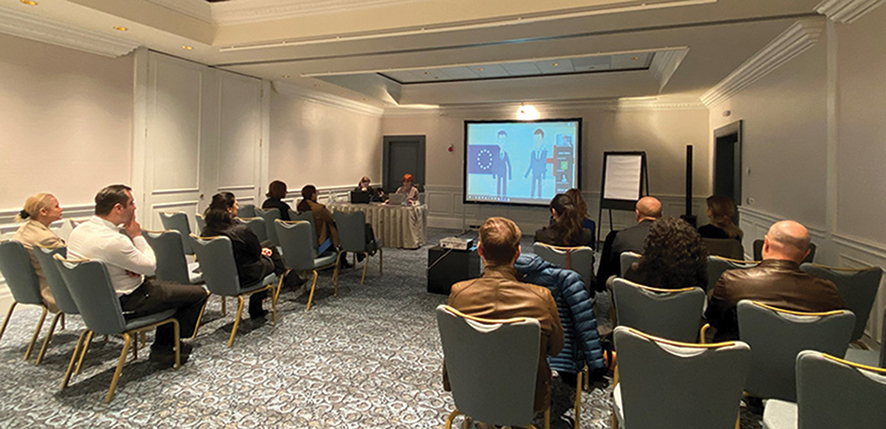 Raising standards and reinvigorating Georgia's hospitality workforce
To address these staffing challenges and reinvigorate Georgia's hospitality workforce, the American Chamber of Commerce launched the Best Practices and International Standards to Hospitality Industry Initiative in 2022 with the support of the USAID Economic Security Program. The project, implemented in partnership with its internationally branded hotel partners GMT Group [Marriott Hotels], Silk Hospitality [Radisson Hotels], and the Sheraton Grand Metechi Palace, is part of a wider effort to introduce international standards of service throughout the sector.
As part of the initiative, a new hospitality skills training program was implemented, offering five- month traineeships with the program's partner hotels. Throughout the program's two cohorts, 90 trainees received more than 800 hours of on-the-job instruction from internationally certified trainers, with a focus on topics like hospitality basics, housekeeping, food and beverage service, human resources, health and safety, and sales and PR.
Many of those who graduated from the program have already been offered jobs at the participating hotels or other hospitality establishments around Georgia. "We've seen great results from the program so far," AmCham Executive Director George Welton tells Investor.ge. "The first cohort has graduated, and the vast majority of participants have already gotten jobs in hotels. Following the recent graduation of our second cohort of trainees on June 27, we expect even more success, and anticipate that many of these participants will also secure jobs soon."
Beyond encouraging an infusion of fresh talent into the industry's workforce through its skills training program, the initiative also aimed to raise service standards across the sector. Throughout the spring of 2023, AmCham and its partner hotels hosted six workshops for regional hotels and vocational colleges around Georgia to share experience, knowledge of international standards, and best practices. These included supply chain management and procurement negotiation strategy workshops led by Silk Hospitality, food waste management and energy efficiency trainings hosted by the Sheraton Grand Tbilisi Metechi Palace, and food safety, HACCP, and hygiene seminars led by Tbilisi Marriott.
Creating sustainable growth
As the initiative comes to a close, AmCham remains committed to continuing the important progress being made to promote careers in the hospitality industry and create sustainable growth in the sector. At a joint meeting of its education and tourism committees on June 22, representatives of regional hotels, vocational education colleges, and Georgia's Skills Agency were invited to participate and discuss ongoing labor challenges within the sector. Participants overwhelmingly agreed that further cooperation was needed to ensure that more students pursue a career in hospitality and that the training they receive equips them with the skills needed to succeed in Georgia's tourism sector. Work-based Learning Development Manager at Georgia's Skills Agency Petre Tsulukidze says his agency can also play a critical role in supporting these goals.
The agency, which was jointly established by the Ministry of Education and Science and the Chamber of Commerce and Industry to promote vocational and work-based learning in the private sector, began operating in early 2022. It currently provides developmental support for three types of work-based learning programs: dual education programs, which involve longer term training of up to three years provided predominantly by a company; cooperative education programs, which involve training that lasts up to three years and are mainly coordinated by educational institutions; and training-retraining programs, which are typically less than a year long and primarily run through companies.
"These types of programs offer flexibility to employers and can be tailored to meet their labor needs while also taking into account what resources they have to help train the workforce," says Tsulukidze. "We can offer financial support in coordinating and running these programs as well as technical expertise in designing them," he says, noting that the agency is currently supporting around 25 of these work-placed learning programs for the hospitality sector.
Starting next year, the agency will also be working to implement qualification exams for programs, including those focused on hospitality and training. "These will help standardize the levels of training at vocational colleges and ensure trainees are acquiring the skills necessary to succeed in their field," says Tsulukidze, noting that the exams will be designed by sectoral skills organizations made up of representatives of the private sector. "It's crucial that the private sector play a leading role in designing and implementing both the work-based learning programs and the qualification exams. For one, they know better than anyone what skills they need in their workforce," he adds. "But also, their participation in the process will give these programs credibility and play an important role in attracting prospective students."
Project Manager and AmCham Communications Director Nini Kapanadze says that moving forward, AmCham will continue to bring together voices from the hospitality sector, as well as educators and relevant government agencies to build on the success and lessons learned throughout the initiative.
"Our role at AmCham will continue to focus on facilitating these important discussions between key stakeholders. The project has served as a great proof of concept – showing not only how exciting a career in hospitality can be, but also that cooperation between these stakeholders is essential to raising the overall standards of service and driving growth within Georgia's hospitality industry."
This article was written with the support of the USAID Economic Security Program. 
By the Investor.ge Editorial Board