In 2019, before the COVID-19 pandemic struck, total tourism accounted for 26.8% of the GDP of Georgia according to the WTTC. However, Georgia's tourism sector at that time was concentrated with 71.4% of all visitors to Georgia coming from its four neighboring countries: Azerbaijan (19.8%), Russia (19.0%), Armenia (17.7%), and Turkey (15.0%). The outbreak of the pandemic has heavily damaged tourism, however, the current crisis and changing behavior of tourists also presents some opportunities to redesign tourism policies to bring greater diversification to industry. Visitors from the Gulf states, the USA, and some European countries tend to spend considerably more than the average visitor per visit and are already targeted by current marketing campaigns. However, China and Kazakhstan stand out as the markets with most potential in terms of expanding Georgia's tourism sector, yet both are currently receiving limited attention.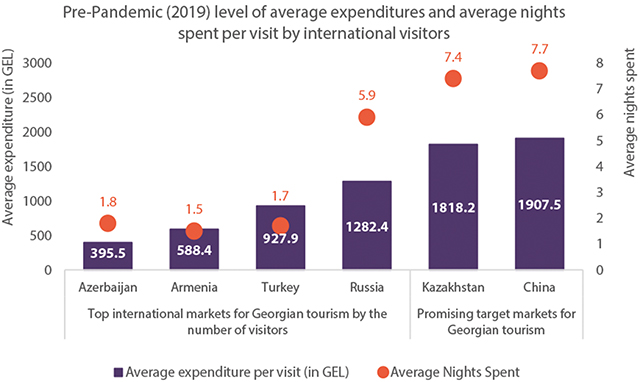 In 2019, the average expenditure per visit of a Chinese visitor to Georgia was 1,908GEL, which means visitors from China spend nearly five times that of the average visitor from the largest source market, namely Azerbaijan (396GEL) and higher compared to all other traditional tourism markets of Georgia.
Meanwhile, the average length of Chinese visitors to Georgia was 7.7 nights in 2019, which is also longer than that of Georgia's traditional source markets. As for Kazakhstan, the average expenditure per visit for Kazakh visitors in 2019 was 1818GEL, while their average length of stay was 7.4 nights.
In previous years, the number of Kazakh visitors to Georgia had been persistently growing and reached 103,611 visitors in 2019, representing a leap of 75.7% compared to 2018. Moreover, there is significant potential for further development of the tourism relationship between Georgia and Kazakhstan courtesy of the recent introduction of regular and direct low-budget flights from three cities of Kazakhstan via FlyArystan, the easing of entry regulations, and through the general enhancement of economic cooperation between the two countries.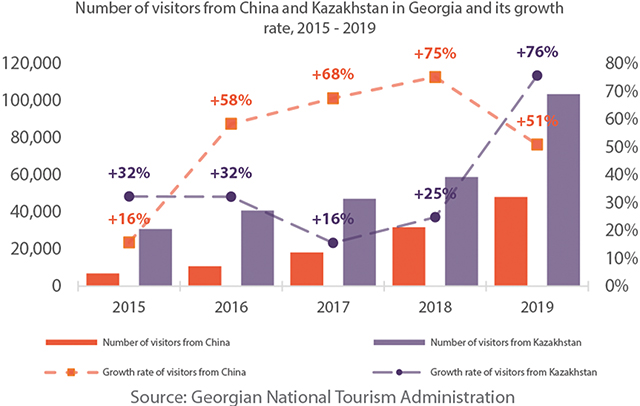 In 2019, the number of visitors from China reached 48,071, displaying a considerable 50.9% year-on-year increase. The majority of Chinese tourists are from low- or middle-income groups who are largely attracted to budget-friendly tourist destinations, such as Georgia. Cooperation between the Ministry of Economy and Sustainable Development of Georgia and China's leading travel agencies, accompanied by regular flights being provided by China Southern Airlines, means the situation is promising for the post-pandemic development of tourism from China. Considering that China is one of Georgia's largest trading partners, and as Georgia is viewed as part of the Chinese Belt and Road Initiative (BRI), there is great potential for developing business tourism with China as well.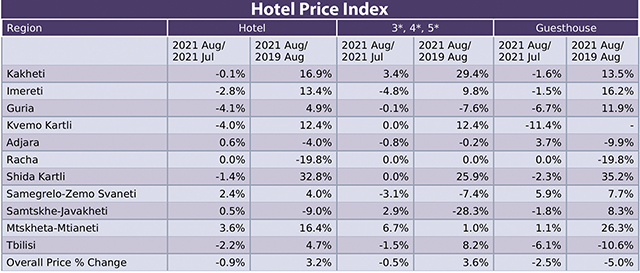 Hotel Price Index
In August 2021, in Georgia the hotel price index decreased by 0.9% compared to July 2021. The 3-star, 4-star and 5-star hotel price index decreased by 0.5%, while for guesthouses, the price index decreased by 2.5%.
In August 2021, compared to August 2019, hotel prices in Georgia increased by 3.2%. The prices of 3*, 4*, 5* hotels increased by 3.6% and the prices of guesthouses decreased by 5%.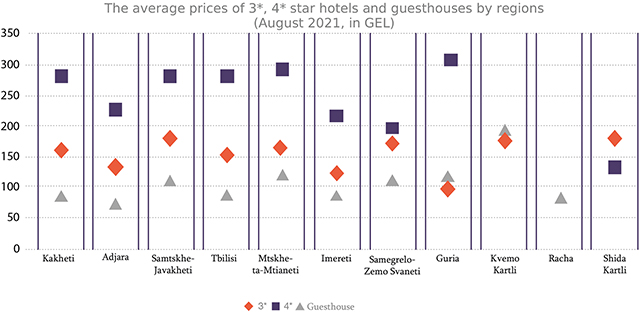 Average Hotel Prices
In Georgia, the average cost of a room in a 3-star hotel was 151 GEL per night in August 2021, while the average cost of a room in a 4-star hotel in Georgia was 268 GEL per night and the average cost of a room in a guesthouse was 95 GEL per night.

The average cost of a room in a 5-star hotel in Georgia in August 2021 was 514 GEL per night. In Guria, the average price was 807 GEL, followed by Tbilisi – 604 GEL, Adjara – 570 GEL and Kakheti – 546 GEL.