Tsavkisi Panorama is a residential estate that adapts to modern standards, and its concept fully meets the needs of people with a modern lifestyle, for whom environmental conditions, well-equipped infrastructure, safety, and a comfortable living environment are vital.
The Tsavkisi Panorama team successfully created a unique residential area in the existing market by offering its customers a new standard of the ideal life. To gain more information about the company and its succession, Georgia Today interviewed managing partner Gegi Vasadze.
"Project "Tsavkisi Panorama" started one year ago with a 30 million investment value. From the beginning, we had the desire and ambition to occupy a unique niche and meet modern people's demands as much as possible. While working on the previous project, "Tsavkisi Valley," we knew that soon living in a healthy territory outside the city would be in demand. And before we started planning this project, we conducted research in advance to accurately study the customer's requirements and wishes. We were right, and potential customers did want to live in the eco-friendly infrastructure and safe area, away from urban pollution. So, to satisfy their needs and wishes, we offered our customers Western practices and high standards."
We know that Tsavkis Panorama is one of the most sought-after residential areas on the market. To go into more detail, what is the unique product you offer customers, and why is this project high in demand?
" Tsavkis panorama is exceptional in many ways. It has a convenient location. It is located seven minutes from the city center and is an ideal residence for those who work in the city but want to live away from the urban environment.
The project has panoramic views and a forest behind it. Therefore, there is no risk that someone will build another project near this place.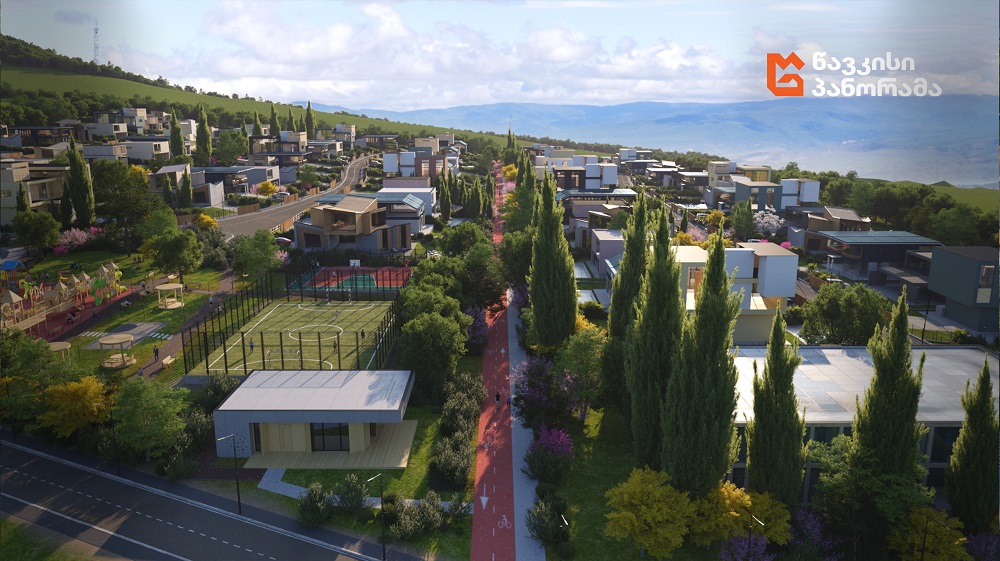 Our territory makes up 13 hectares, with 98 individual plots of land supplied with all communications. We provided 15,000 square meters of recreation area, a tennis court, basketball and football fields, a skatepark, and a bicycle path. We have planned a one-kilometer footpath, children's entertainment spaces divided by age, and many other exciting and necessary infrastructural projects. We preserved the recreational nature, harmoniously developed the area, and integrated it with the existing environment. We created safe, restful, and eco-friendly infrastructure. We wanted to allow our customers to live comfortably in separate living areas.
Considering all this, "Tsavkisi Panorama" is a truly outstanding project, so it has become one of the most sought-after residential areas. " said Gegi Vasadze.
It is known that your project will be completed a year ahead of schedule. Tell us the reason for all this, and did you expect this success?
"The project's early completion is directly related to the high demand of customers. One year ago, we started sales of "Tsavkisi Panorama" in May 2022. The completion of the project was planned for the end of 2024, and accordingly, at the beginning of the project, we had a sales plan for two years. Of course, we expected that customers would choose our project, and we were expecting success. However, the demand exceeded all expectations, and most land plots have been sold already. We took on the challenges of high demand, and our team completed two years of work in one year. We are proud that the "Tsavkisi Panorama" project will be finished one year earlier successfully," informs Gegi Vasadze.
Did the success of the Tsavkisi Panorama inspire your plans for the future? 
The success of Tsavkisi Panorama has given us more motivation and inspiration to create similar concept residences and create an environmentally sustainable, safe, and comfortable living space for others. We are working on a new project, creating a new type of settlement in Tsavkisi with an investment value of 40 million. The construction of this new project is planned to start in the summer. We will inform the public of the other details soon," says Gegi Vasadze.