Georgia, considered the cradle of winemaking, has for years been celebrated for its unique vine varieties and traditional wines. It is also renowned for its tremendous selection of fresh fruit, herbs and vegetables, making it an ideal resource for fruit juices, juice blends, teas, and innovative new beverages. At the biannual Anuga international trade fair 2021, visitors were introduced to these, as well as a significantly wider range of highly sought after, export ready agricultural products from 16 Georgian enterprises offering innovative products found only in Georgia.
Anuga, the leading global trade fair for the food and beverage industry, took place in Cologne from 9 to 13 october 2021. With more than 70,000 visitors from 169 countries and more than 4600 exhibitors from 98 nations, Anuga once again proved that trade fairs of this magnitude are again possible. Further, for the first time, the fair was enhanced by a new digital format, Anuga@home, meaning that wherever potential investors might be, they had the opportunity to be part of the hybrid edition of Anuga, forming the basis for good business and new economic perspectives, and bringing the industry players together in their entirety on both a personal level and in the digital world.
"With Anuga 2021, we have successfully brought the world of food trade shows out of the corona lockdown," said Friedhelm Dornseifer, President of the German Association of the Retail Grocery Trade (BVLH). "My very special thanks for this go to Koelnmesse, which made this possible with a great deal of heart and commitment from all of its employees. Anuga 2021 impressively demonstrated that we must resolutely continue along the path of transforming our food system. Numerous innovations of sustainably produced and processed products, presented here at Anuga, testify to the innovative strength of the industry and make me very confident that the food industry can make an effective contribution to reducing greenhouse gas emissions and thus to combating climate change."
Enterprise Georgia reports that at Anuga 2021, Georgian companies signed export contracts worth GEL 3.7 million with international partners.
About 300 meetings were held with representatives of the business sector from around the world, including Germany, Austria, France, The Netherlands, Denmark, Poland, Great Britain, Lebanon, Saudi Arabia, Turkey, Ukraine, Bulgaria, Kuwait, the USA, and Canada.
Georgian products of note on display there included an extensive line of fruit juices from Campa, 100% wild fruit juices from Georgian Nectar, and an innovative line of blended fruit and vegetable juices from Georgian Agroproduct. Flavorful teas grown and produced on high-mountain plantations by Manna and Okriba were on show beside Geo Natural's line of locally produced honeys. Guests were also given the chance to taste a number of Georgia's distinctive Qvevri wines from Twins Wine House, some of which are protected by geographical indications, made from Saperavi, Rkatsiteli and others, and to sample the Jujuna brand of semi-sparkling wines produced by SVI.
Participation in Anuga was made possible by the state-owned agency LEPL Enterprise Georgia under the Ministry of Economy and Sustainable Development of Georgia, EU4Business project – 'Ready to Trade,' with additional support from the USAID Agriculture Program.
"Anuga is one of the largest and most important events in the beverage and food sector in Europe," Enterprise Georgia writes. "Within Enterprise Georgia's Export Promotion program, Georgia participated in this exhibition this year for the fourth consecutive time, showcasing Georgian dried fruit, nuts, jams, honey, fresh fruit and vegetable , churchkhela, licorice extracts and sticks, natural juices, tea, wine, and sparkling wine."
Georgian Abgribusinesses Emphasize High Quality and High Integrity Foods
Georgia is renowned for its fresh fruit, berries, herbs and vegetables, as well as dried bay leaves, hazelnuts and spices, all sold in both whole and processed formats for a wide variety of manufacturing and culinary applications. Considering the country's environmentally clean growing environments, Georgia has also become a highly valued resource for healthier, better quality and undeniably nutritious traditional and organic food. Over recent years, Georgian farmers, processors and distributors have invested significantly to meet the growing demand, and this year put this on show at Anuga 2021.
"Our Program has been cooperating with Enterprise Georgia to support Georgian agribusinesses to participate in international trade fairs on a regular basis," Irine Salukvadze, an Organization Capacity Development Manager for the USAID Agriculture Program, tells GEORGIA TODAY. "Local agribusinesses were automatically selected through Enterprise Georgia's e-platform Trade with Georgia, recently upgraded with support from the USAID Agriculture Program. This platform, www.tradewithgeorgia, is an online catalog allowing Georgian entrepreneurs to place information about their companies and products. The newly developed modalities make government services more transparent and end uncertainties related to business selection for international fairs and missions.
"Anuga trade fair was targeted as a priority exhibition for Georgian agribusinesses to facilitate export of Georgian commodities to the EU and other high-value markets," she says. "Export diversification is one of the challenges that our Program assists local agribusinesses to address, through grants to purchase modern equipment, as well as so-called technical assistance to cost-share the introduction of international food safety standards, offering international consultancies to introduce best practices, growing market-demand crops and many other activities to meet EU requirements and ease entry to the EU market.
"The supported companies represented the juice, dried fruit, tea, jam, hazelnut/pecan, tea, and wine industries. As an immediate follow-up to Anuga 2021, eight of them have already signed contracts with a total value of up to $1,300,000 million, with target export markets being France, The Netherlands, Germany, Poland, Mexico, Italy and Austria. Others are in the process of negotiation. It takes time, but we can already say Anuga was really a success!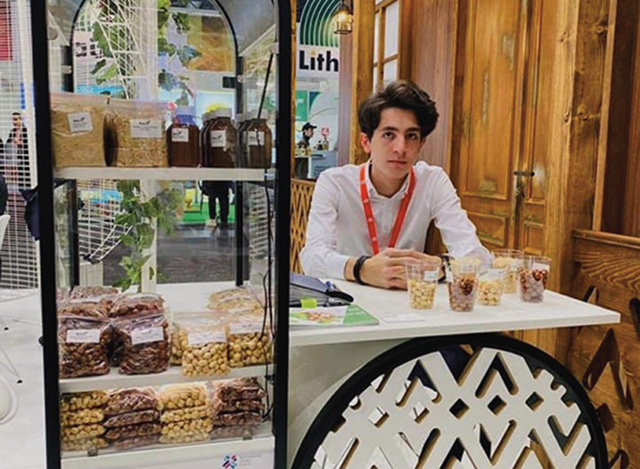 "Supporting Georgian agribusinesses to participate in international fairs is very important and the best results are achieved when the government and international organizations synergize their efforts," Salukvadze adds. "Further, at the 2021 Anuga Trade Fair, Enterprise Georgia used a new design for the exhibit booths and outside/inside advertisements, developed with our support. It is planned to use this tradeshow display for all future agricultural trade fairs to ensure that the national image is consistently presented and creates awareness and understanding of Georgia and Georgian agribusiness."
Check out some of the Anuga 2021 companies and their products below:
Juices from Georgian Nectar
Located in Kareli, Georgian Nectar is an export-oriented producer of 100% wild and 100% all-natural fruit juices. With its sizable capacity, certifications (ISO 22000, BIO Organic, Halal, Kosher) and partnerships with international distributors, Georgian Nectar looks after a broad base of customers around the world. It is important to note that all of the fruit and vegetables used by Georgian Nectar are 100% Georgia-grown, freshly squeezed, pasteurized and bottled with no artificial coloring, no artificial flavors, no preservatives and no GMOs. While Georgian Nectar's 100% Wild Pomegranate juice is their most popular, they have a wide selection including blackberry, raspberry, cornelian cherry, strawberry, sour cherry, beetroot, barberry and blueberry juices, to name just a few.
At Anuga, Georgian Nectar showcased an entirely new look and feel for its juices, with innovative, brightly colored and visually appealing labels developed with support from the USAID Agriculture Program.
Purées by Georgian Agriproduct
Established in 2017, Georgian Agriproduct is located in Chumlaki village, Gurjaani municipality. The company, boasting ISO 22000 certification, processes fruit and vegetables and produces 100% natural purées. Georgian Agriproduct has already processed and produced peach, nectarine, apple, plum, wild plum, bullace, kiwi, feijoa, and strawberry purées. The company began exporting wild plum purée in 2019. The purée produced by the company is potentially attractive for local producers of juices, milk, ice-cream, baby food, and confectionery products that import concentrates and various fillers. Georgian Agriproduct offers a completely new product to customers, the like of which is not available on the market: smoothies of pure purées without any additives or preservatives bottled in innovative packaging.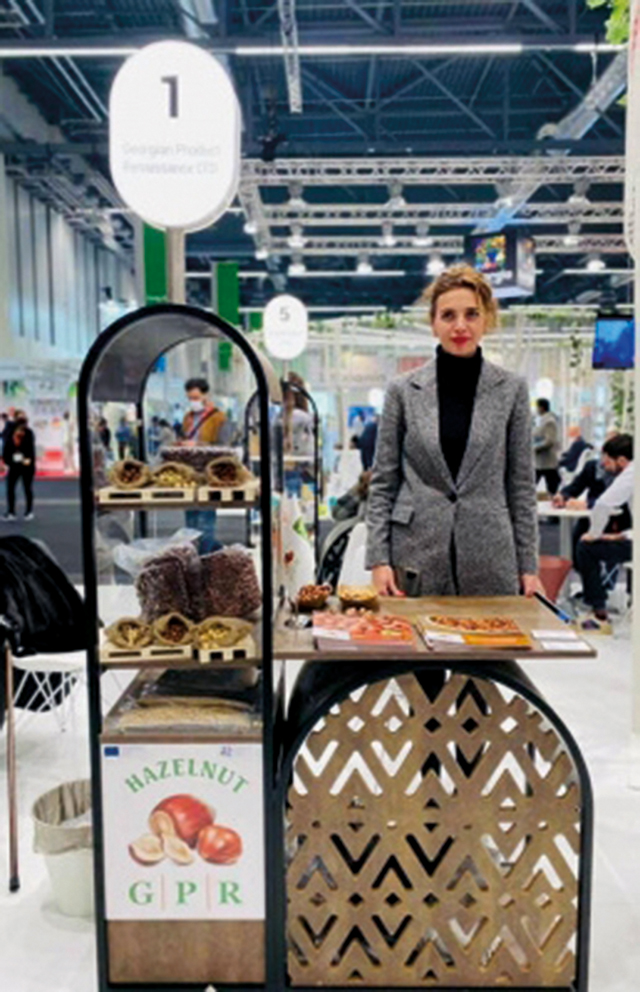 GPR – Georgia's only Pecan Processor
GPR was established in 2013 with support from Georgia's Rural Development Agency. With a 1500m2 processing facility in the town of Khobi in Georgia's Samegrelo-Zemo Svaneti region, the company has been processing and exporting hazelnuts across six continents and 35 countries. In 2020, with assistance from the USAID Agriculture Program, the company expanded its operations to include a pecan processing line, making it the only company in Georgia with this capacity. While their line of processed pecans is new, it compliments their already impressive line of 100% Georgia-grown hazelnuts. Recognized for their exceptional quality, size and flavor, GPR offers formats from in-shell and whole kernel to roasted, blanched, chopped and meal. For all of its products, GPR has flexibility in terms of capacity, processing configuration and packaging options to meet the needs of confectioners, bakers, and snack producers of all size and description. As an export-oriented enterprise ranked #1 in Georgia, the company has the ability to ship its prized pecans and hazelnuts to any destination around the world.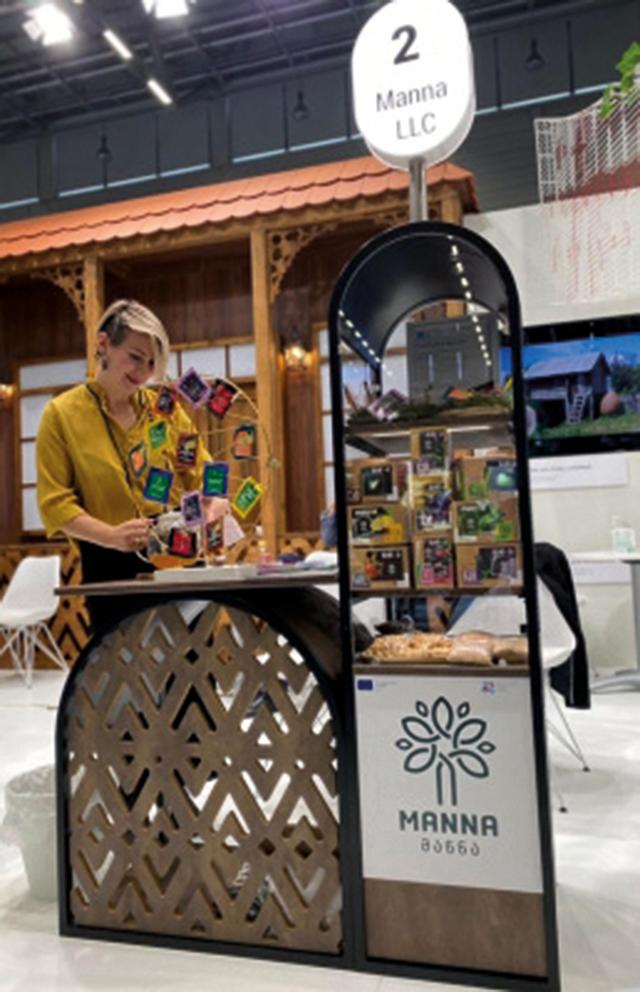 Suti Power Fruit Snacks
Suti Power was founded in 2019, and today, the company maintains a state-of-the-art manufacturing facility in Tbilisi and an international sales office in Saint-Yrieix-sur-Charente, France. Suti Power is a convenient and nutritious fruit snack with origins based on the traditional Georgian confection known as "churchkhela." The company embraces this time-honored recipe, producing a convenient, power-packed combination of fruity, chewy and crunchy that contains nothing more than red and white grape juice, hazelnuts, almonds, walnuts and a touch of wheat flour. Available in both 50gr and 170gr bags, Suti Power has been formulated to appeal to individuals maintaining active lifestyles. With exports to France, Russia, Germany and the UK, it is being embraced by some of the most elite athletes in the world, including Amandine Buchard (judokate), Tato Grigalashvili (judoka), Shalva Sutiashvili (rugbyman), Mamuka Gorgodze (rugbyman), and Varlam Liparteliani (judoka).
Campa's RTD Real Brew Tea
Campa is one of Georgia's leading producers of 100% fruit juices and nectars, and expanded its production with USG support in 2014. The company maintains four distinctive brands (Campa, Chveni, Mosvi and Gergo), is ISO 22000 certified, complies with the EU Juice Directive, and adheres to the principles set by the AIJN (European Fruit Juice Association). Production includes more than 20 different products, exceeds 5,000,000 liters per year, and boasts active exports to more than 10 countries around the world.
At Anuga 2021, Campa introducing its innovative RTD real brew tea and new brand MOSVI. It is available in four refreshing varieties, the distinctive flavor of which is derived from high quality black and white teas sourced from plantations in the Guria region of Georgia. These low-calorie teas, packed in 0.47L glass bottles, deliver a refreshing and enjoyable tea drinking experience.
Buetea – Premium Highland Teas by Okriba
Buetea premium teas by Okriba is a new brand of highland teas grown on the company plantation in the alpine municipality of Tkibuli, whose high altitude and environmentally pristine growing conditions yield an incredibly rich, aromatic and satisfying product. All of Buetea branded teas are grown using both traditional and modern technologies, and entirely without pesticides. Okriba, which is in the process of introducing BRCGS certification into its operations with support from the USAID Agriculture Program, produces an assortment of black, green and herbal teas that deliver remarkable flavor and refreshment, contributing to its reputation as one of the finest tea producers in Georgia. The full line of Buetea branded teas is available in both loose and individual tea bag formats and are primed for international distribution.
GEORGIA TODAY spoke to Erekle Amashukeli, Okriba representative.
"Participation in the Anuga food fair was a very important and responsible step forward for our company, as it brought us new networking and business opportunities with various countries," he tells us. "Anuga is one of the best fairs internationally for companies that seek to expand their operating area, find new partners and contacts, and increase awareness of their products."
"There were many interested persons from various countries present at the fair, with whom we have communication even today, and we're hoping that it will soon result in a practical collaboration," he says.
"Currently, we have a three-year contract and successful cooperation with representatives of the German business sector, sending our products abroad.
"We have been beneficiaries of USAID for almost two years, and the organization helps us in various directions, from trainings to participation in exhibitions and fairs. The USAID Agricultural Program and Enterprise Georgia helped us participate in Anuga and popularize our products.
"In future, we aim to expand our products and increase our presence on both the local and international markets; to find more foreign partners and to send our products abroad. Also, we plan to add more directions to our business and produce other products apart from tea, such as dried fruit. In December, we'll participate in another large-scale fair, Dubai Expo, and we hope that it will also be fruitful and successful."
Manna's Premium Quality Teas
Opened in 2017, the Saguramo-based processing and packing factory Manna offers 13 kinds of tea produced using modern technologies. The company's team is made up of leading experts who have years of experience in the agricultural management and production fields. The company operates to produce berry and herbal teas for international markets (it is already present in the UK) in accordance with the highest international standards regarding quality and traceability- Food Safety System Certification FSSC 22000, and it is compliant with EU importation standards. Permanent controls and complete origin-tracking system are the basis of its quality guarantee for both BIO-certified and conventional products.
August Fruit Company's Jams and Juices
August Fruit factory, located in Natakhtari, is the producer of various types of products made from high quality processed fruit and vegetables. Its main products include jams, compotes, juices, purees and other fruit and vegetable products. The company adheres to the uniqueness of the quality of product supply, cleaning and processing each fruit and vegetable individually, and packaging and carrying out quality management at each step of the production and supply chain.
The factory is equipped with modern Italian equipment that ensures that the benefits of the fruit and vegetables is not lost, and that the products keep their vitamins. August Fruit Factory works with local farmers on a partnership level to get high quality raw materials.
By Katie Ruth Davies and Ana Dumbadze