This year marks 100 years since the premiere of Zakaria Paliashvili's immortal opera "Daisy." To coincide with this anniversary date, Tbilisi Opera and Ballet Theater premiered the new production of Daisi. This opera has not been performed on the stage of the Tbilisi theater since 2009.
Revaz Takidze is the stage conductor of Daisi; the stage director is Gocha Kapanadze; the scenographer, author of lighting and costumes is Giorgi Alexi-Meshkhishvili; the Choreographer is Iliko Sukhishvili; and the author of the video projection is Davit Machavariani.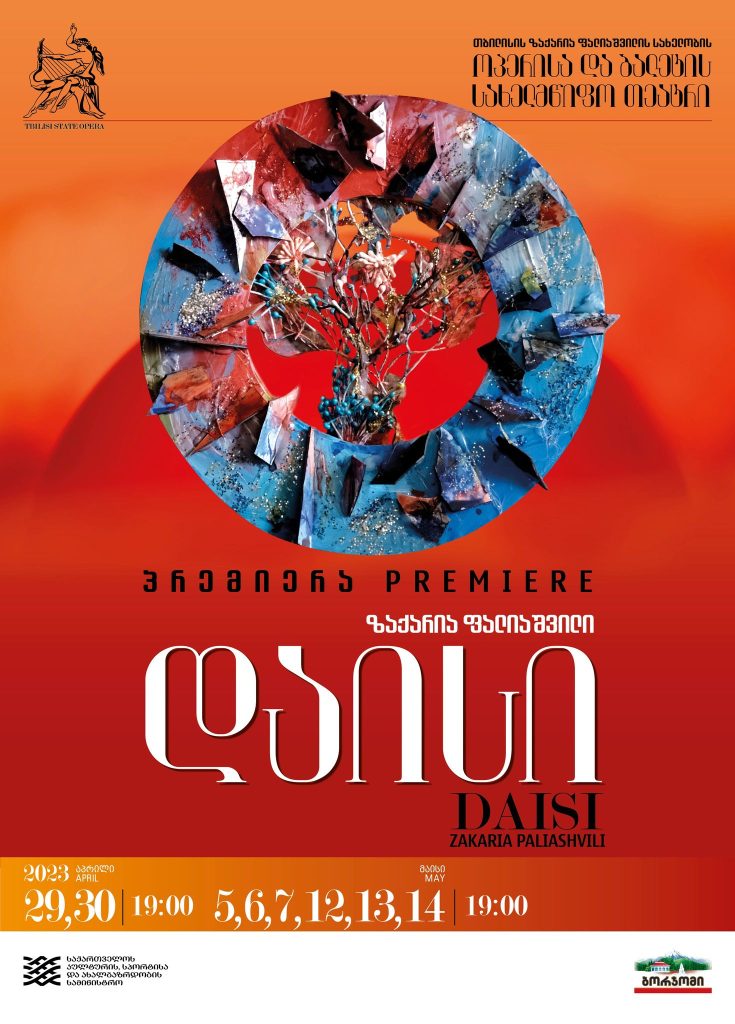 Singers of all generations of the Opera Theater, People's Artists of Georgia, invited soloists, chorus, orchestra and Georgian National Ballet "Sukhishvili" will participate in the premiere performances on April 29, 30 and May 5, 6, 7, 12, 13, 14, starting at 19:00.
100 years ago, Zakaria Paliashvili's opera Daisi premiered on the stage of the Tbilisi Opera and Ballet Theater. KoteMarjanishvili staged the opera and Zakaria Paliashvili's brother Ivane Paliashvili conducted it.
The part of Malkhazi was performed by the great Georgian tenor Vano Sarajishvili, who had to perform the Malkhaz's Aria ("Myself") three times in a row at the request of the audience. The "Georgian" dance was performed by 16-year-old IlikoSukhishvili (the senior).
Tickets sold out a week before the premiere. After the premiere, Zakaria and Ivane Paliashvili, who appeared in front of the audience, could not leave the stage for a long time, as the applause of the audience did not slow. This meant a victory forDaisi. The ovations of the delighted audience continued in front of the Opera House, where the young people met the composer and thanked him.
The composer started working on the opera in 1921. The main character of Daisi is named in honor of Maro Makashvili, who heroically died in a self-defense battle during the annexation of Georgia by Bolshevik Russia in February 1921. The idea of creating Daisi was given to Paliashvili by the famous Georgian playwright and actor Valerian Gunia, who wrote the libretto of the same opera. Gunia used the poems of Shota Rustaveli, AkakiTsereteli, Vazha-Pshavela and Nikoloz Baratashvili.