"Hungary is a strong supporter of the Eastern Partnership, where Georgia plays a key role." –  Hungarian Minister of Foreign Affairs and Trade Peter Siarto
Hungarian Minister of Foreign Affairs and Trade Peter Siarto, during the joint press conference after his meeting with the Vice Prime Minister of Georgia and Minister of Foreign Affairs Davit Zalkaliani, noted that "Hungary is a strong supporter of the Eastern Partnership, where Georgia plays a key role."
At the press conference, Siarto also stressed the need for stronger cooperation between Georgia and NATO, and reaffirmed Hungary's support in this regard, noting that Georgia's contribution to the Strong Support Mission entitles it to deeper and more comprehensive cooperation with NATO.
The Hungarian diplomat also spoke about active cooperation in the economic field.
"A Hungarian pharmaceutical company is among the 10 leading companies operating in Georgia. The Hungarian airline WizzAir is successfully operating in Kutaisi, we are actively cooperating in the field of defense , and Hungarian companies may be involved in providing water supply systems to the second largest city in Georgia," Siarto said.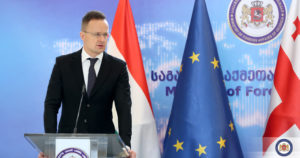 He added that Hungarian Exim Bank has allocated a $140 million credit line to facilitate the entry of Hungarian companies into the Georgian market and to develop Hungarian-Georgian business cooperation.
Siarto emphasized Georgia's role in diversifying energy supplies in Central Europe as being in the interests of Hungary. "Caucasus gas should arrive in Central Europe, and in this regard, Georgia has an important role to play as a transit country," he said.
The Hungarian Minister also underlined the active cooperation in the field of education between the two countries. "This year, 262 students have submitted applications for Hungarian scholarships, which is the highest rate in recent years."
By Ana Giorgadze