Interview by Nino Tsipuria
"Imre Pákh is a Hungarian-born American art collector and businessman" – the Google search thus introduces my respondent. There is a lot of information available about Mr. Pákh's art collections, his fund and business activities, however, what he hasn't told anyone before this interview is – how did the passion of collecting art began? When did he fall in love? And what's his connection with Georgia?
Imre Pákh owns the world's largest collection of Hungarian painter – Mihály Munkácsy paintings. A few years ago, he sold Munkacsy's monumental piece Golgotha to the museum in Debrecen (Hungary) so that the three pieces could again be exhibited together, as they were supposed to be initially. Munkácsy was hailed as the greatest painter in Hungarian history for his critical realism painting style. His works are considered to be the highest status of the national level of painting.
"It is true that Munkácsy was extremely popular when he first appeared in Paris in the 1860s, and he eventually became something of an artistic star. If you ask some intelligent art historians, however, they will tell you that Munkácsy is greatly overrated. He was a mediocre painter who even in his own lifetime was considered to be outmoded. He was still painting in the style of the Barbizon School when even impressionism was already "passé" in France," – reads the article of Hungarian Spectrum.
I met with Imre and his wonderful wife, supermodel Nelly Pakh, in Tbilisi. Nelly has a great story related to legendary fashion designers – from Karl Lagerfeld to Calvin Klein. Nelly Pakh is currently represented by IconicFocus Models. Imre has his own adventures related to Tbilisi.
How the love to Georgia was born? This was my main question, which leads to Mr. Pákh's whole life adventure. Below, the Pákh family will tell their story to our readers.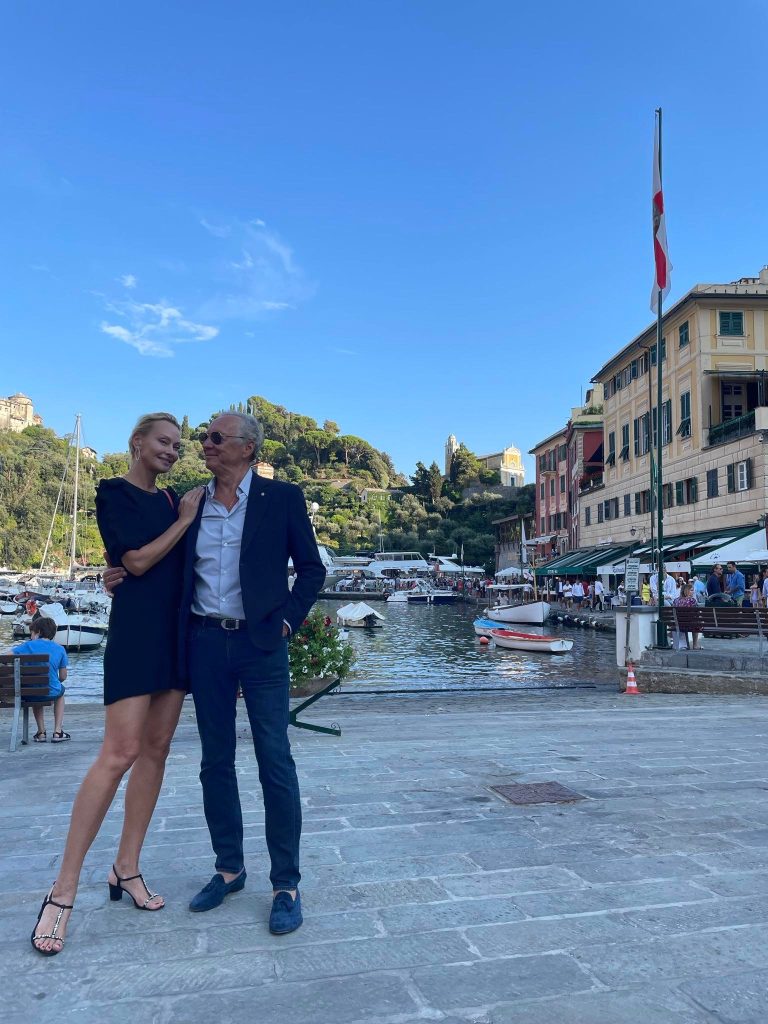 You became one of the most famous Hungarian art collectors; how this adventure of collecting art began?
Imre: Actually, I grow up surrounded by art. My family had paintings on the walls, I also learnt paint when I was a kid, but I don't paint anymore. However, we still have some paintings from my childhood. So, it's a family tradition which I just continued and expanded a little bit. It's a hobby that turned into a strong passion and now, we're both collecting!
Nelly: In fact, we made all the decisions together. We've been married for almost 27 years. So, we also started making decisions related to collecting together.
Imre: From the 20th century art, I don't buy anything Nelly doesn't like.
Do you always have a same opinion?
Imre: Not always, of course. She doesn't like dark pictures.
Nelly: it depends on the theme as well. When choosing, I try to imagine having a painting on my wall. There are some important paintings that you wouldn't want in your house.
You usually collect for your own pleasure?
Yes.
But the aim to collect isn't always the same, is it?
Imre: No. we only collect Hungarian art. So, there is one Hungarian artist Mihály Munkácsy. He died in 1900. He was the famous Hungarian artist in of 19th century. We have a very rich collection of his paintings, almost 80 paintings, the biggest in the world, after the national gallery of course. If it's important to have a painting as part of collection, we would buy it, even if we don't like it, because those painting aren't hanging in apartments or houses, those painting are constantly exhibited somewhere in the world. So, we have only 10 paintings of Munkácsy at our house that we like very much and the rest always travel somewhere. So, we don't have to live with those paintings.
Nelly: However, we started with what we liked so the kids grew up surrounded by some of the paintings. Munkácsy was highest paid artist of all times. He lived in Paris. He was like a star, first star painter, everyone wanted to own his paintings.
What's the price of his paintings?
Imre: I only sold one of his paintings. Right now, his paintings aren't as expensive as they used to be many years ago, because taste changes… His paintings are of academic style. Nowadays, people like more modern schools of paintings and also, abstract paintings. This trend will also change in the future. Right now, his one nice painting would probably cost one or two million dollars.
I guess that's too low price for him?
Yes, it's too low for the value. The price was very high in his lifetime, then the new trends came in at the beginning or the 20th century… And now, it's going up again. Hopefully, in 10-20 years his paintings will be on the top again.
I sold Munkácsy 's "Golgotha" for a significant amount of money.  I suppose his paintings will cost around 10 to 20 million range in the future.
Who would you hang next to Munkácsy?
Titian and Rembrandt. A renowned art expert in Vienna wrote that the art of the last 200 years never produced the painting like "Golgotha", except Rembrandt's The Night Watch. So, he was comparing "Golgotha" and "The Night Watch". Richest people in the world at the time bought Munkácsy's paintings, they also had Rembrandt's paintings and they hang these two next to each other. The American market was the biggest market of his paintings at that time.
Why I think that he has so much potential, because when we took his paintings for an exhibition in Hermitage (Saint Petersburg) in summer 2009, in 3,5 months, more than one million people went to see it. This is the most successful art exhibition recently.
Is "Golgotha" his most famous painting?
No, it became because I didn't want to sell. This is the trilogy and when you see all these three parts together, it's like in a church. It's very famous painting, but not the most famous, because it's not the painting that made him famous.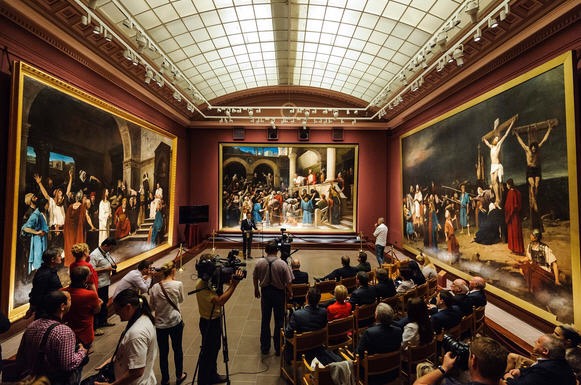 Do you have regrets because you sold it?
It was too big for me. I never had this painting in my house, it's too large for my house. I bought it to keep it in the museum, I wanted people to see it. Collecting art is a hobby, an expensive hobby, and not a business! It would've been a business if I've sold paintings, but I don't sell.
Let's continue our conversation about your life in Hungary – 1972 year. As I know, local authorities quickly expelled you from the country…
I married American girl in Hungary. Soviet authorities thought I was an American spy, because my wife's parents knew the president of America at that time – Nixon. Mrs. Nixon was inquiring what's gone with me and Hungarians thought – "who is this guy, why the wife of the US President is inquiring about him?" I was 23 years old then. They thought that something was wrong, because nobody is enquiring a 23-year-old guy, especially in 1973. They decided to expel me from the country. In 1974, I went to the United States. At that time, I was collecting Russian Icons and had a nice collection. I started collecting when I was a student, then I expanded it and still have a nice collection of Icons. When I arrived in the United States, I sold some of the Icons for 2000-3000 dollars and bought my first car.
What was your life like as an immigrant?
Actually, at the beginning, I didn't feel comfortable. Being in America was a big relief, because there was no political pressure, the police weren't looking for me, nobody cared about me. After the Soviet Union, a physical sense of freedom came to me in America. That was great feeling, but I didn't have a job. So, I wasn't a "happy camper…" But then, very soon, after 2 months since my arrival in the US, I got my first job. I became US citizen very quickly, because at the time when I moved to United States, I got my green card at the airport and two years later, I got a citizenship.  I got involved in my work and started traveling. My first wife was American, we continued our studies, we got MBA degree, she became banker and I became businessman. We actually stayed together for 17 years. This was big love. Then I started traveling, being away all the time… We didn't have kids. Then we got divorced, but we stayed friends, very close friends.
Now I'd like to ask you about Nelly, where did you meet her?
I was driving to see my parents, Sunday for lunch in New York. A friend of mine called me, asking what I was up to. "I'm going to have a lunch with parents," – I answered.  "I'm sitting in a restaurant with two beautiful women, you should turn around the car and come to have a lunch with us," – he replied.  And that's basically what I did. When I entered the restaurant and saw Nelly, I liked her at first sight. At our first meeting, I invited her to Cannes film festival but she refused. When I returned from Cannes, we started dating.
Nelly: I had my life, my carrier, nobody ever invited me to Cannes before. So I went to Norway; I did story for British Vogue.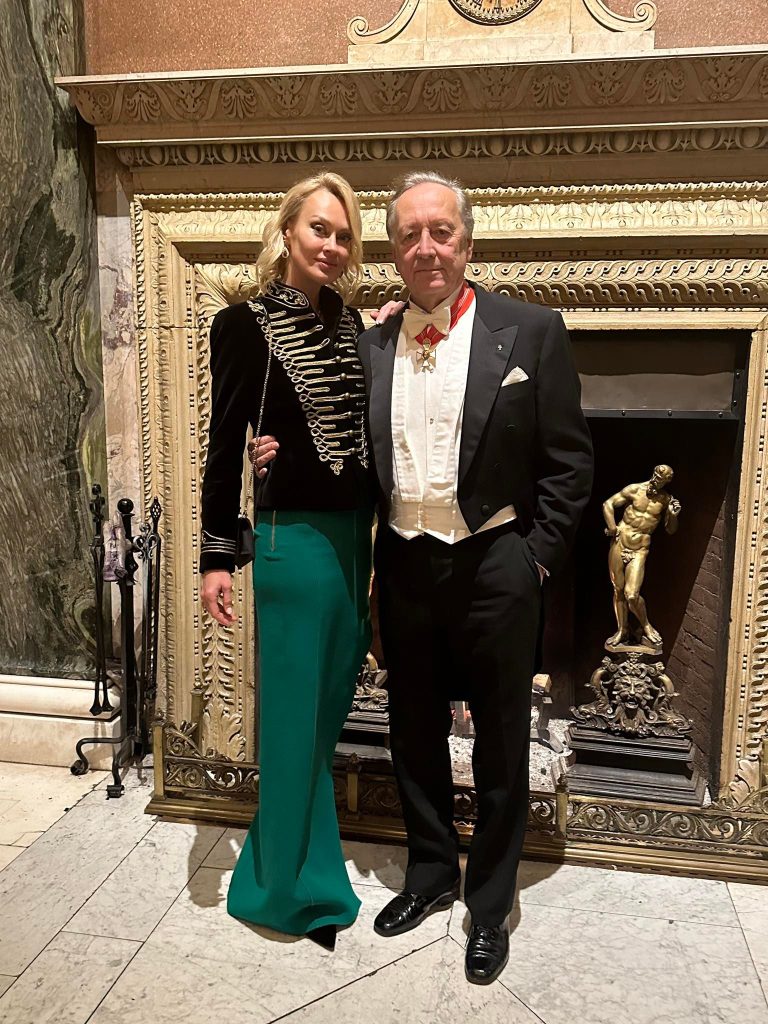 I know that your father lived in Tbilisi, Georgia. Was he in Stalin's camp?  
He was a businessman in Hungary. During the World War 2, Hungary was in war with Russia, with Soviet Union. When soviets occupied Hungary, they sent all the politicians, business people, intellectuals to gulag, in Siberia. Fortunately, they sent my father and his two brothers to Georgia instead of Siberia, because there were gulag camps in Georgia, too. They went to Ochamchire (Abkhazia) and then they moved them to Tbilisi, where they spend two and half years. They were building roads and he lived in Tbilisi, he was in concentration camp there. It was much better in Tbilisi because it wasn't as cold as in Siberia, but there weren't enough food and people were dying of hunger. There was Georgian guy who worked in the camp, he worked as a fireman and a maintanance man. His name was Georg Kuchuashvili. They became friends. My father's elder brother was an artist – sculptor, he sculpted the face of Jesus on the cross and my father was good as technic so they set up the production in metal, and the Georgian guy was selling. So, this was a business. Actually, that saved their lives, they were buying food from sculpture production.  This Georgian family saved my father's younger brother, because he got sick and didn't have money to get medicine.
Did you meet this family?
Yes, of course. We are friends with his daughter, Nino Kuchuashvili, and now we are going to visit her, she's made homemade khinkali and chacha for us. She arrived in America 25 years ago to visit us and my parents were supporting her. She considers us our family, and vise versa, because we are so close.
What was the first impression when you first visited Tbilisi?
The last time I was in Tbilisi was maybe in 1989. I heard a lot of stories about Tbilisi from my father. So, I also have Georgian friends. I found out that Georgians used to be extremely hospitable, friendly people, but they love drinking too much. Of course, my father told me stories about Georgia. I have a lot of Georgian friends, I love Georgians, one of them is Paata Burtchuladze, a great man with big heart.
There are major differences between my last trip and now. It's like two different countries, but there's still process of improvement. Georgia has great potential. The small Nation survived for so many years, big nations have been despaired already from the map, during the period 2000-3000 years, we only know about them from history books… And Georgia, with a population of only 4 or 5 million people, is still there! This country has extremely significant potential. I think that in the next 10-20 years, you'll see positive changes.
Thank you. Now I have questions for Nelly, you've been modeling since 1990s, how did your career start?
I was walking with my dad in Stuttgart and somebody came up to me and invited me for modeling, I started my first job working for hair products. Then for a small magazine, and then I went to Zurich for a job. Some photographers told me that I should've gone to NY. When I came to NY in August 1992, I knew that I wasn't going anywhere else, that was my place! NY has some magic. Some people don't like it, but I was literally drowning in it. First, I started collaborating with American models. Then there was "Next" agency, very trendy.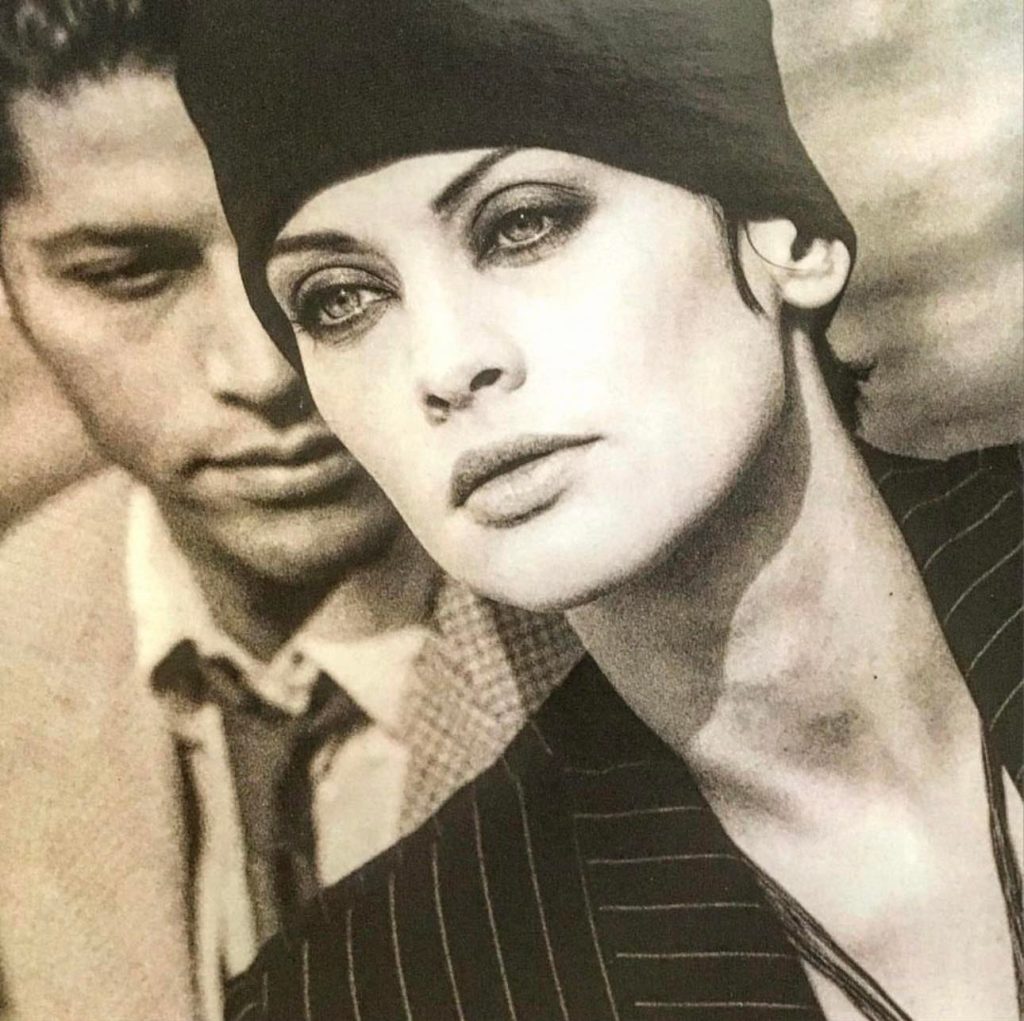 You met iconic designers. How was the working process?
I worked for Yves Saint Laurent, Armani, Dior, etc.
The working process was very interesting and creative, probably one of my favorites is Karl Lagerfeld. I'd also point out Armani. With Karl I was working alone, his favorite assistant was André Leon Talley at that time. I loved working with him. He made some of his collections on me. Karl was also designing for Chloe, for Chanel and also for his own line.
Who is your favorite designer now?
I think still Armani, Chanel and Yves Saint Lauren.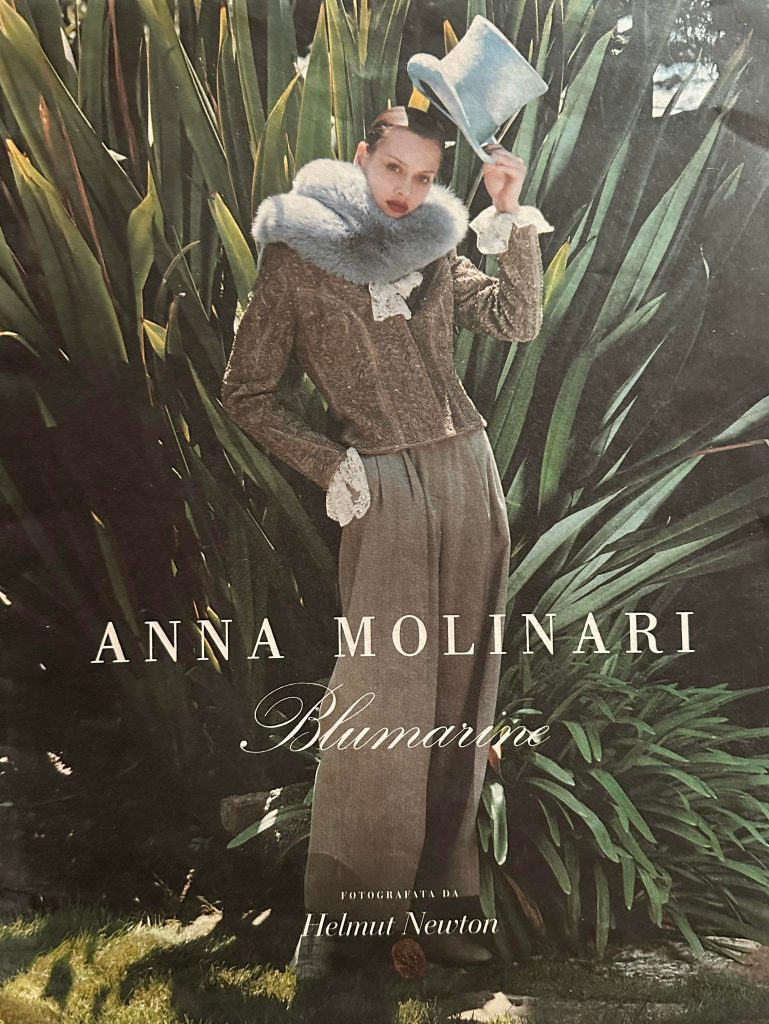 You miss those designers? It's very different time now in fashion.
The models of the 1990s were beautiful. The models today are very interesting, but I think not as beautiful as they were in 1990s. Different times, different models. At that time, models were like stars, now just pretty faces. Now you watch the show, you like the girls but now they aren't as beautiful as they used to be 20 years ago. They all look similar to each other.
At the end of our conversation, what's your advice for young models?
I also worked for Calvin Klein a lot. Do you know what he did?! He didn't put any makeup on us. We were trying to put a little mascara in bathroom and he was checking on us, we couldn't put any makeup on. He was checking each model. He adored natural beauty. So, more natural beauty and more skin care. Less is more!